Friday night we finished work on the Red River Div. Red Rock sub and Saturday morning the machines were picked up in Ardmore, OK to begin work in Louisiana, MO. This morning I got some pics in BNSF's Ardmore, OK yard waiting on the power and crew.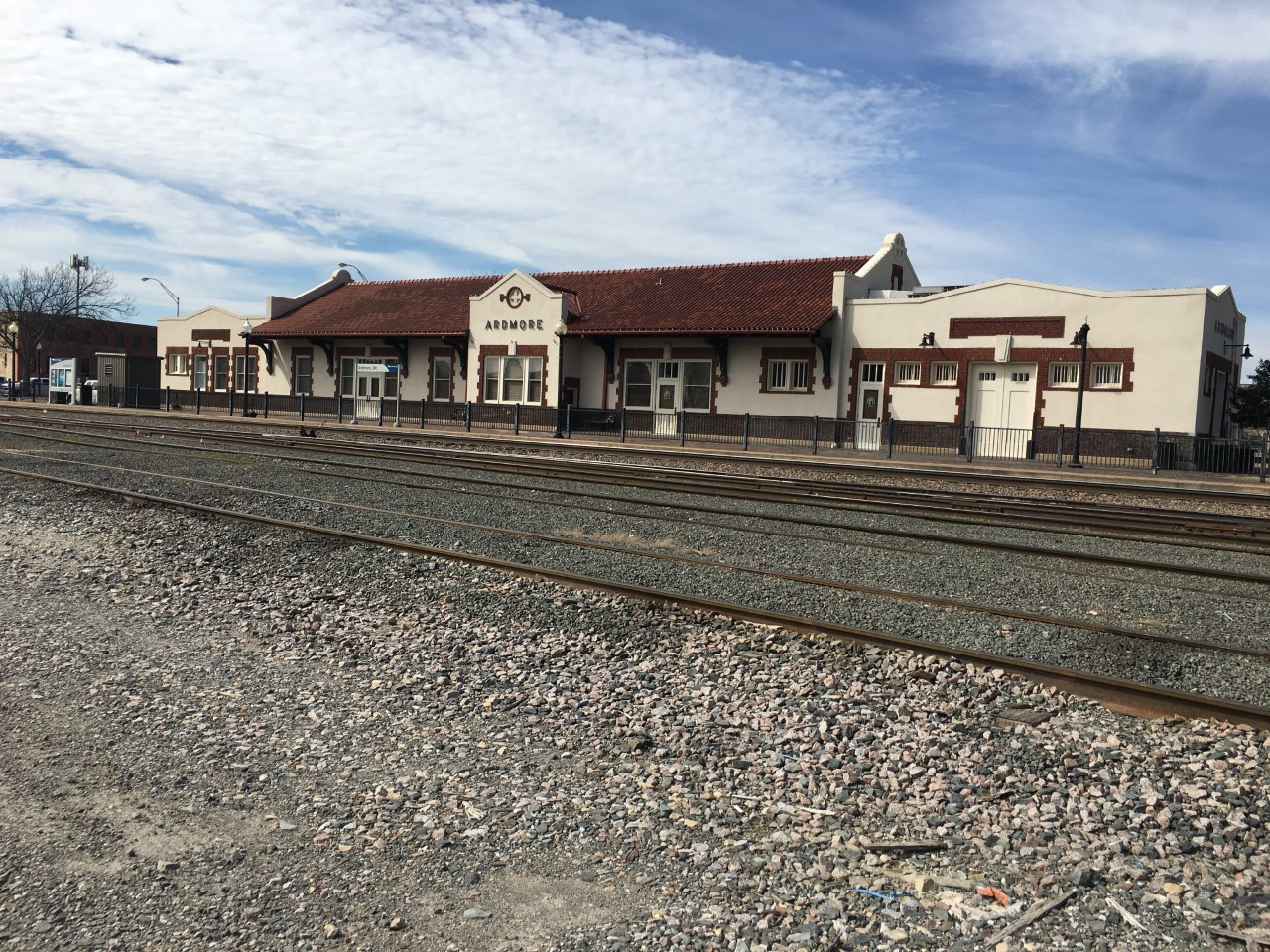 The station was built by the
Atchison, Topeka and Santa Fe Railway
in 1916, replacing a 1909-built station which had been destroyed by an explosion. The
Rock Island Railroad
also used the depot, and their logo is still visible on the opposite side from the tracks.
On September 26, 1915, a railroad car carrying casinghead gasoline arrived in Ardmore at the Atchison, Topeka and Santa Fe Railway depot. There the car was left until it could be taken to a nearby refinery. The next day the temperature quickly rose, activating the car's pop-off valve, designed to release gas pressure. Gas began to pour out and into the low-lying areas of downtown Ardmore. The train conductor refused to move the car, because a fire had erupted at a nearby asphaltum plant. The Ardmore Refining Company then sent a representative, who removed the dome from the top of the car, filling the air with gas and vapors. At 2:20 p.m. on September 27 an explosion, triggered by an unidentified source, destroyed most of downtown Ardmore.
http://www.gendisasters.com/oklahoma/9024/ardmore-ok-gas-explosion-sept-1915
Following a devastating explosion in 1915, steam locomotive 1108 brought medical personnel to the city to care for the injured. When the locomotive was retired in 1954, the City of Ardmore bought the train and moved it to the grounds of Hardy Murphy Coliseum. On September 7, 2017, the Mercy Train was brought to a permanent home in the Depot District of Ardmore at Depot Park.
Built 2-1964 as SP 7442, renumbered SP 6554; retired in 1990- sold to Morrison-Knudsen and became BN/BNSF GP39M 2873
Built 11-1965 as ATSF GP35 1458; renumbered ATSF 2958