It has been awhile since I spent some time out photographing trains. With a few days off I decided Montana was calling. Montana....with huge open spaces, steep mountain grades, and big blue skies. It is on trips like this were I love putting away the long lens and shooting lots of wide angles. With all the scenery in the photo it just makes the trains look small. But enough rambling and on to the pictures.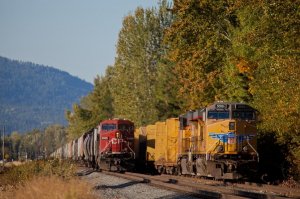 1. On the way over, I found this meet at Sandpoint, ID on the Union Pacific. The rear DPU of a hopper train pushes slowly south as UP 5501 leads a northbound manifest.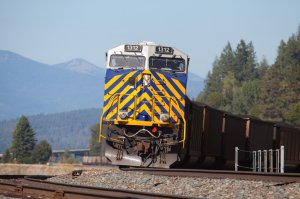 2. I was hoping to catch an early morning eastbound to follow to Missoula. But after waiting for 4 hours without any eastbounds, I decided to just head east. Meanwhile CREX 1312 shoves on the rear of a loaded grain train in Hope, ID.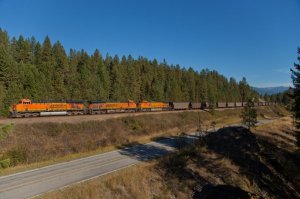 3. After waiting a couple more hours, I arrived in Thompson Falls around 4:30pm and heard the detector go off. I had just enough time to drive around for a couple minutes and find a hill to stand on. BNSF 5791 leads a westbound coal (C-SXMRBE3-00).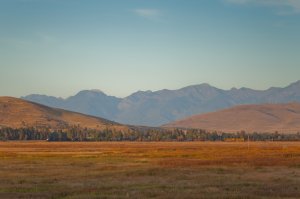 4. I heard a MRL local get a track warrant for the 10th Sub, so I hurried east to try and catch it before the sun was gone. Here it rolls west near Dixon, MT with the mountains at sunset. Funny to see how small the two GP9's look in comparison to the first two SD70ACe's!