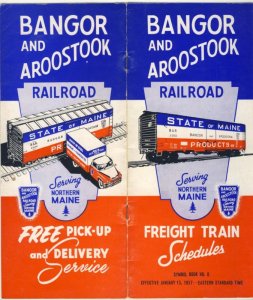 Hello all,
I'm a new member of this forum, and I'm wondering if you could help me find a piece of Bangor & Aroostook memorabilia.
I'm looking for a freight train timetable book published by the B&A/BAR on January 15, 1957, and features the road's iconic tri-color "State of Maine" boxcar on both the front and back covers.
This timetable also promoted the road's Less Than Car Load (LCL) delivery service, making it a wonderful collector's piece from this small moment in the road's business history.
I recently saw this same timetable up for bid on eBay and attempted to bid on it, but ended up losing to another high bidder, after which I thought of joining this forum and asking if anyone here could help me out.
Alex Vaillancourt