Hi,
To the previous part of the series:
Regional Rail Express - 63: Transilvania VI (50 p.)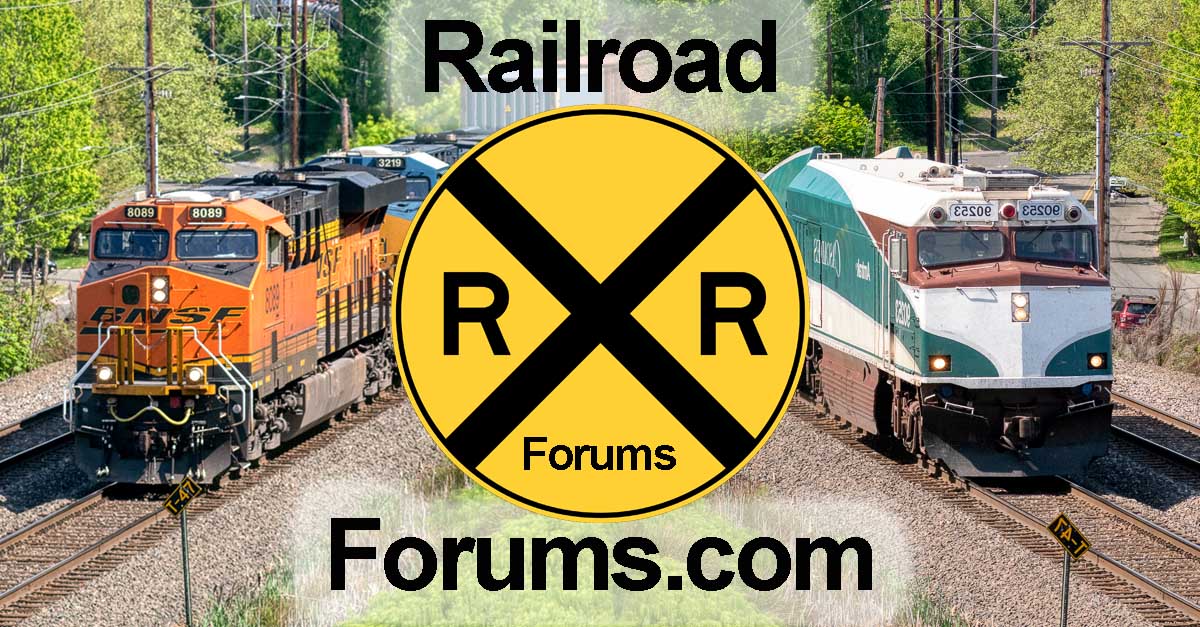 Hi, To the previous part of the series: Regional Rail Express - 62: Transilvania V (50 p.) https://railroadforums.com/forum/index.php?threads/regional-rail-express-62-transilvania-v-50-p.21940 May 1 2023 We walked on the promenade along Crișul Repede river. Many historic buildings have...

railroadforums.com
The new video for this part:
April 29 2023
We are travelling from Oradea towards Hungary. A Romanian-built former Polish PKP ST43 at Romanian border station Episcopia Bihor to the left - part of the Oradea urban area and junction with the northbound line inside the border to Valea lui Mihai.
Hungarian border station Biharkeresztes has been reached 7.5 miles to the northwest - engines are switched here. The renewed line to Püspökladány with overhead wires was not yet in electric operation – since late summer 2023 it is.
August 27 2019
The same station before modernization: (CFR) RE / (MÁV) Sz 364 "Biharia" Oradea - Püspökladány consisting of through cars from Debrecen via Valea lui Mihai also had just arrived. Some passenger trains were hauled by CFR 82s (renewed 80s).
More images from this trip and of these engines:
Regional Rail Express - 16: Transsylvania I (50 p.)(50 B.)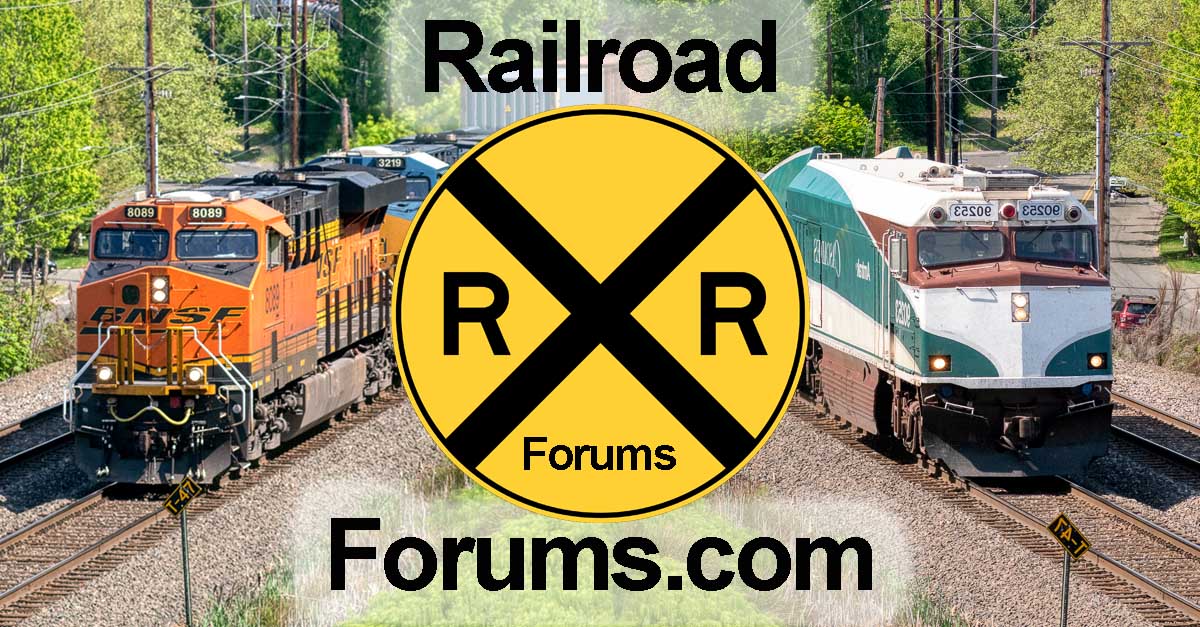 Hi, To the previous part of the series: Regional Rail Express - 15: Adria, Istria I, Bosnia & Herzegovina (50 p.) http://www.railroadforums.com/forum/index.php?threads/regional-rail-express-15-adria-istria-i-bosnia-herzegovina-50-p.14419 Video for this part: July 24 2019 In July, I...

railroadforums.com
August 27 2019
/
April 29 2023
The same meeting before and after modernization and almost completed electrification at Berettyóújfalu (named after the Berettyó river, "Újfalu" means "new village"), the district capital west of the border nearest to Oradea.
To the left: IC 367 "Hargita" Budapest - Brașov meets our star train EC 144 "Transsylvania" Cluj - Vienna.
To the right, less than four years later: IC 367 "Hargita" Budapest - Brașov crossing EC 146 "Transilvania" Cluj - Vienna.
July 8 2023
I mended a gap along the line to Oradea and Cluj on a summer weekend. The first "Retro Weekend" of the season was taking place along Lake Balaton - I had my own retro weekend featuring only class M41 diesels with original Pielstick prime movers.
418 177 hauling Sz 368 Oradea - Püspökladány on Saturday at 3:05 p.m. shortly after my arrival at Berettyóújfalu.
In view the original station tracks, behind me the new platform.
I love the Pannonian village street layout featuring shady sidewalks along the house walls and wide green strips with fruit trees, perfect to cope with midsummer heat. No idea why modern settlements don't follow this concept proven over centuries for an ever hotter climate.
The stretched-out center of this town of almost 15000 inhabitants. Plaques for Franz Liszt and John Calvin decorate the Protestant church tower.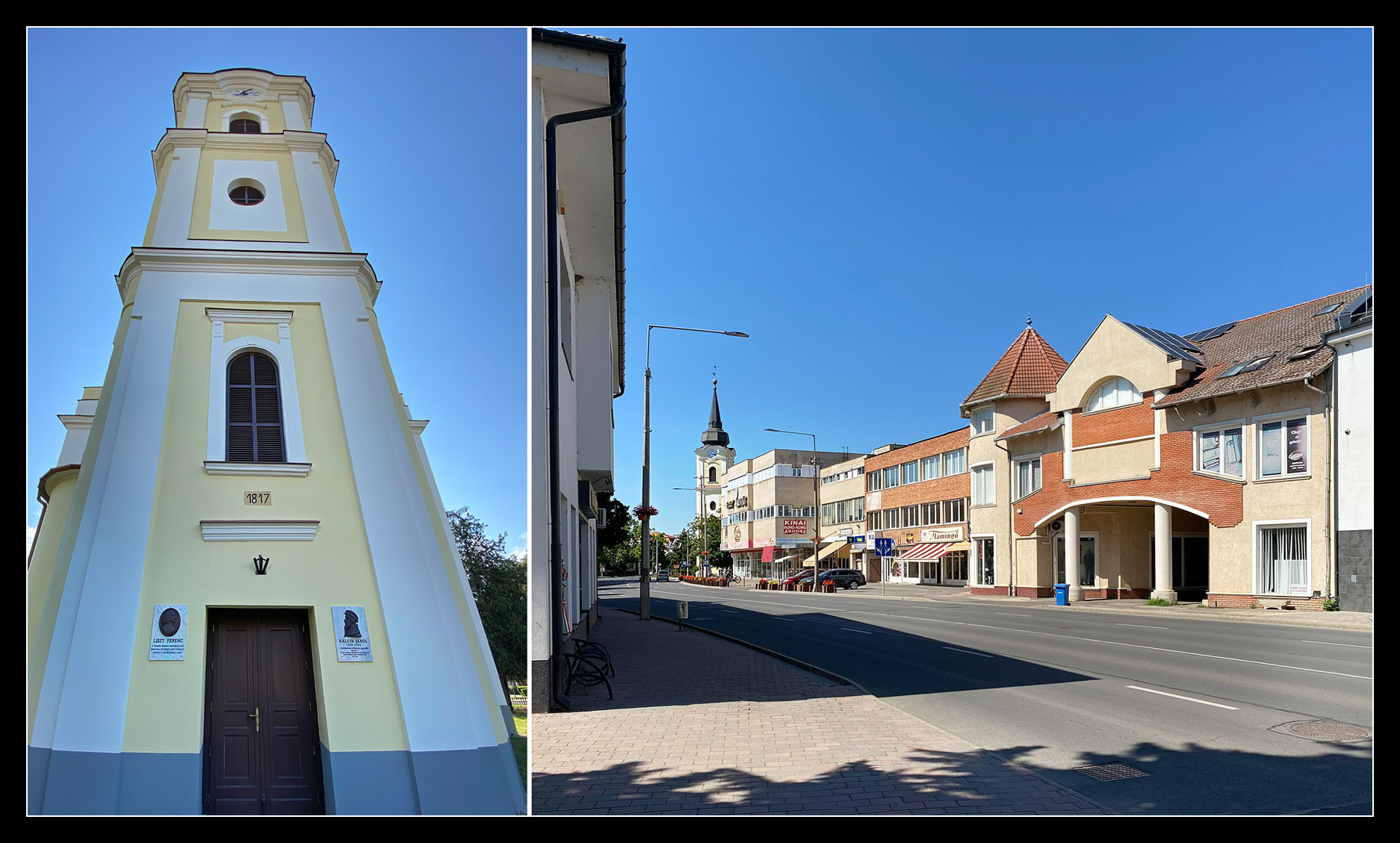 My accommodation was Hotel Angéla strangely furbished as an Alpine lodge in one of the flattest European regions - you always long for the things you don't have, I guess... ;-)
I walked through the suburbs populated by seasonal inhabitants leaving for an excursion at four o'clock.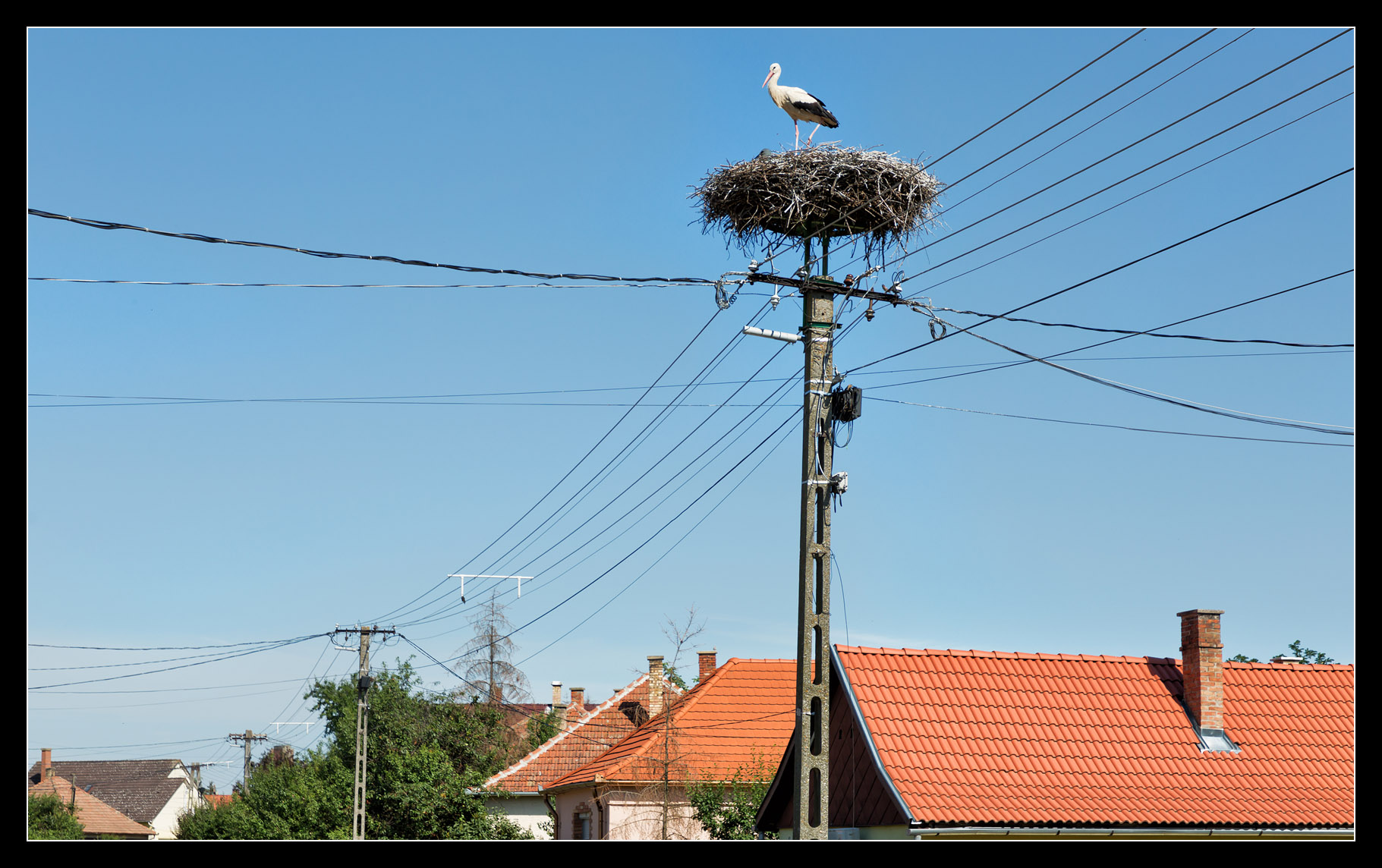 An eastbound Foxrail train loaded with trailers passed by across a new canal bridge, see video at minute 2:09.
Soon afterwards, the last "Cutter" of the day left for the weekend towards Romania - but I had not come for freight traffic.
Our star train EuroCity 143 "Transilvania" Vienna - Cluj showed up twenty minutes delayed including an older livery Romanian CFR car - 418 177 managed almost all the loco hauled work on the line.
"Transilvania" panoramic image featuring wheat harvest in the Puszta. A team of farm workers operated heavy equipment.
Sz 6423 Biharkeresztes - Püspökladany powered by a Bzmot railcar in new colors.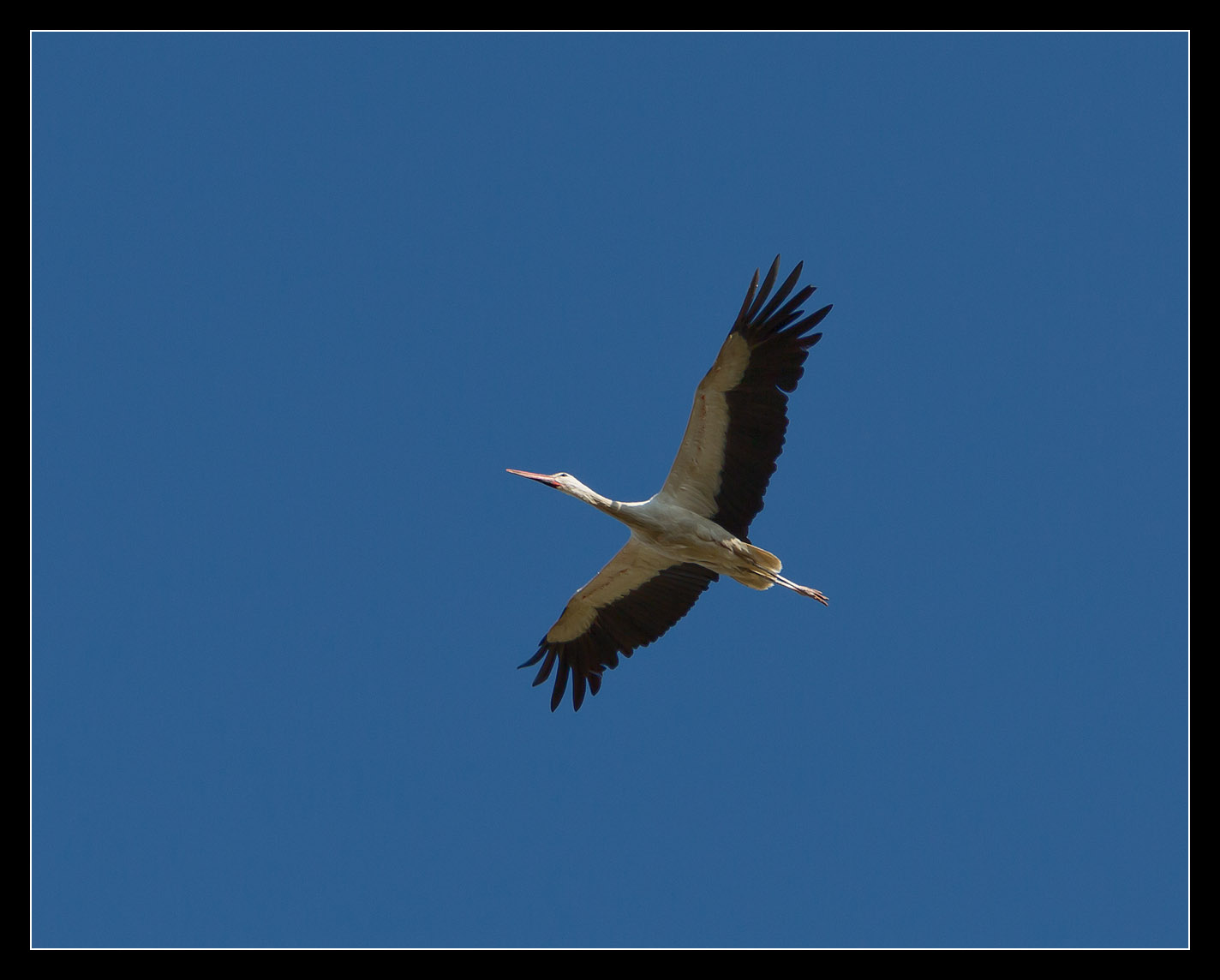 Sz 6436 Püspökladany - Biharkeresztes passing one of the few pastures not used by intensive agriculture. The meadow to the left featured the remains of a typical Puszta draw well:
The reason for my visit: a complete draw well in working condition on the northern side of the line. Until now I had never spotted cattle on this field, now there was an obstacle. At least the herd grazed along the electric fence on the opposite side...
IC 366 "Hargita" Brașov - Budapest departed at 6:24 p.m. 23 minutes delayed from the station 2 miles away. Time for a sprint...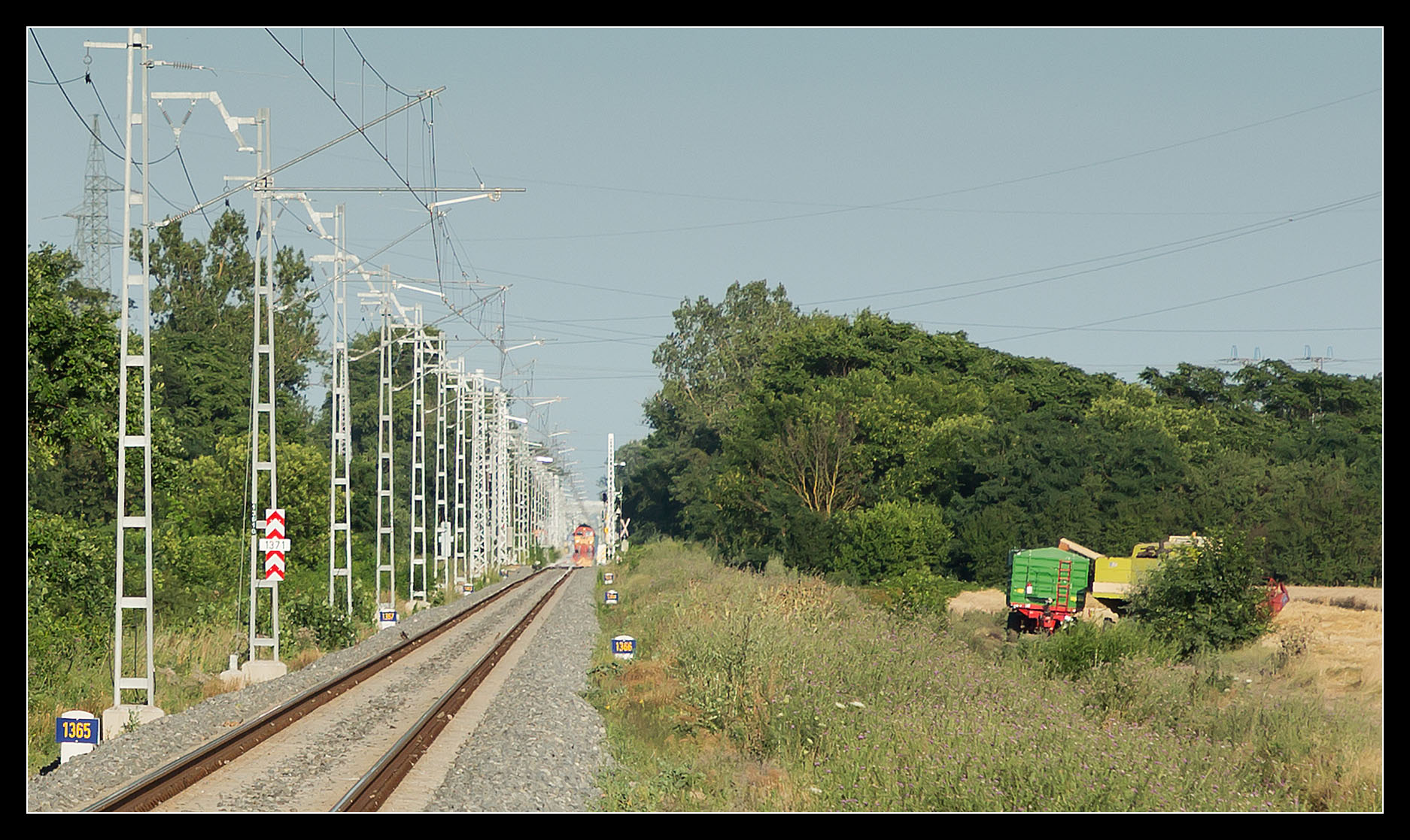 The video camera captured nicely accelerating M41 2177, inserted into an image looking towards the town and a sunflower field. See video at minute 3:38.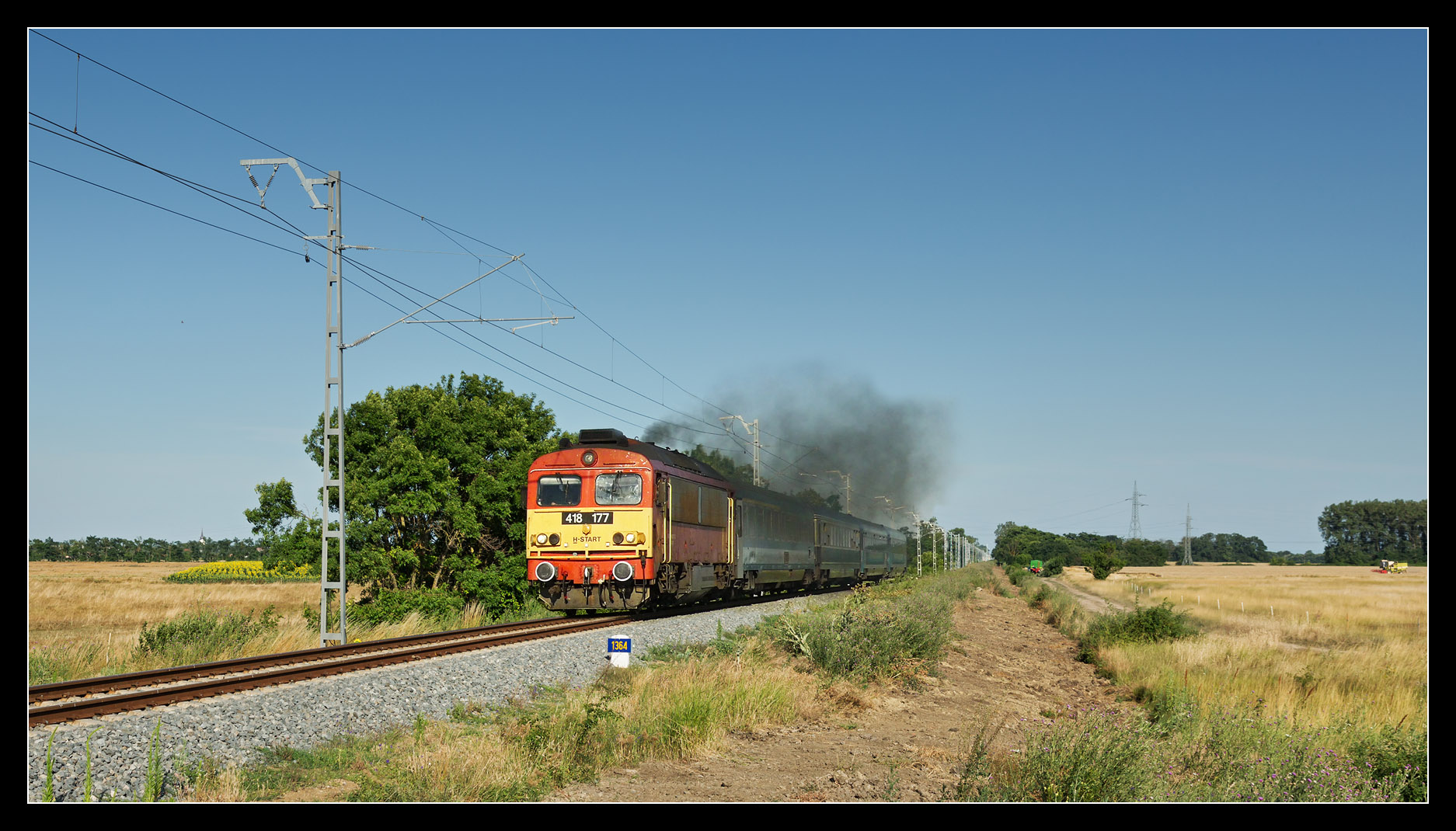 I reached the well in time.
After the accomplished mission, I was detected by a few cows probably identifying me as feeder. They started walking towards me mooing. Luckily slowly enough for me to get away in time.
Sz 6418 Püspökladany - Biharkeresztes as single railcar on the new canal bridge.
Unpaved village street.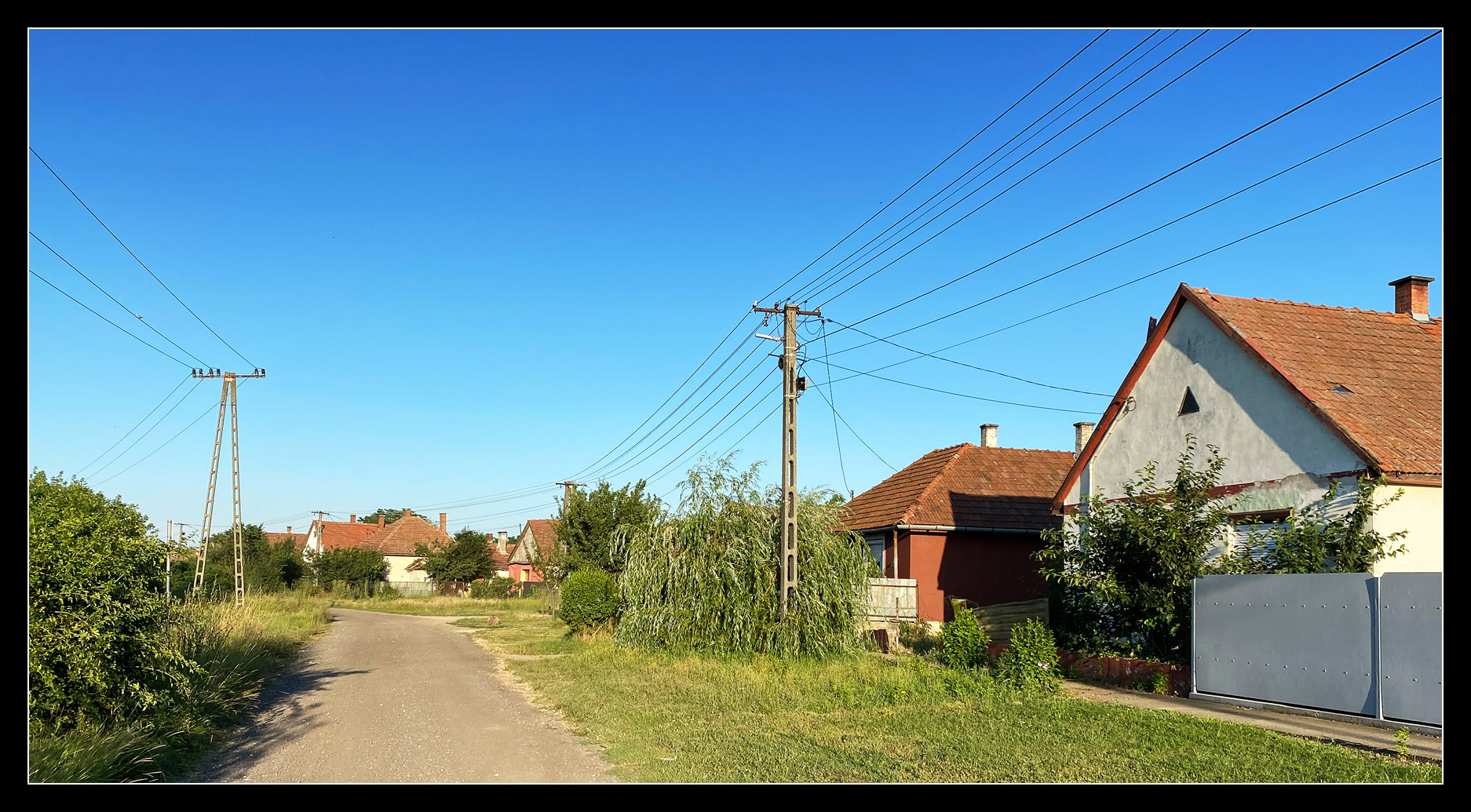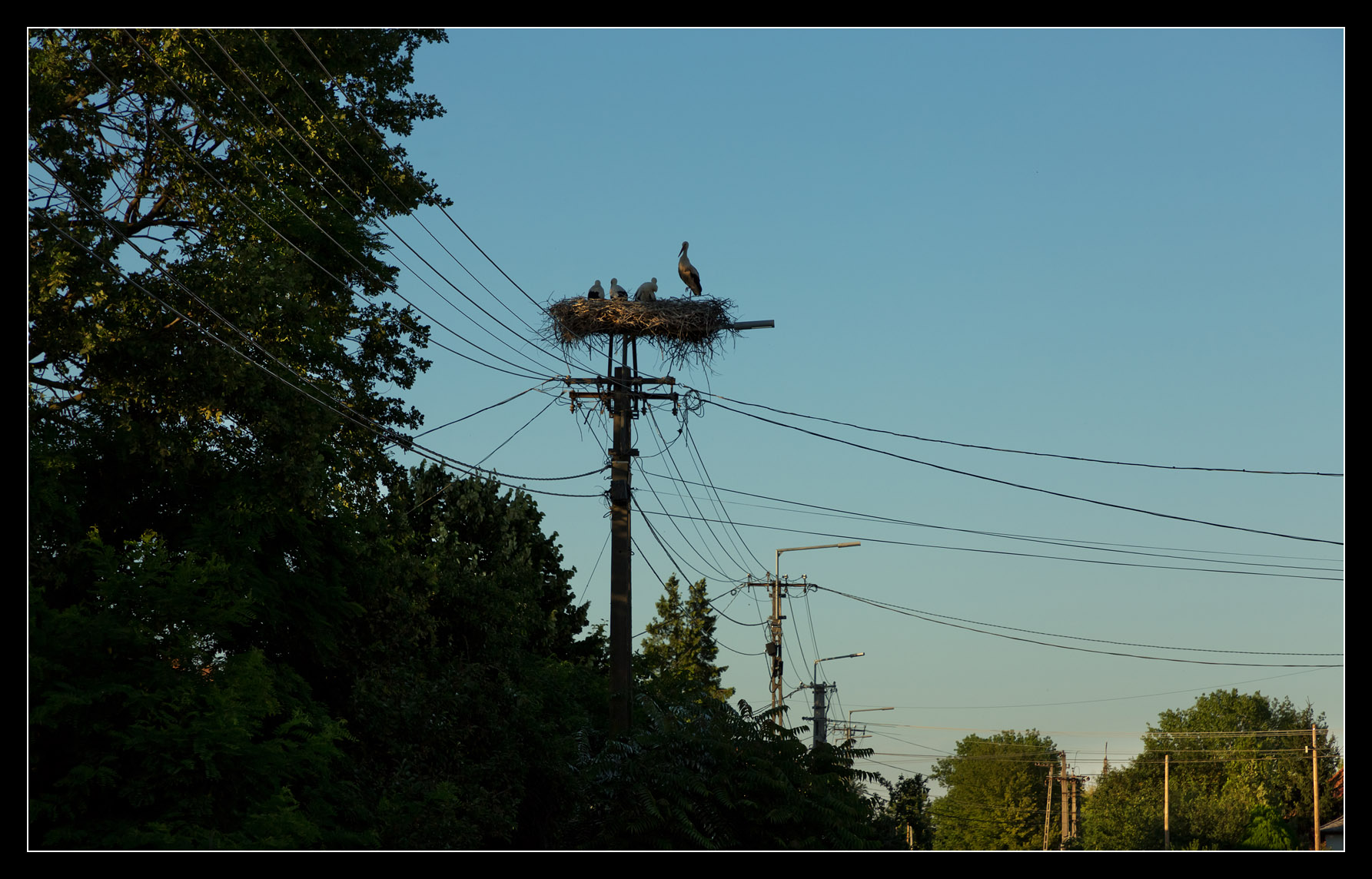 I procured some fluids from Lidl, then took an evening walk to the grade crossing near the station.
It paid off: almost punctual IC 407 "Corona" Budapest - Brașov departing into the evening at 8:49 p.m.
For the soundtrack see video at minute 4:28.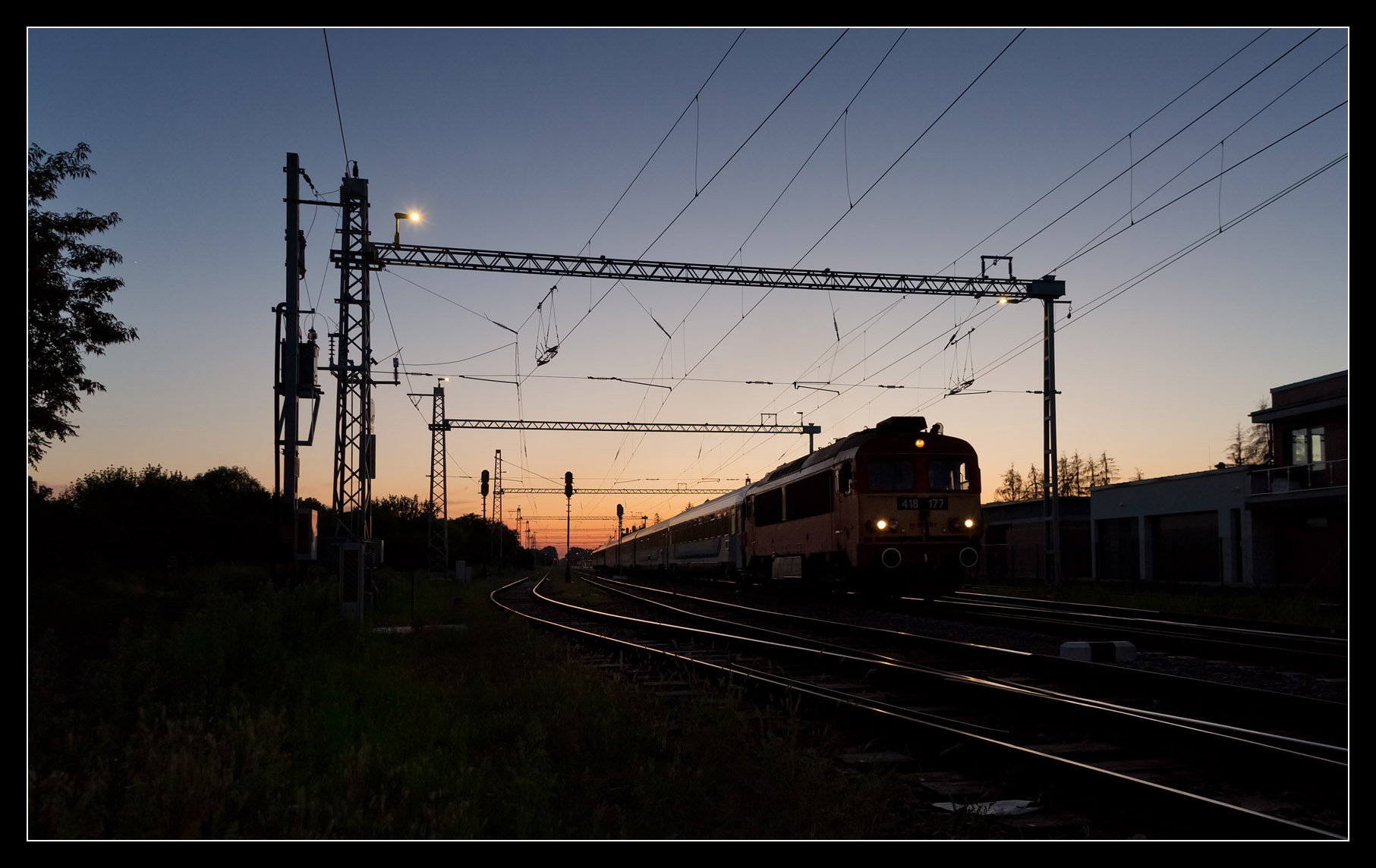 By GDR-built Görlitz sleeping car into the night towards Transylvania.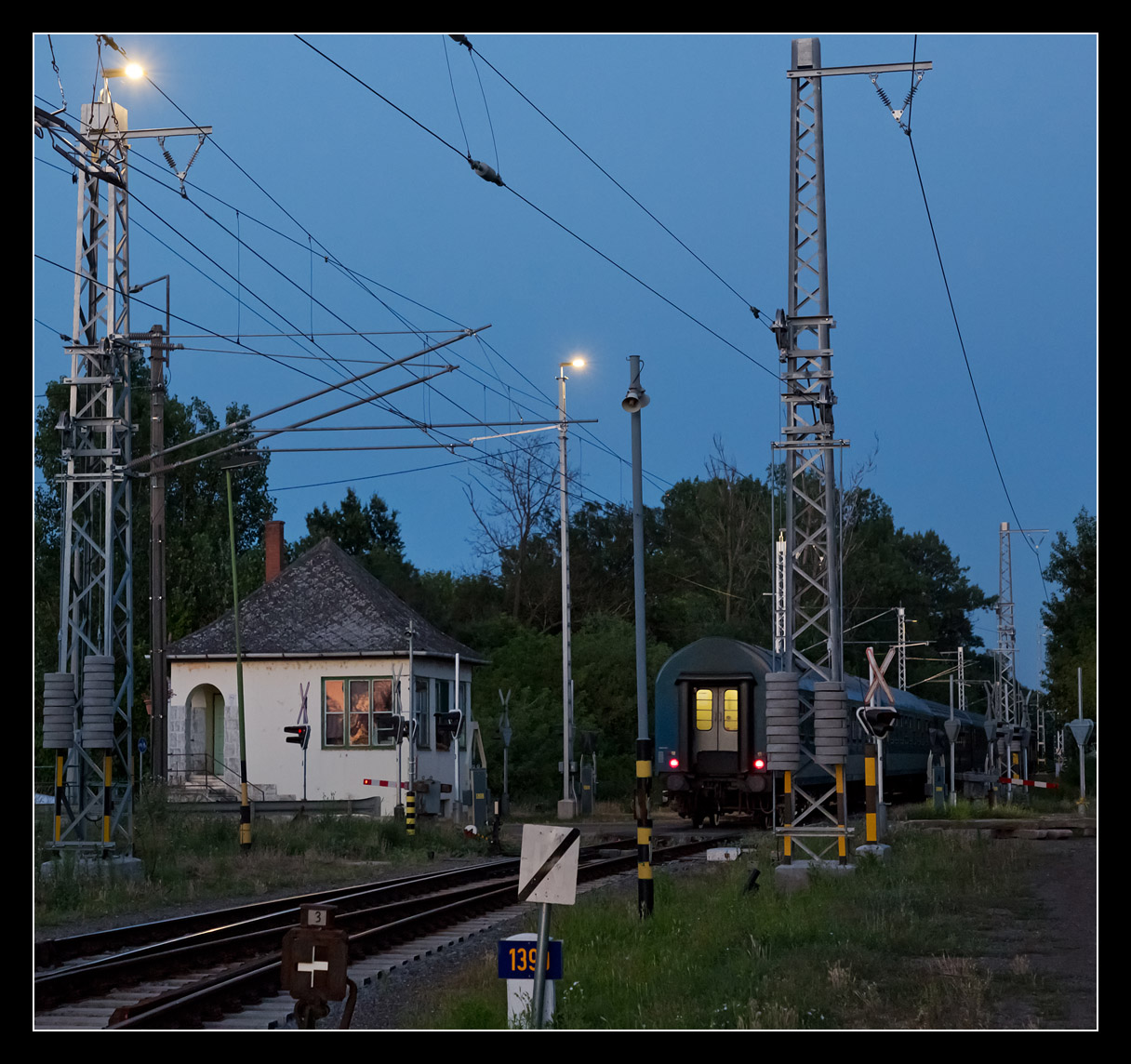 July 9 2023
Sunday morning at 5:15.
Only few early risers to be seen.
Sz 6410 Püspökladány - Biharkeresztes at the grade crossing, new barriers to the left.
The namegiving river was reached 350 yards on.
A rather oversized sign for a hardly visible body of water.
I followed this green dam towards the railroad bridge renewed in 2014.
IC 406 "Corona" Braşov - Budapest-Keleti approached 20 minutes delayed at 6:30 a.m. hauled by original 418 108. The only thin layer of clouds the whole day covered the sun exactly at that moment - luckily some editing managed to save to pictures. A few runners could be encountered along the river.
Sleeping, couchette and dining cars plus second class.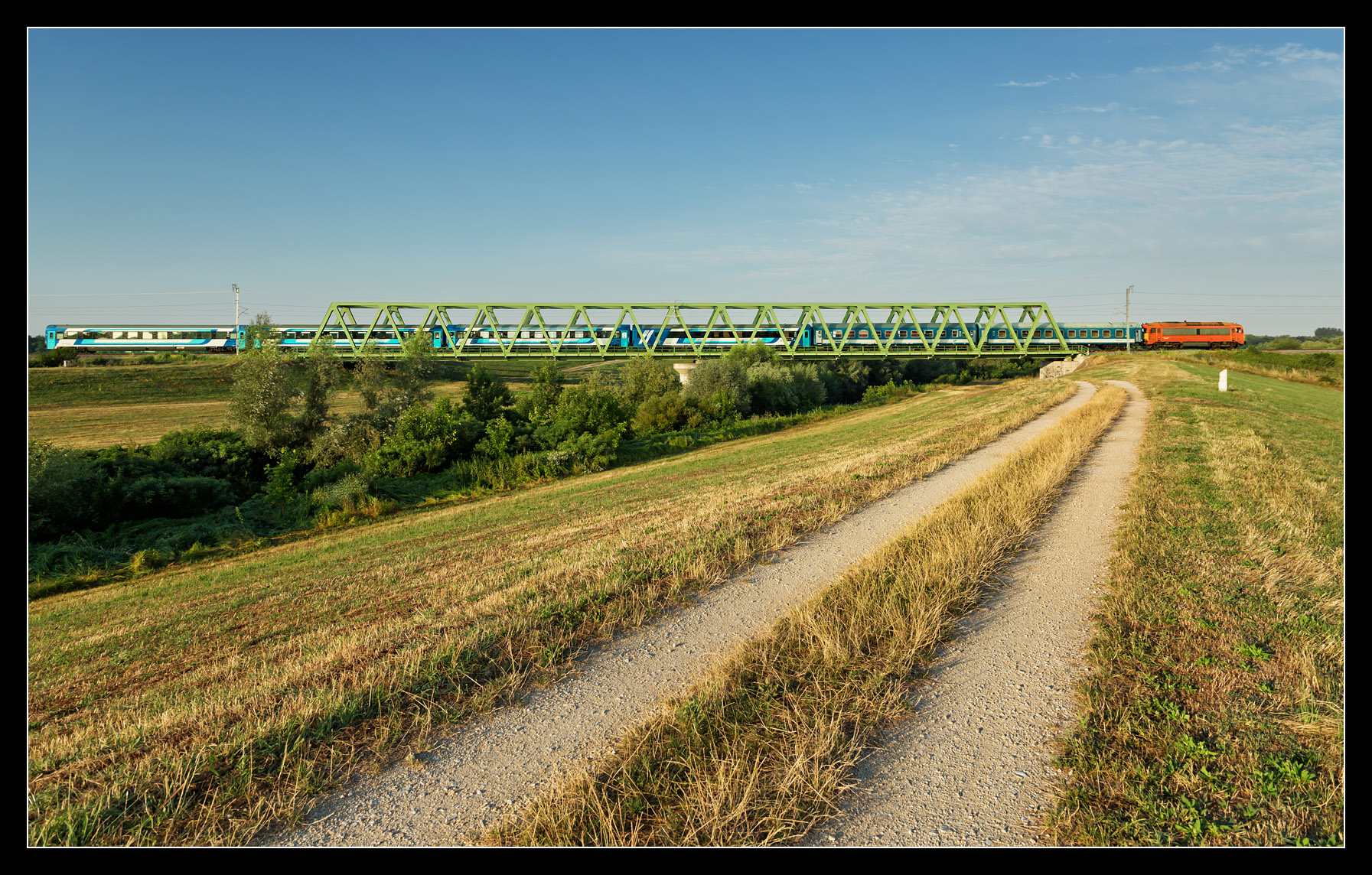 The bridge construction asked for a contre-jour image: Sz 6417 Biharkeresztes - Püspökladány.
418 177 hauling Sz 369 Püspökladány - Oradea into the morning sunlight at 7:20 a.m.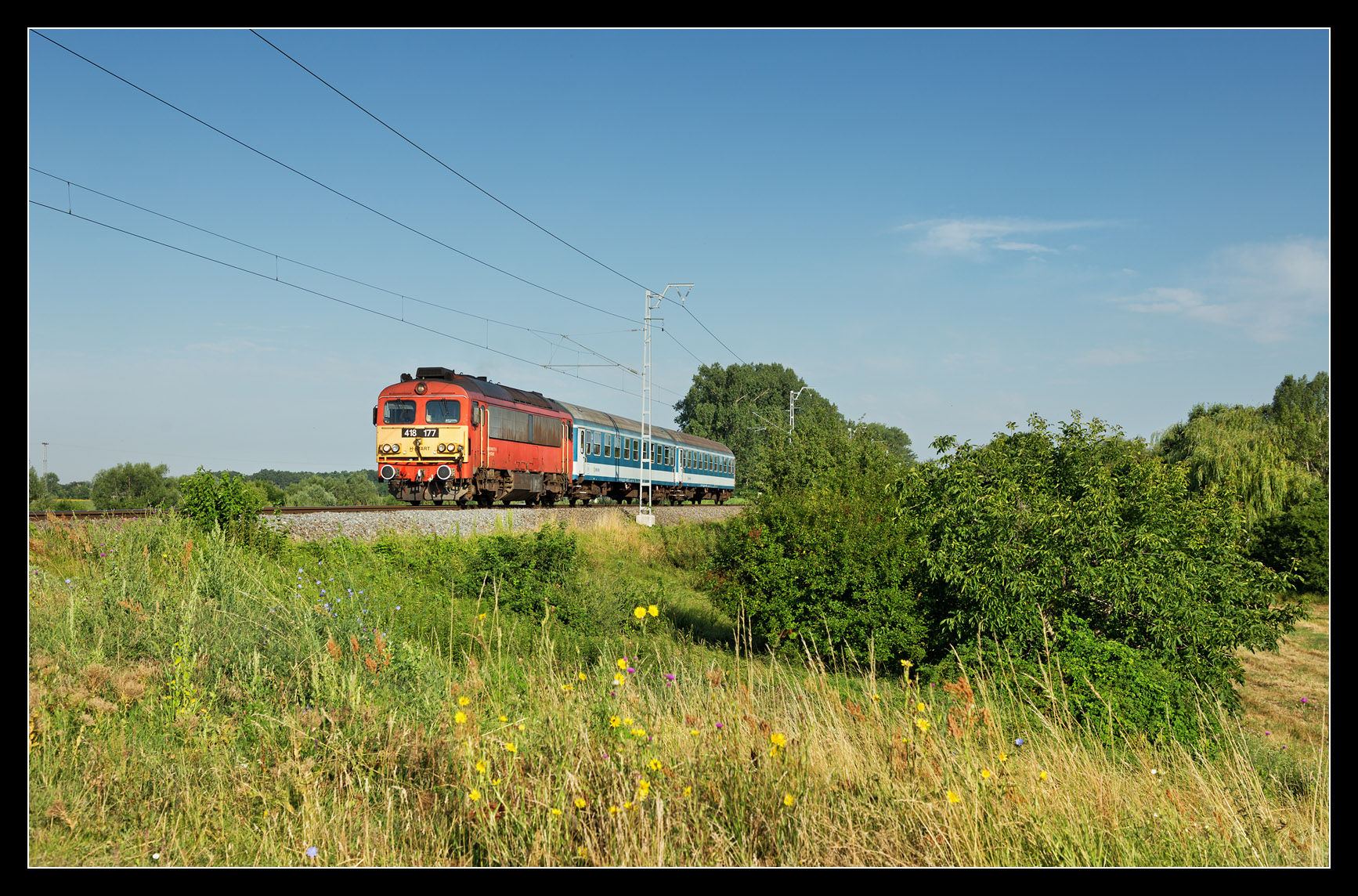 Local bus line to Tesco.
Appropriately designed fences of the János Arany high school near my hotel.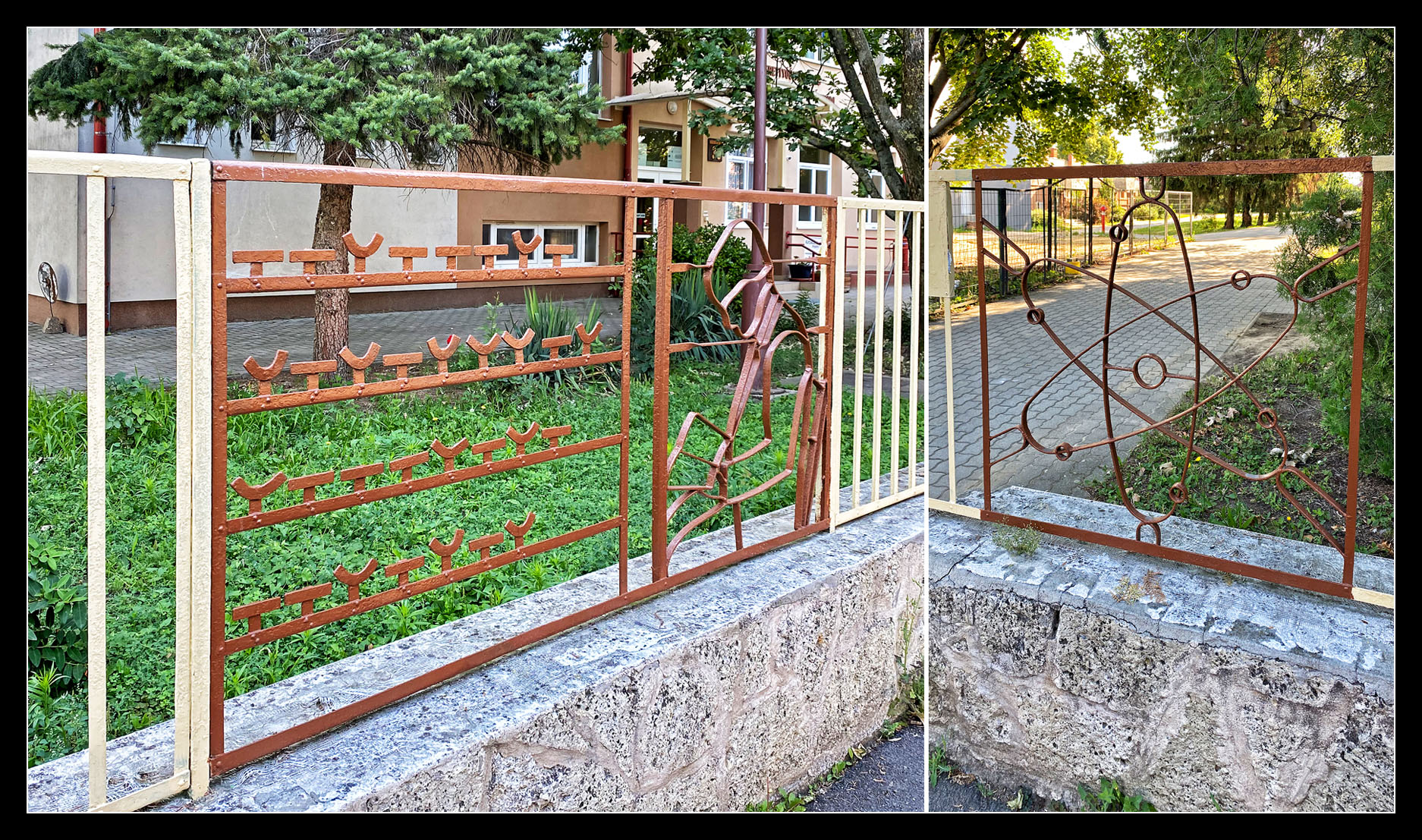 Synagogue, local government building and memorial for the Hungarian revolution of 1956.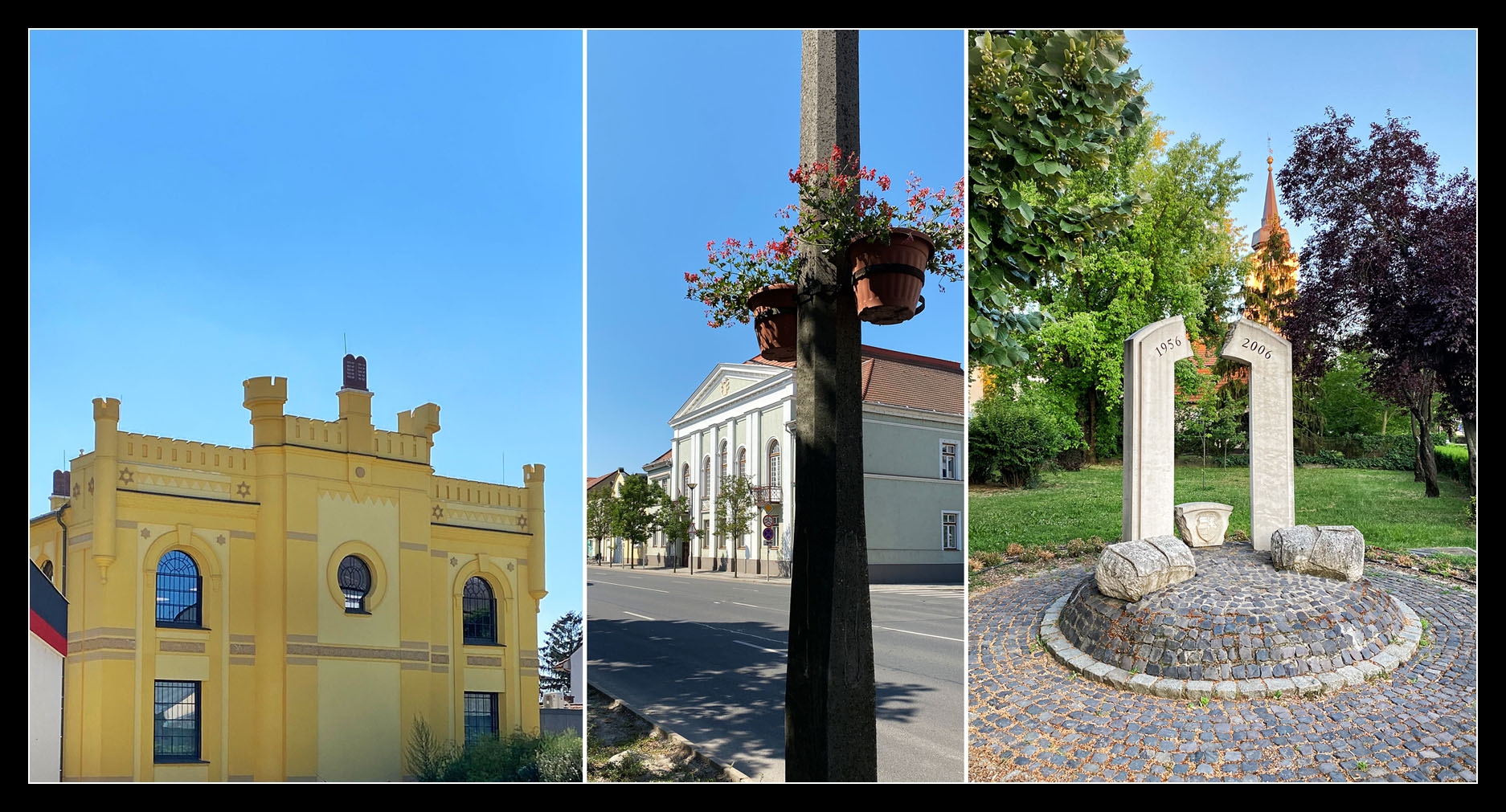 Steps approaching the station.
The already known consist of EC 146 "Transilvania" to Vienna arriving eight minutes late.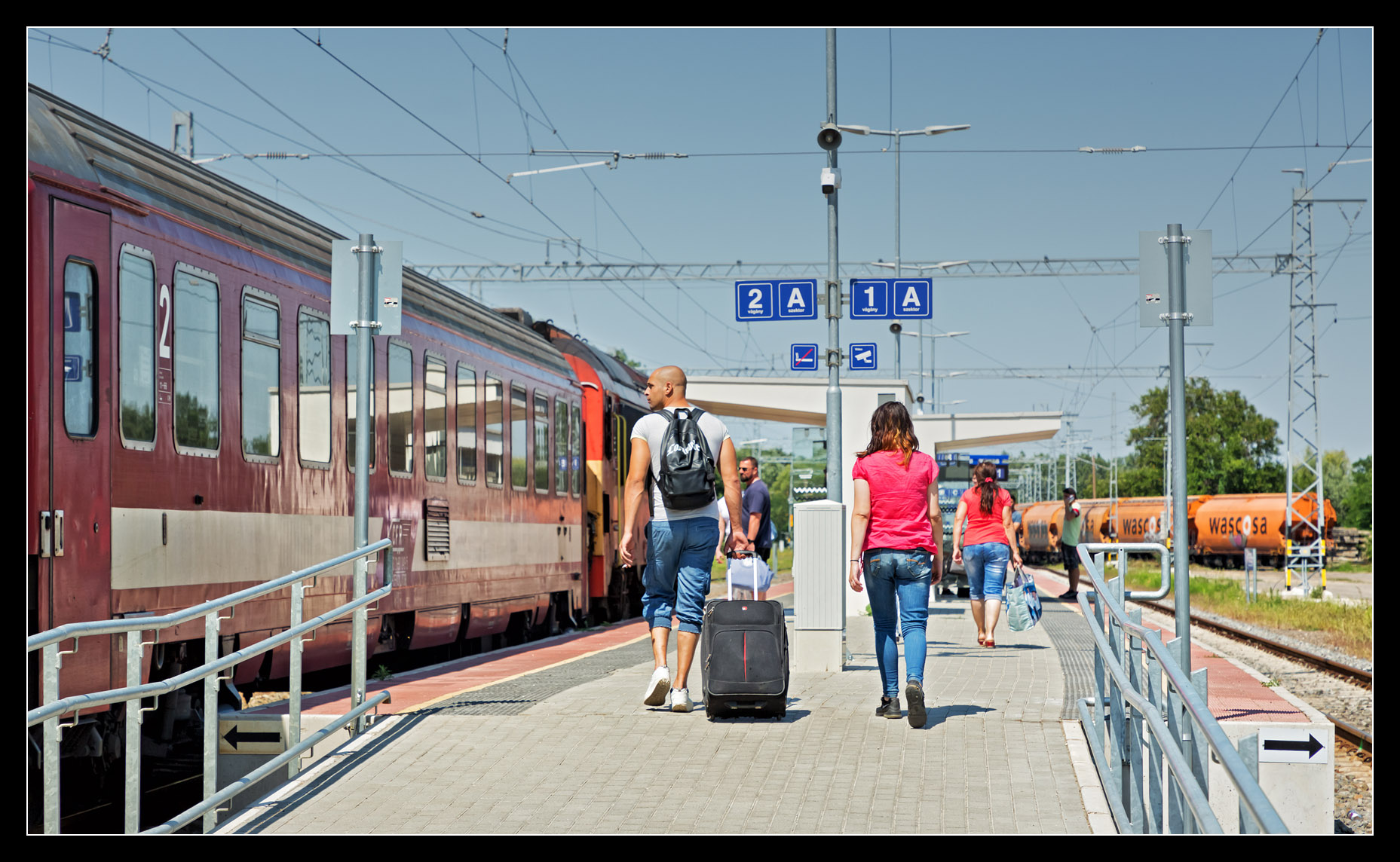 IC 367 "Hargita" from Budapest appeared on the long straight fifteen minutes delayed.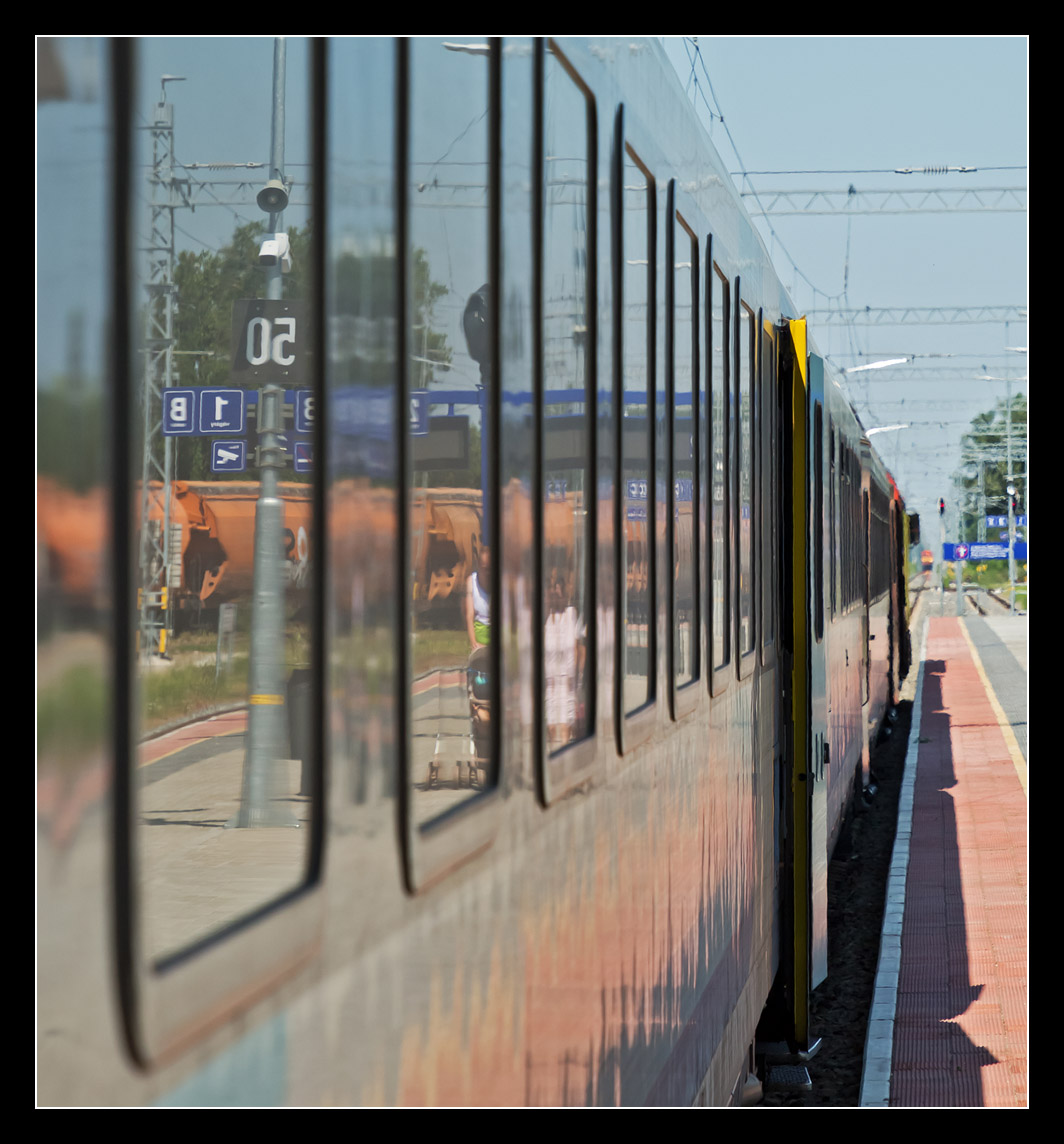 The train destination sign into the other direction had not been changed.
I planned to take "Transilvania" comfortably to Vienna... the resulting odyssey will be covered in the next part but one. The following trip report will take us to Püspökladány junction!