Hi,
To the previous part of the series:
Reg... errrrrrrm... Cornfield Express I - 27 (50 p.)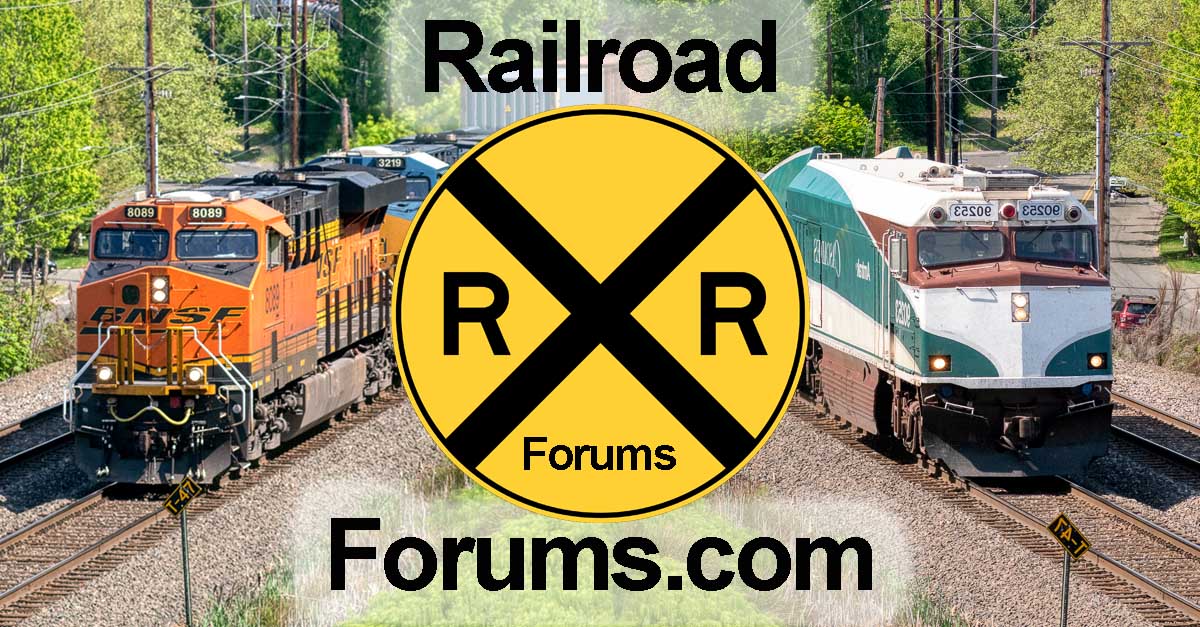 Hi, To the previous part of the series: Regional Rail Express - 26: 98% Night Train - Adria/Jadran II (50 p.) https://railroadforums.com/forum/index.php?threads/regional-rail-express-26-98-night-train-adria-jadran-ii-50-p.15647 Even though this report does not show a lot of pictures...

railroadforums.com
In the following reports, we will treat the railroad line Belgrade - Bar (much more detailed Wiki page in German, please click translate):
Departures/arrivals Podgorica = complete timetable Montenegro 2009 season:
The end of the "cornfield" is in sight at Požega. Also spotted on
August 29 2005
: original GM 661-310 (GM-EMD #A2452 / built in 1970) from Bosnian Republika Srpska. Behind the truck, you can find a narrow gauge museum which we are about to visit later.
On
July 4 2009
, former Swedish Fiat DMU 710-009 was ready to depart as local train towards Čačak and Kraljevo.
Soon afterwards, we were approaching Užice (until 1992 Titovo Užice, of course), the center of Zlatibor region. We met freight from Montenegro at Užice Teretna (freight yard).
Some bought provisions, but the train only stopped shortly. We will stay here overnight later on the 2005 trip.
Looking out of the window is obligatory from Užice, as the landscape grows ever more spectacular. At first, the Zlatibor mountains are traversed.
The line crosses a part of Bosnia (Republika Srpska) for a few miles - and you even can take railroad photos in Bosnia: meeting B 432 "Tara" at Štrpci.
Sadly starting point of a massacre in 1993, as the two-hours delayed express 671 Belgrade - Bar stopped here for a crossing, passengers were abducted in a concerted action and later murdered near Višegrad. At least some of the murderers have been convicted since, and a few monuments erected along the line:
The railroad follows Lim river valley from Priboj - someone wants to train platform diving.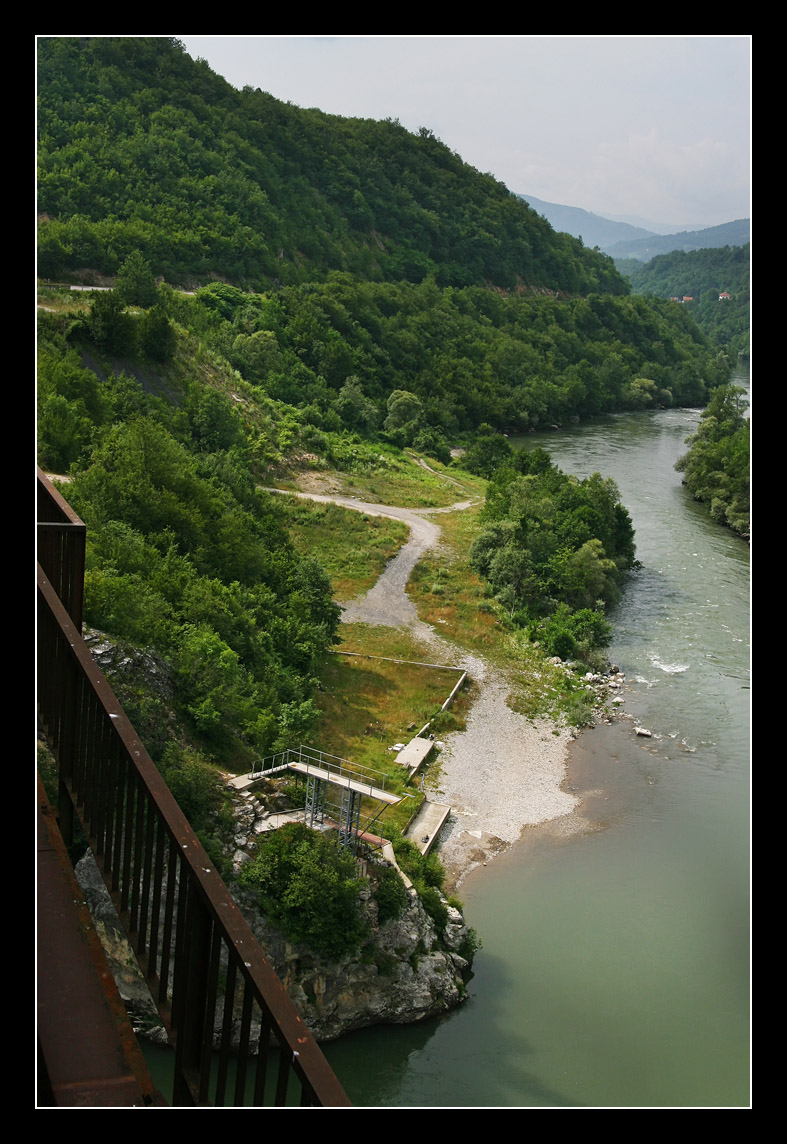 Definitely close to Bosnia.
Border controls had been introduced after 2006. At Serbian border station Vrbnica, you can find Kumanica monastery dating to the 14th century and partly destroyed during railroad construction. The old church can be seen behind the engine, nowadays extended by the usual orthodox-nationalist kitsch.
We encountered the second daytime express Bar - Belgrade, Poslovni ("company train" or "InterCity") 1130.
We reached Crna Gora / Montenegro ("black mountain", originating from Venetan "Montagna Negra") and the border plus engine change station of Bijelo Polje ("white field"). A break for the children while the train received a lovely orange ŽPCG 461.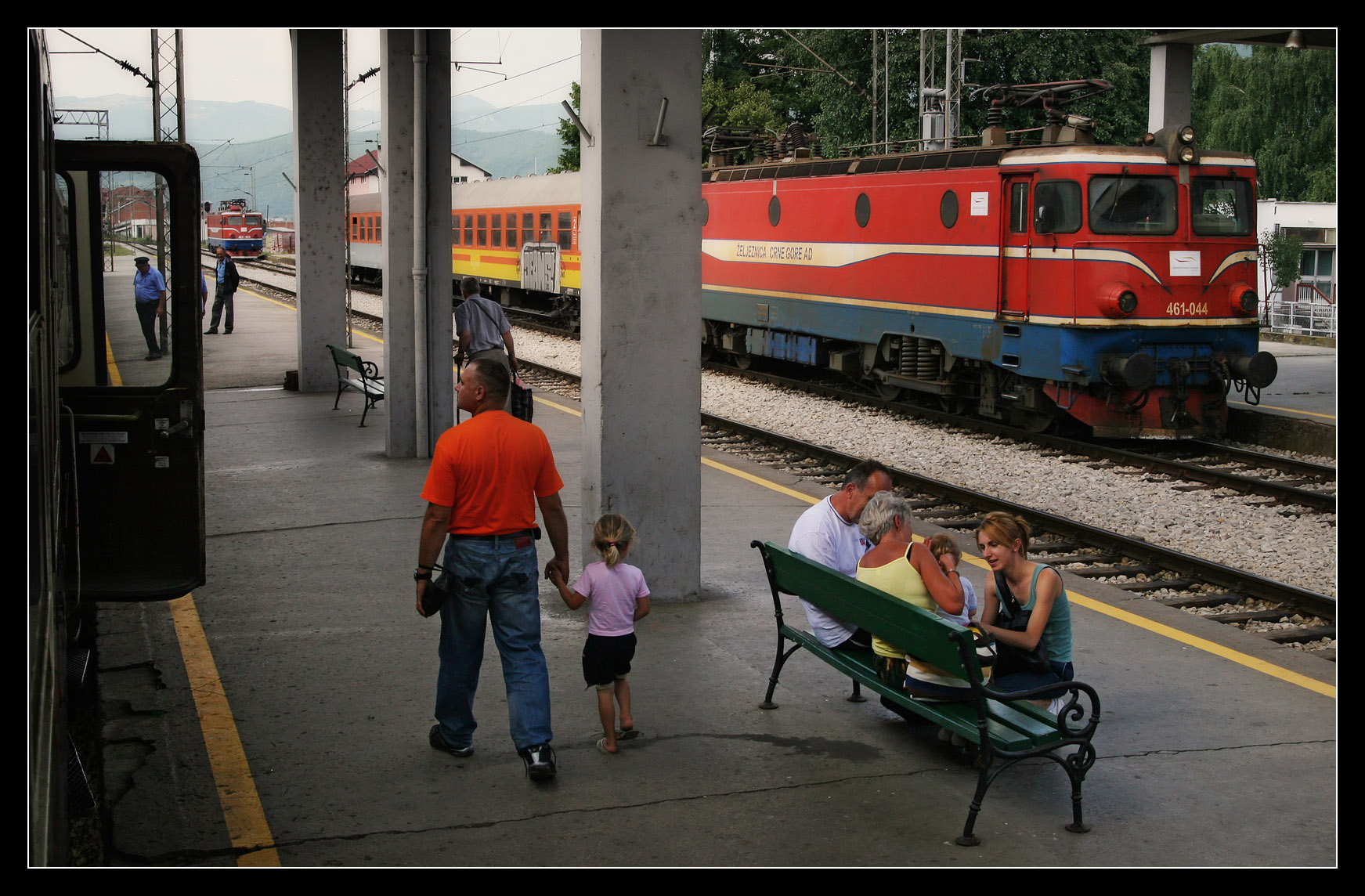 The summit of the line is passed behind Kolašin at 3385 ft. We crossed Tara river in our eponymous express on one of several dizzyingly high bridges.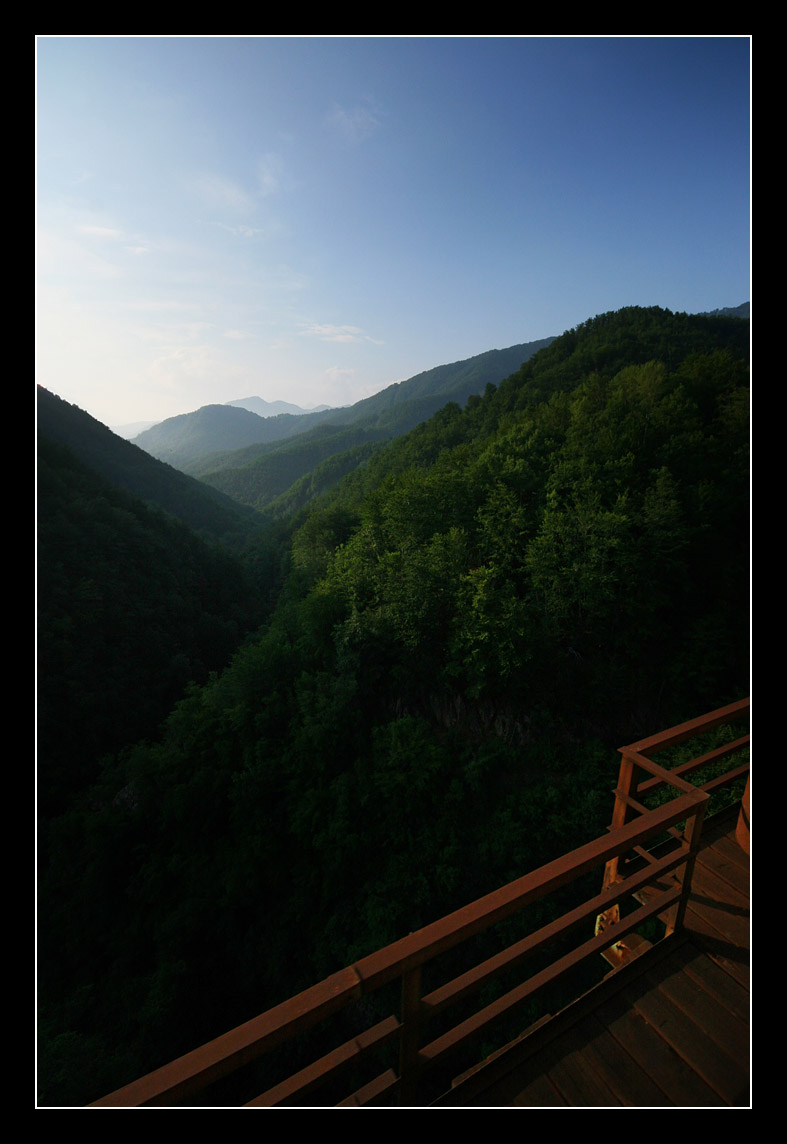 We approached the 3-mile-long tunnel after Trebešica ...
... and emerged between further tunnels in the completely different world of the High Dinaric Alps.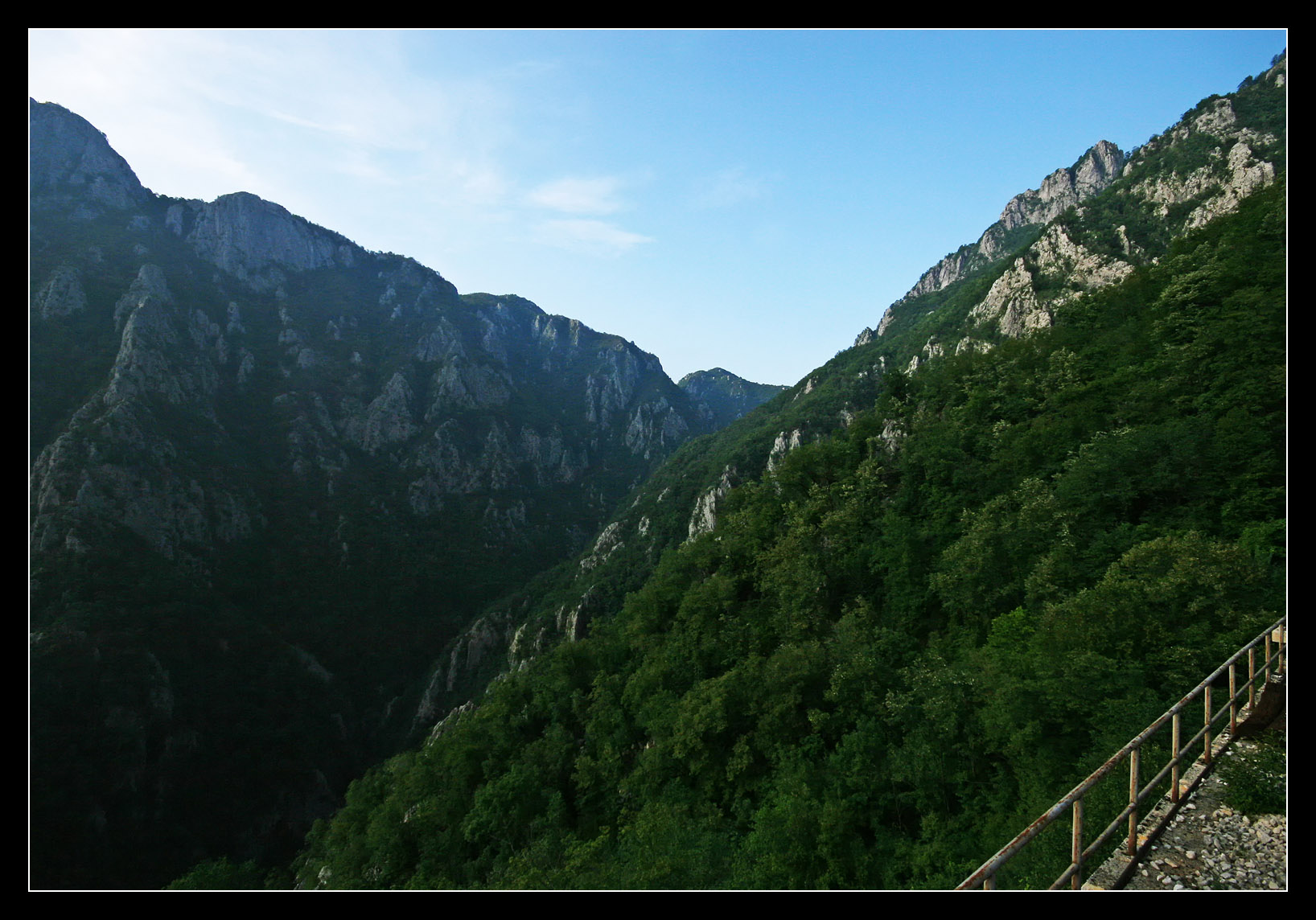 This line is made for a 10mm lens.
Conditions can be harsh, trains already have run into avalanches.
The most spectacular views are passed shortly before reaching Lutovo station, the line seems to hover 1600 feet above Morača Canyon. Main road M2 can be seen below.
Arrived at Lutovo.
The station is partly situated on concrete bridges, partly inside a tunnel. View behind on
August 29 2005
at two car transporters which were quite well frequented due to the bad road connection. A freeway is being built now - although with a couple of years delay - which sadly will cost the railroad even more of its importance.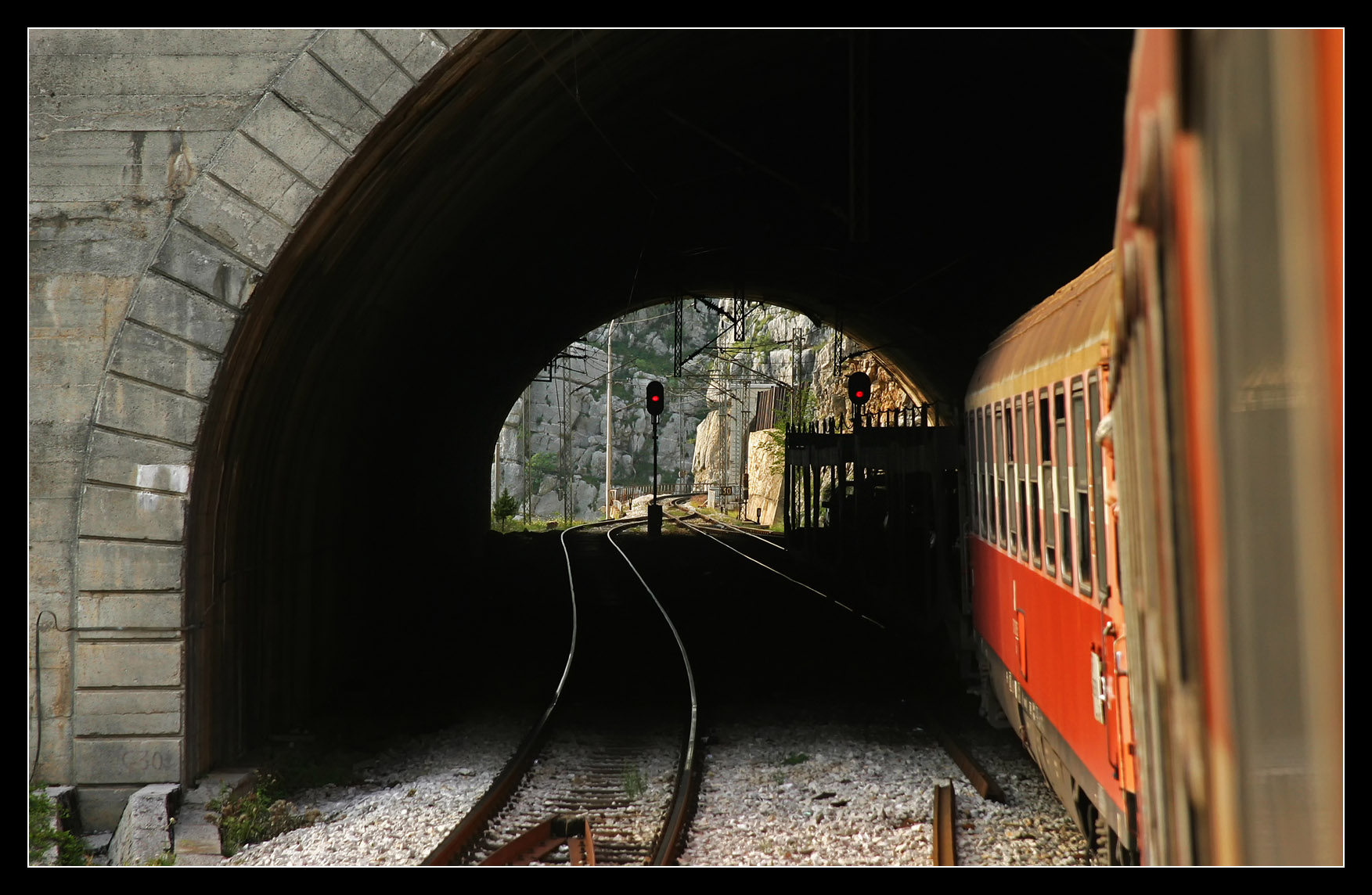 A class 412 EMU built at RVR Riga approached as local train Bar - Podgorica - Bijelo Polje.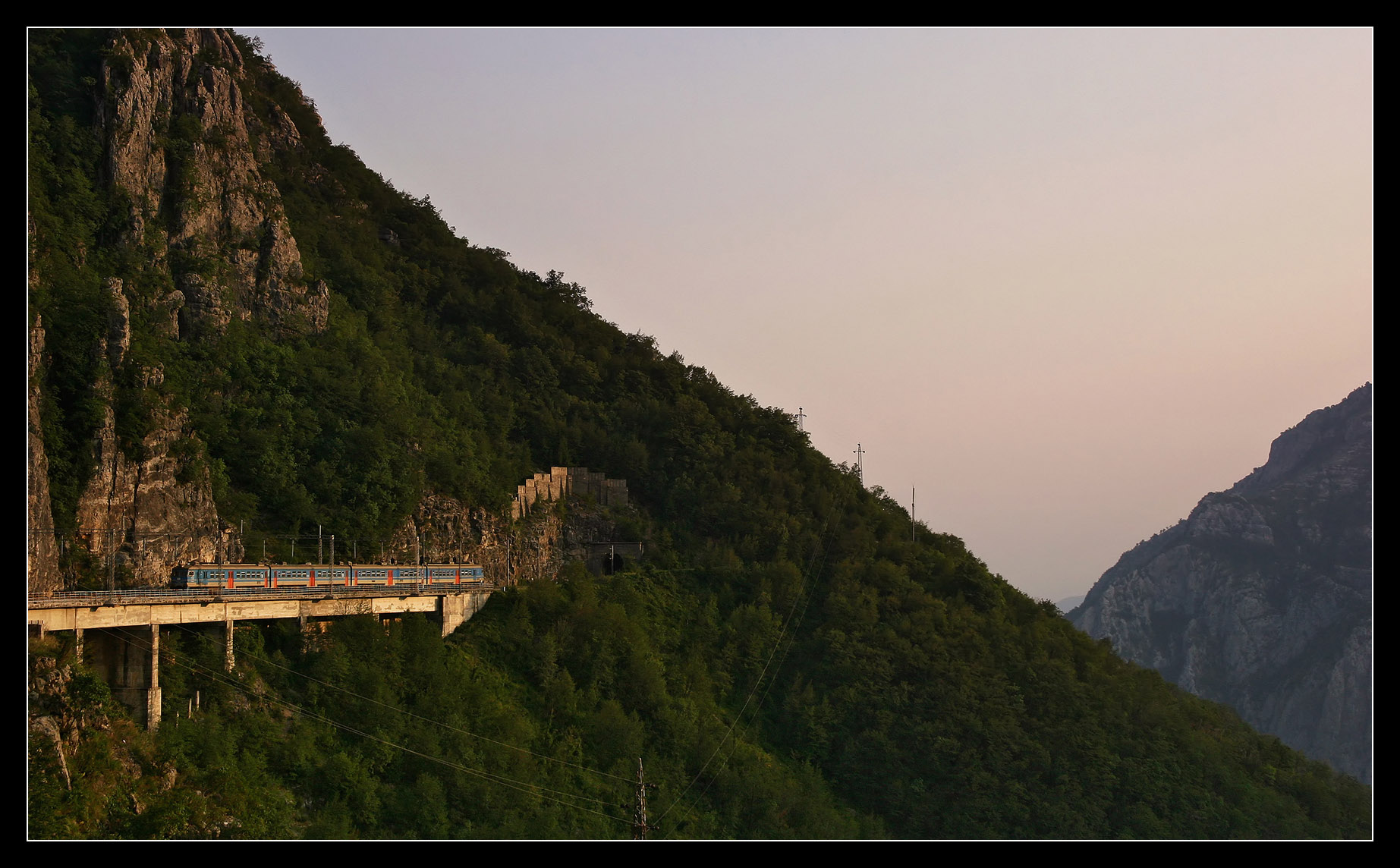 412-045/046 departed first. Tragically, the worst rail disaster in the history of Montenegro happened half a year later as units 412-043/044 ran away with defective brakes on January 23 2006, sped up to 87 mph and tumbled down the mountainside shortly behind Bioče. 45 of the 300 passengers did not survive the accident.
That's why EMUs did not operate on the mountain line anymore. PT 6104 Bar - Bijelo Polje arrived on
July 4 2009
consisting of engine plus cars and passed our "Tara" on the central track.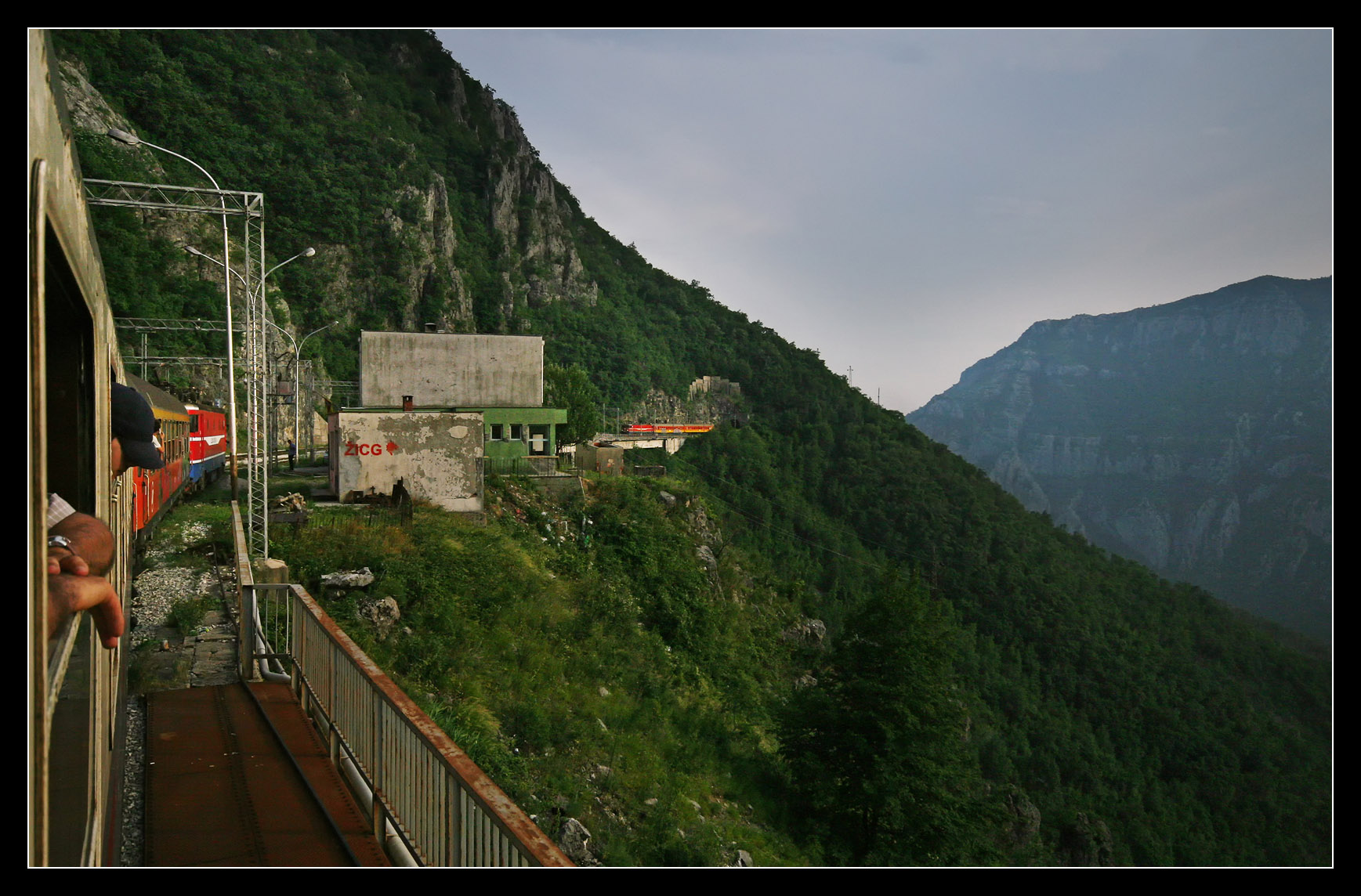 What was different on
August 29 2005
? Yes, we overtook a freight train!
One image, almost four years in production: this wide angle photo was taken in 2009, the picture of the freight train in 2005. You also notice that a covered car transporter was conveyed in 2009.
And Serbian 461-124 hauled the express all the way from Belgrade to Bar in 2005.
On
July 4 2009
, we met the first night train of the evening at the next station, Bratonožići. "Cylops" (a common symptom) 461-036 (Craiova/ASEA #175 / built in 1973) hauled B 436 "Panonija" Bar - Subotica which we already had encountered 13 1/2 hours earlier at Inđija (see previous report part).
Subsequently, the tallest railroad bridge in Europe - Mala Rijeka Bridge - is crossed.
Impressions from the whole ride can be watched on video from 2005, the first of my channel:
We have arrived at Podgorica (1946-1992 Titograd, needless to say), capital of Montenegro - geographically not ideally located in a swampy valley, so there hardly is any escape from tropical humidity: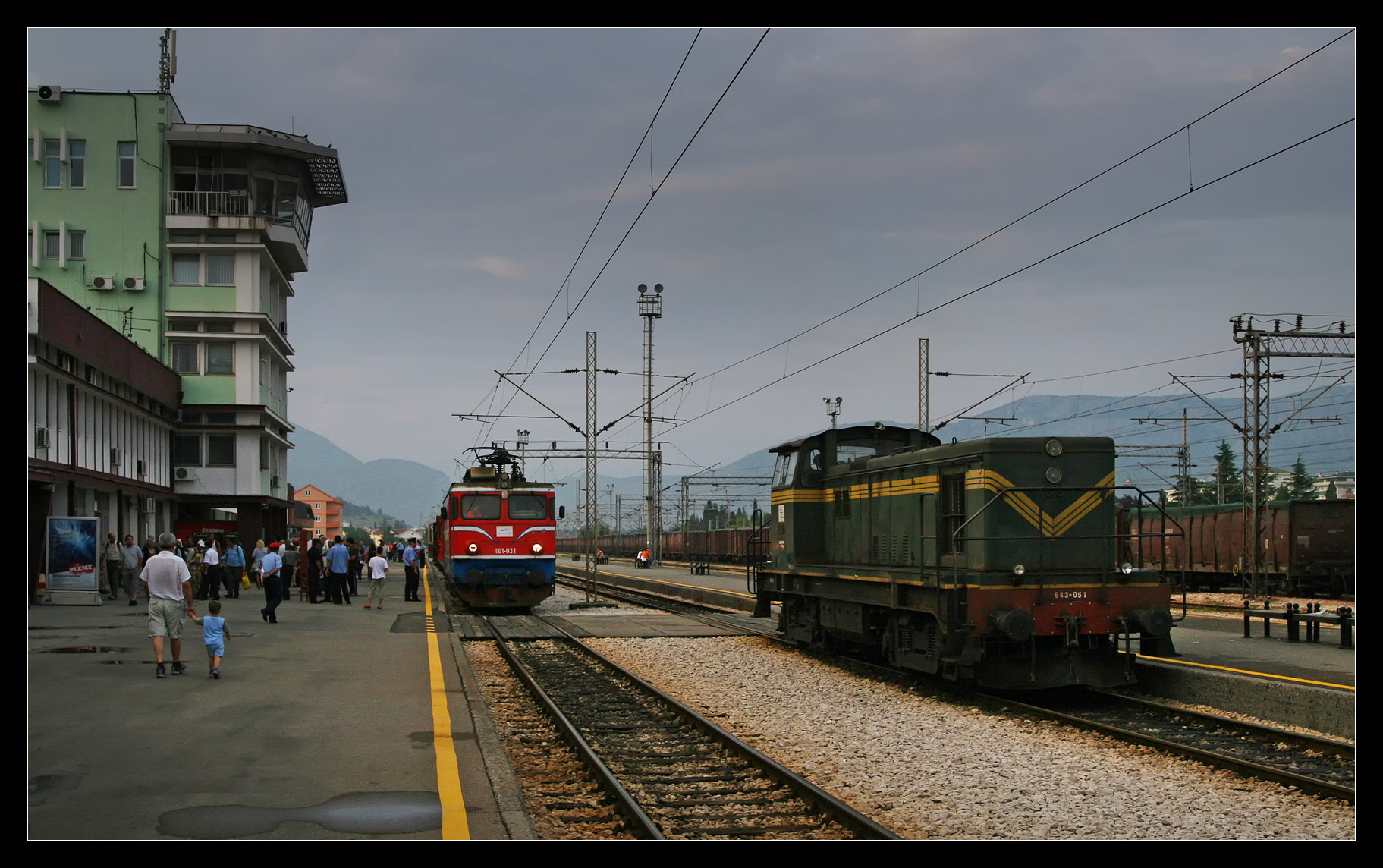 "Tara" met B 1140 "Nišava" to Niš, a North Macedonian sleeping car to Skopje in second position.
"Tara" continued to Bar 45 minutes delayed at 7:46 p.m., leaving the car transporter behind.
We checked into Hotel "Evropa" in 2005 and 2009, nearby the station and an appropriately named pub.
July 5 2009
Next morning, clear blue skies had temporarily replaced the humid heat. PT 6100 Bar - Bijelo Polje departed at 6:43 a.m. Some guy tried to prohibit photography in front of the station, but he was immediately called off by his colleagues. Otherwise, I did not have any negative experiences on these trips - on the contrary, railroad staff often was very kind.
The line follows Morača river, then Mala Rijeka ("little river") into the mountains.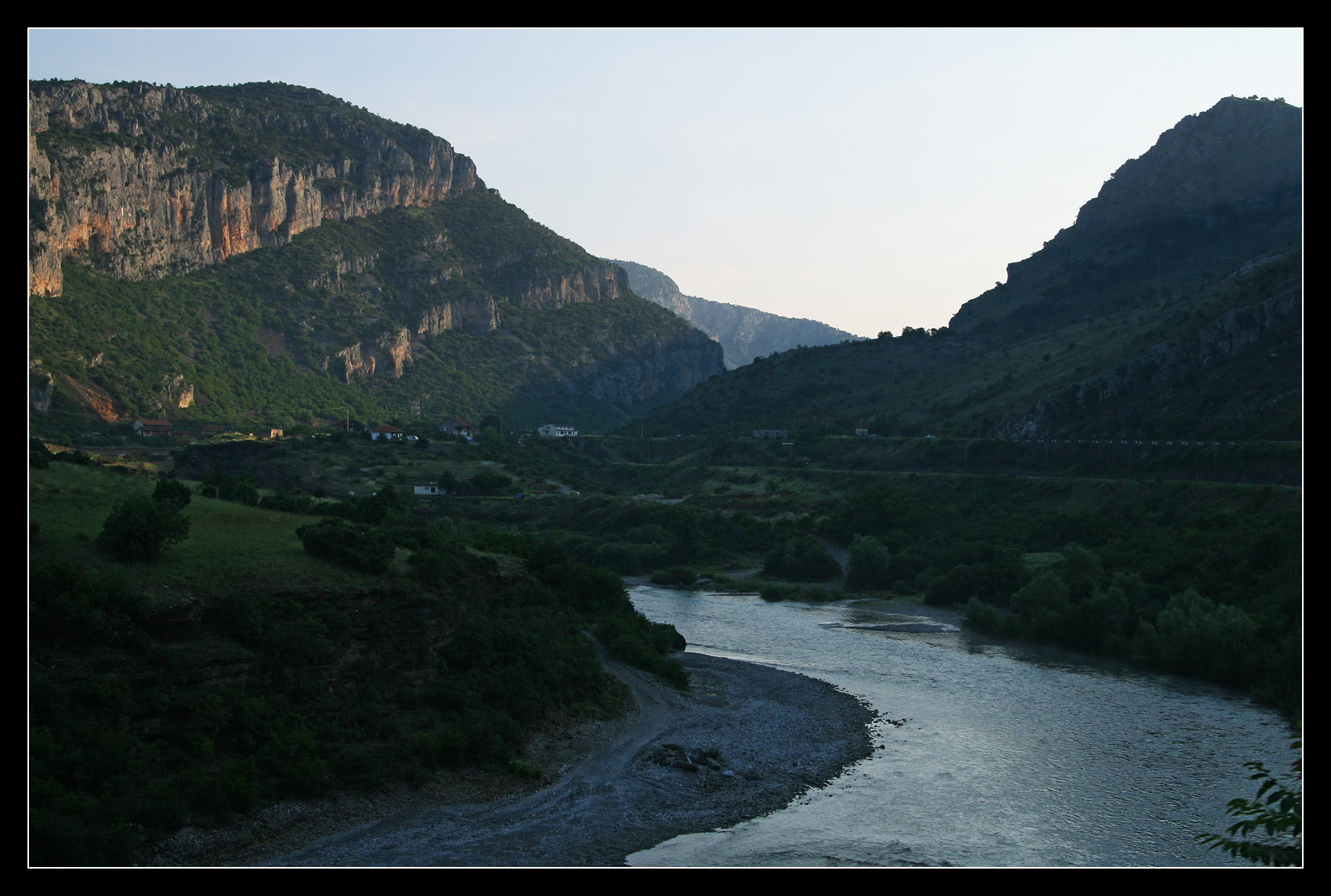 We have reached Bioče, all signals showing danger.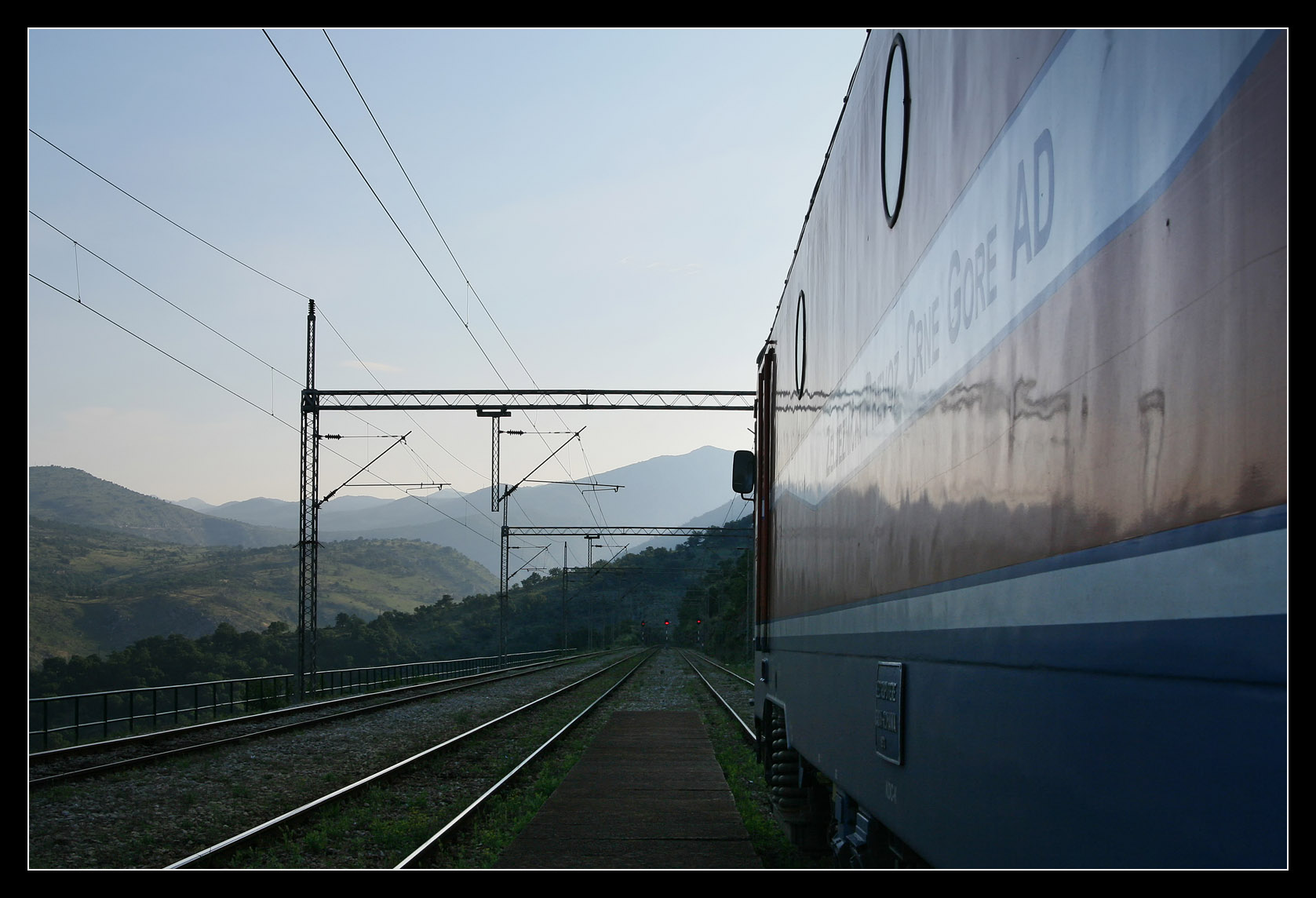 After independence, the logo of the rail infrastructure company had been painted in red onto every building - obviously some joker had had paint left over.
B 435 "Lovćen" Belgrade - Bar already known from Belgrade the previous morning and report part approached 40 minutes late on the sunny opposite side of the valley.
Mala Rijeka Bridge had been crossed seven minutes later.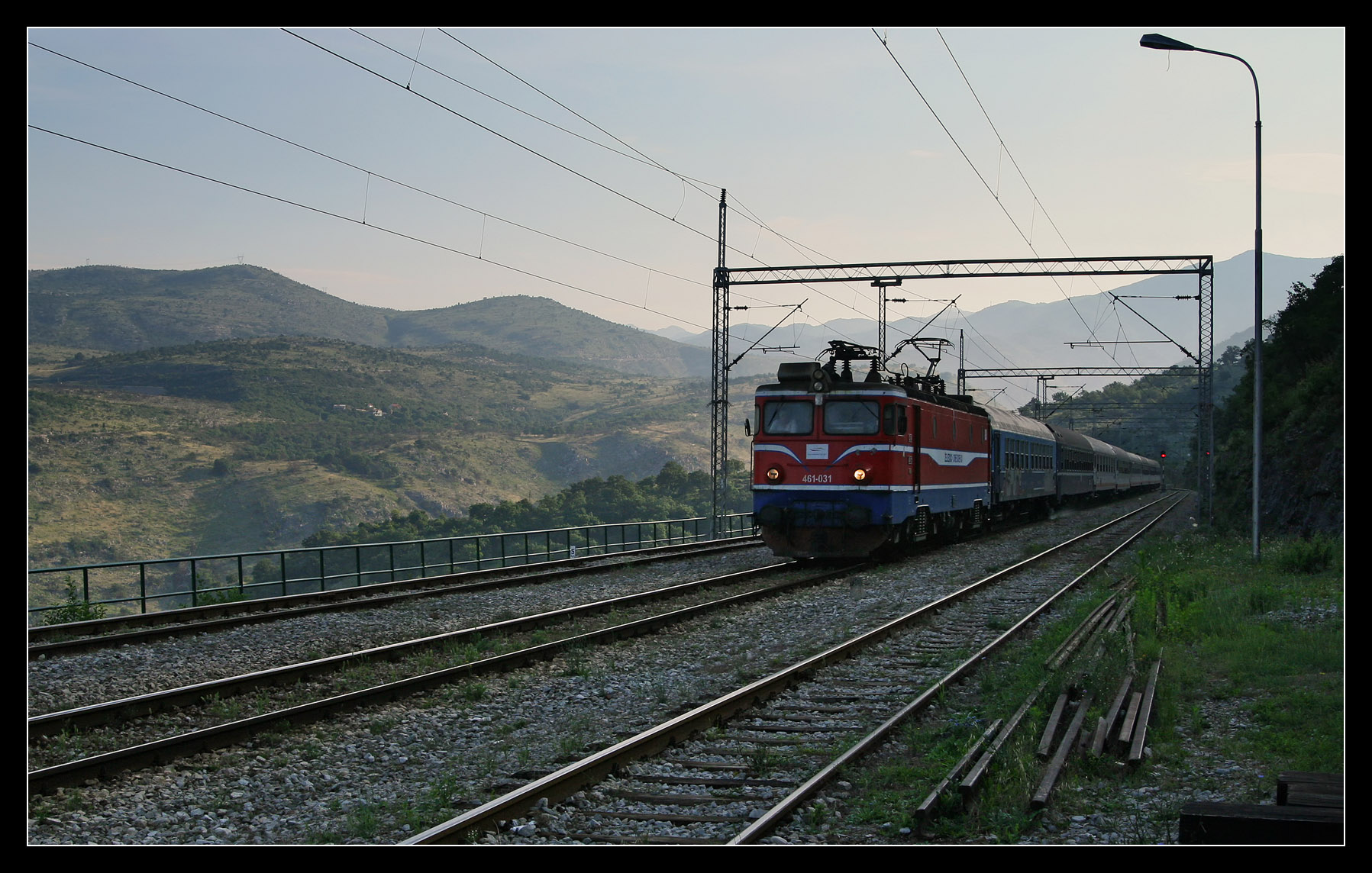 PT 6100 was able to depart 12 minutes delayed.
The friendly station master cautioned us against spiders on our excursion.
The local train climbed the karst highlands of Bratonožići - a historic tribe.
You do not want to know how it looks like nowadays - the freeway being constructed right through this picture:
We were climbing one of the worst mountainsides ever: steep, loose and spider-infested. What don't you endure for such photos...
Another 40 minutes delay helped illuminating the viaduct: B 1343 "Auto-Voz" from Belgrade consisting of six cars and five car transporters can be seen twice. I also virtually removed the first ugly olive-green couchette car with graffiti, as I wanted to get the Pullman from Tito's "Blue Train" (here as 4th) into frame.
Mala Rijeka shimmering through one of the viaduct arches - let's see what will come along next time!