Hi,
To the previous part of the series:
Regional Rail Express - 26: 98% Night Train - Adria/Jadran II (50 p.)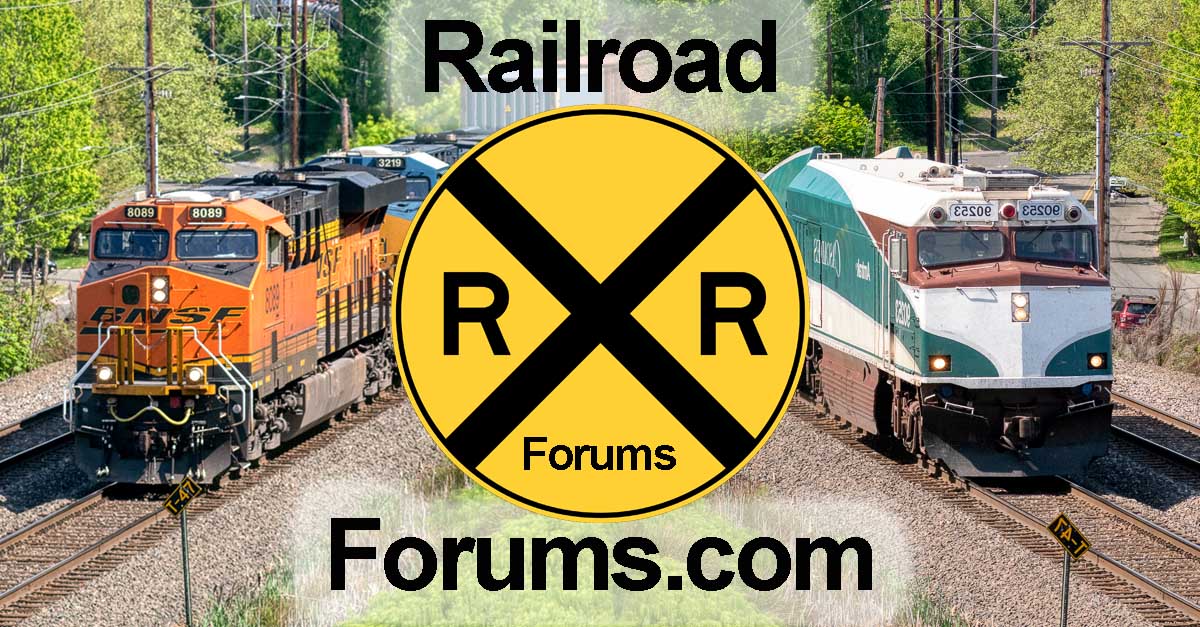 Hi, To the previous part of the series: Regional Rail Express - 25: 98% Night Train - Adria/Jadran I (50 p.) https://railroadforums.com/forum/index.php?threads/regional-rail-express-25-98-night-train-adria-jadran-i-50-p.15620 GM soundtrack e.g.: 2009 2012 2015 July 18 2012 We...

railroadforums.com
Even though this report does not show a lot of pictures containing corn, it is about the proverbial "cornfield between Vienna and Belgrade". :0)
August 28 2005
After I returned from the Kornat island holiday, we immediately departed southbound once more: in style by ÖBB sleeping car of D 347 "Dacia" Vienna - Budapest - Belgrade (/ - Bucharest) of course from Vienna Western Station.
It was the most colorful phase of "Dacia"-express including Yugoslav cars, here on
June 11 2002
. The country has been called Serbia and Montenegro from 2003, the union was dissolved in 2006, and Montenegro became independent.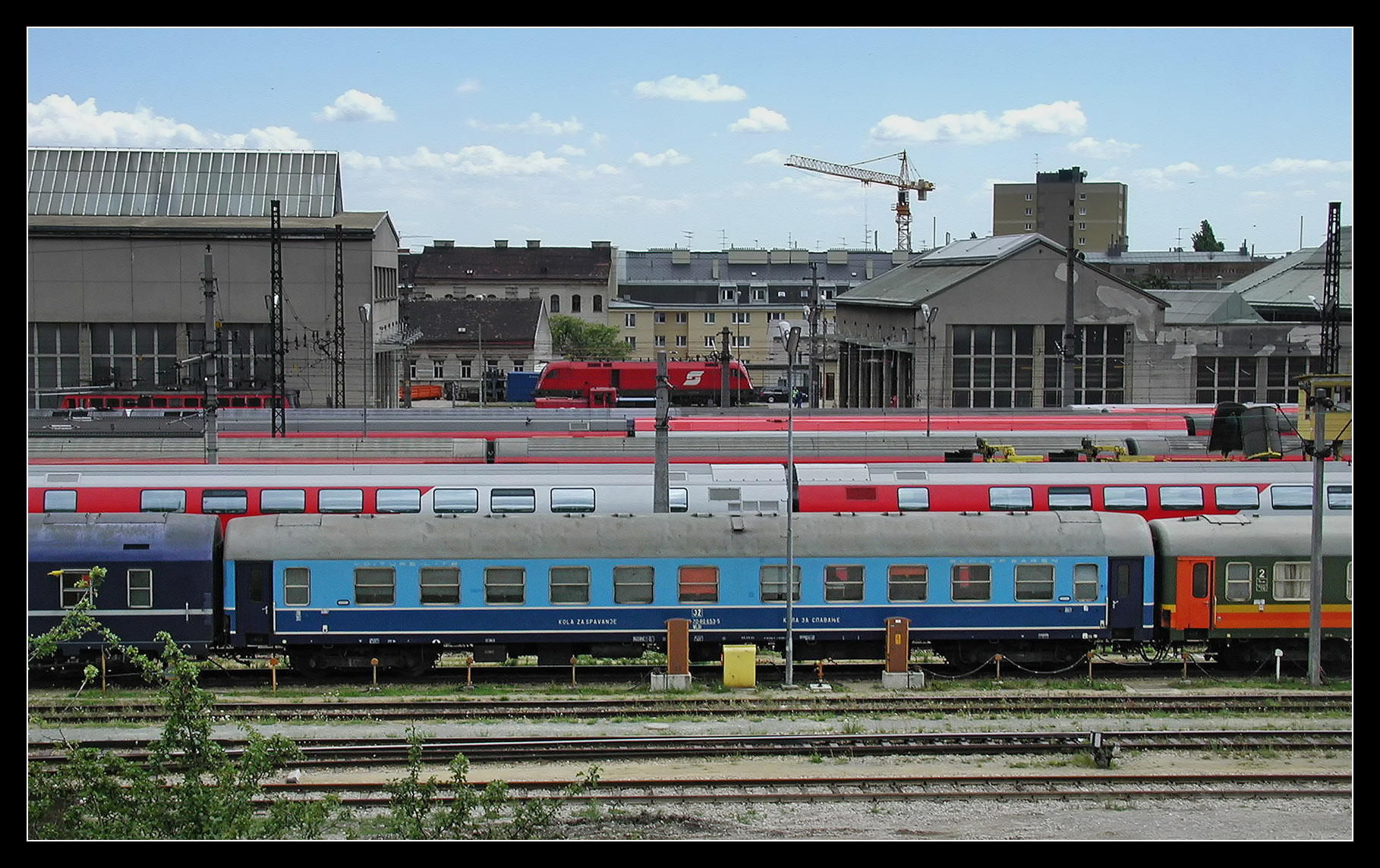 View from the Western Station yard towards Schönbrunn castle and Gloriette on the hilltop.
D 346 "Dacia" from Belgrade and Bucharest passed through Inzersdorf in the morning of
November 3 2003
, this station does not exist anymore.
The same on
September 17 2003
. The first five cars had been added at Budapest-Keleti.
More pictures of "Dacia" over the years already have been shown in this report from 2013:
Orient-Express 1: 21st Century (50 p.)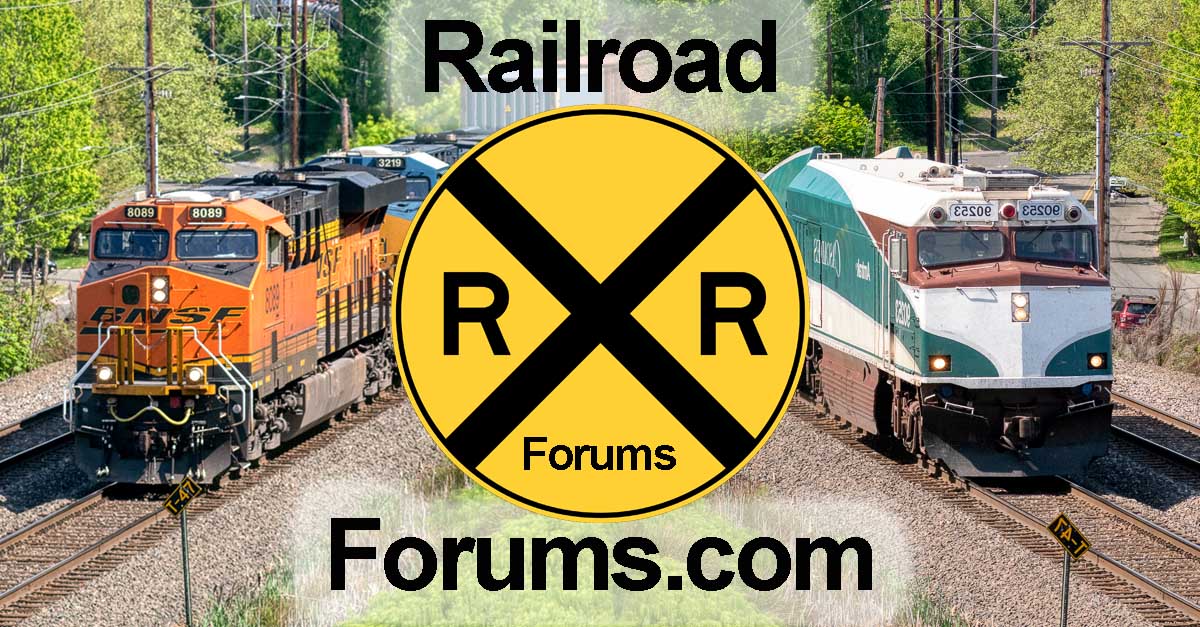 Hi, As I am up for "something completely different" - let's visit different realms, we will see where the journey will take us... :-) At first I want to take a look at the modern day successors of the namegiving train, its original route can be viewed here...

railroadforums.com
June 17 2009
The daytime express between Vienna and Belgrade traditionally is called "Avala" (mountain near Belgrade). For a few years it went to Prague instead of Vienna, arriving in the afternoon 25 minutes delayed at Budapest-Keleti.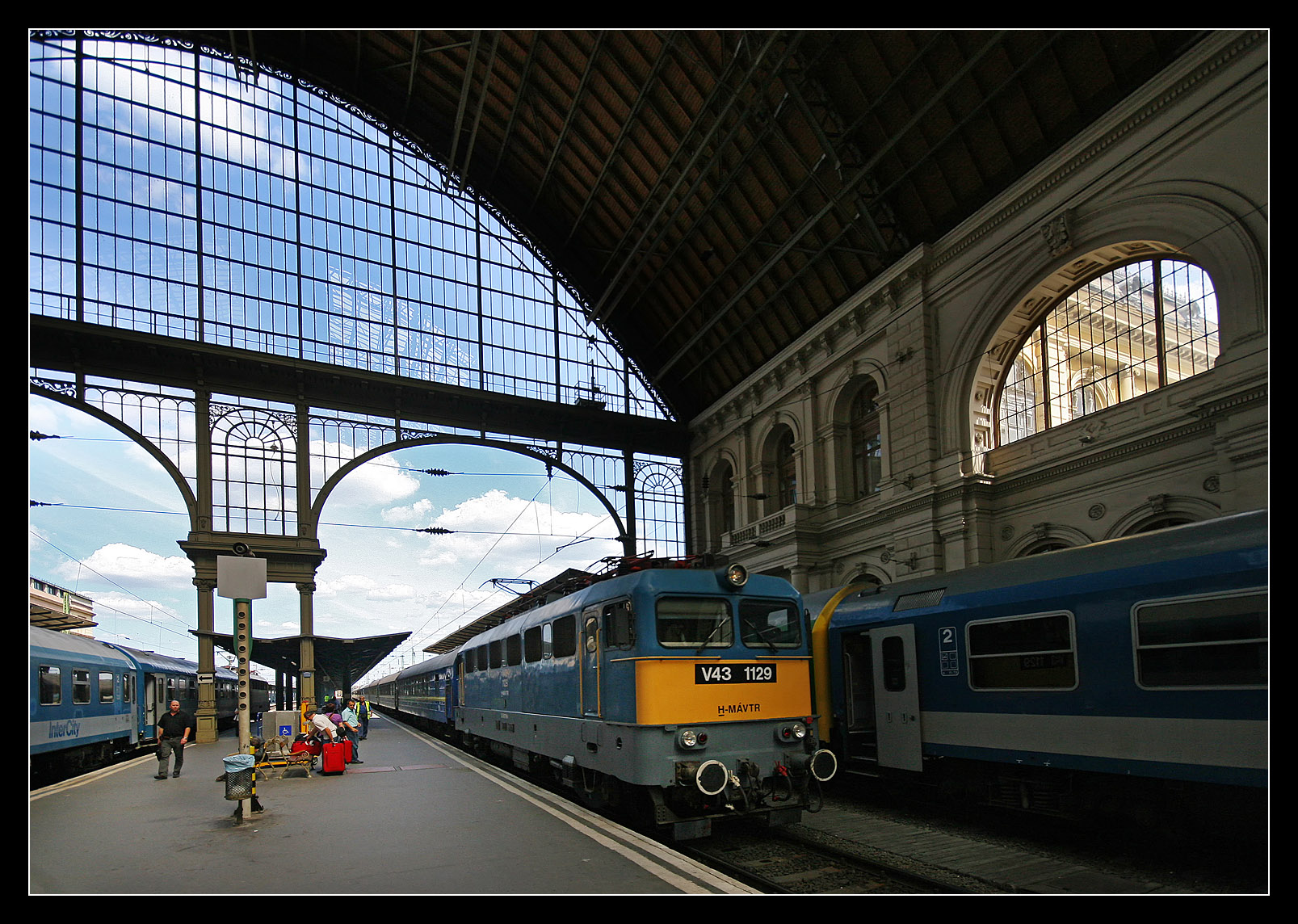 Depending on the day of the week it conveyed through cars from Kiev and Moscow to Belgrade and further:
"Avala" continued to Prague almost punctually at 3:36 p.m.
While the through cars had to stay for three hours at Budapest until the departure of G 16 "Tisza":
Shortly afterwards - on
July 4 2009
- we started our summer tour by "Dacia" and through car of B 341 "Beograd" Budapest - Belgrade. The rake had been partly renewed, so we enjoyed my favorite ÖBB sleeping car type P. At Inđija (a junction in Vojvodina region, not further east ;-)) we met 1 3/4 hours delayed B 436 "Panonija" Bar (on the Montenegran coast) - Subotica.
Ourselves an hour late, we approached the old Sava River railroad bridge in the Belgrade morning haze.
Older edition on
August 29 2005
.
July 4 2009
Entering the classic Belgrade main railroad terminal - closed down since 2018 and replaced by a completely new through station elsewhere - we met this overpowered little train hauled by six-axled ŽS 461-102 (Craiova/ASEA #336 / built in 1978).
B 315 from Villach had arrived on track 3: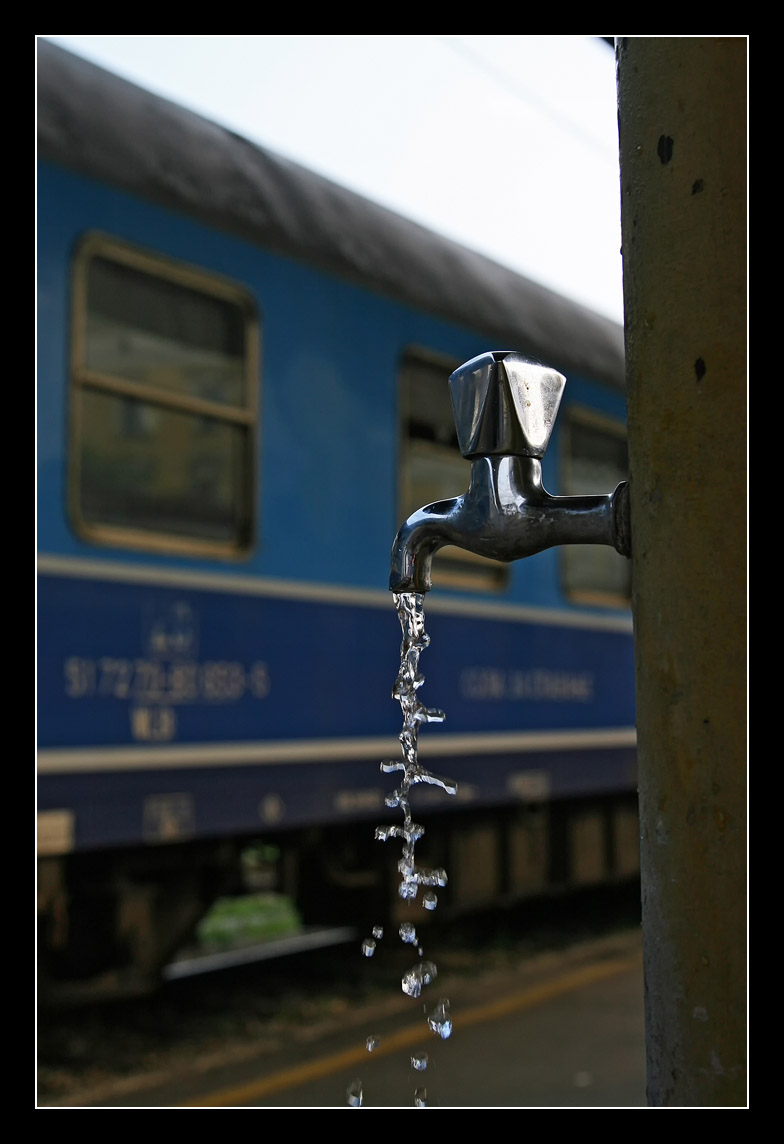 Last was a Republika Srpska ŽRS through car from Banja Luka, to the left on track one IC 344 "Avala" with through cars to Kiev and Moscow.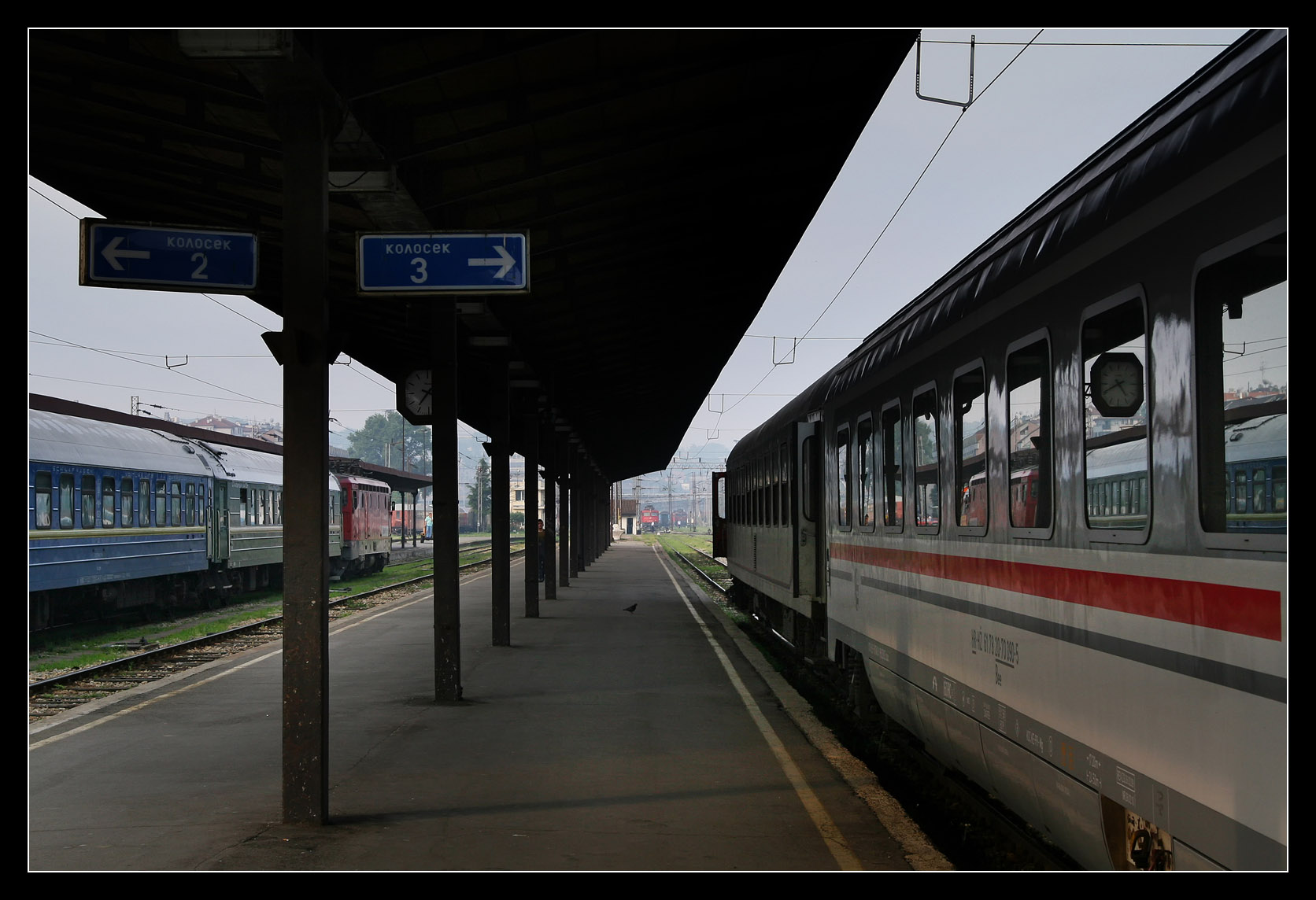 641-305 (Ganz Mavag #2046 / built in 1984) shunted next to 444-002 (rebuilt from 441-322 in 2004).
B 434 "Lovćen" from Bar arrived 50 minutes late hauled by 444-030 (rebuilt from 441-011 (SGP #65198 / built in 1967) in 2006).
With two exceptions, all cars already appeared in new Montenegran ŽPCG livery. Still, classic night train travel.
Quickly turn around, "Avala" was set in motion two minutes early at 7:28 a.m.
Including ŽS dining car and some proper Yugoslav officials types.
Most seemed to have fun at work.
A "Romantika" heritage special switching.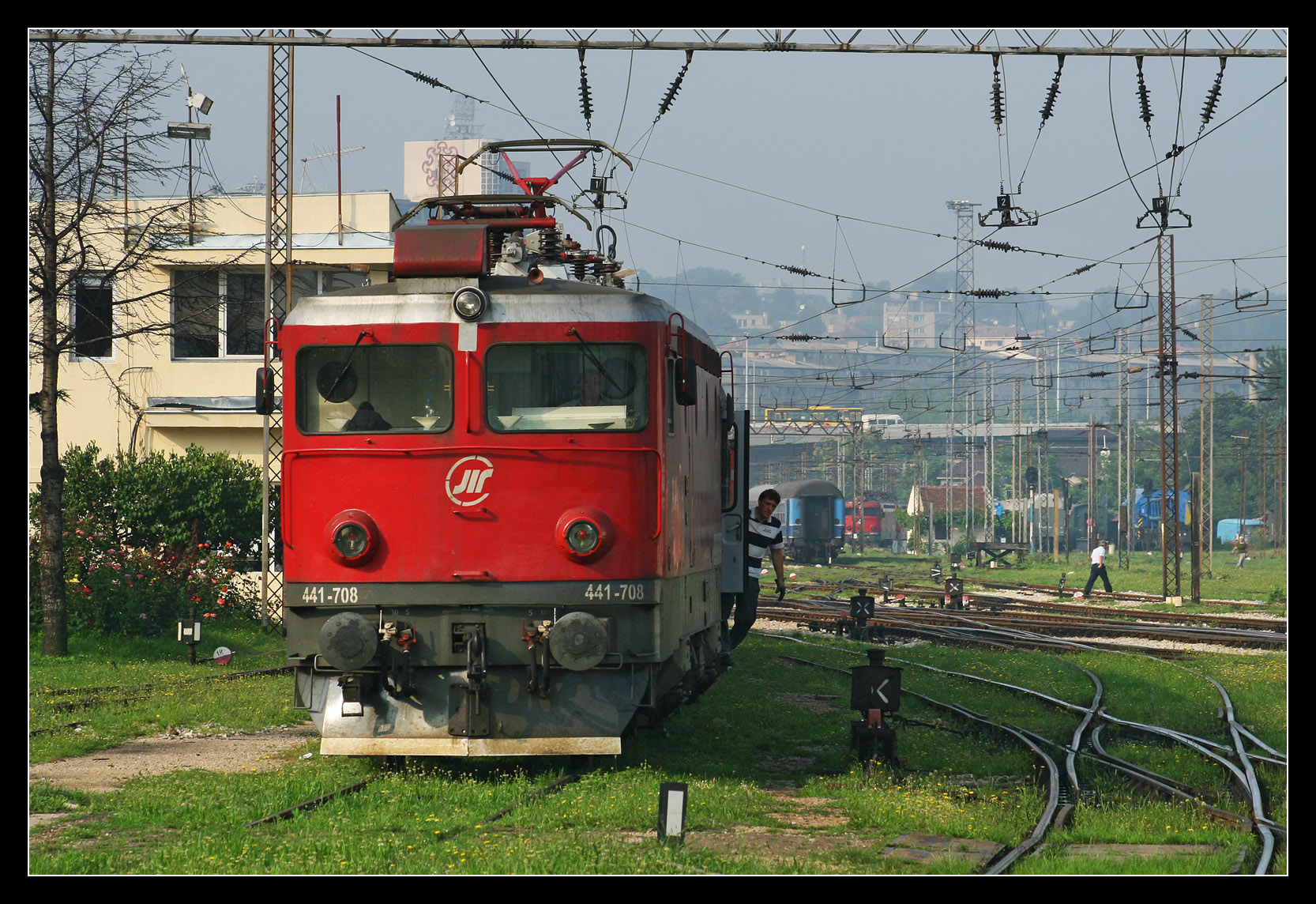 As colorful a Balkans express as it gets: North Macedonian and Greek 2nd class cars, Bulgarian sleeping car and Serbian car of B 337 "Olympus" / B 491 "Balkan Express".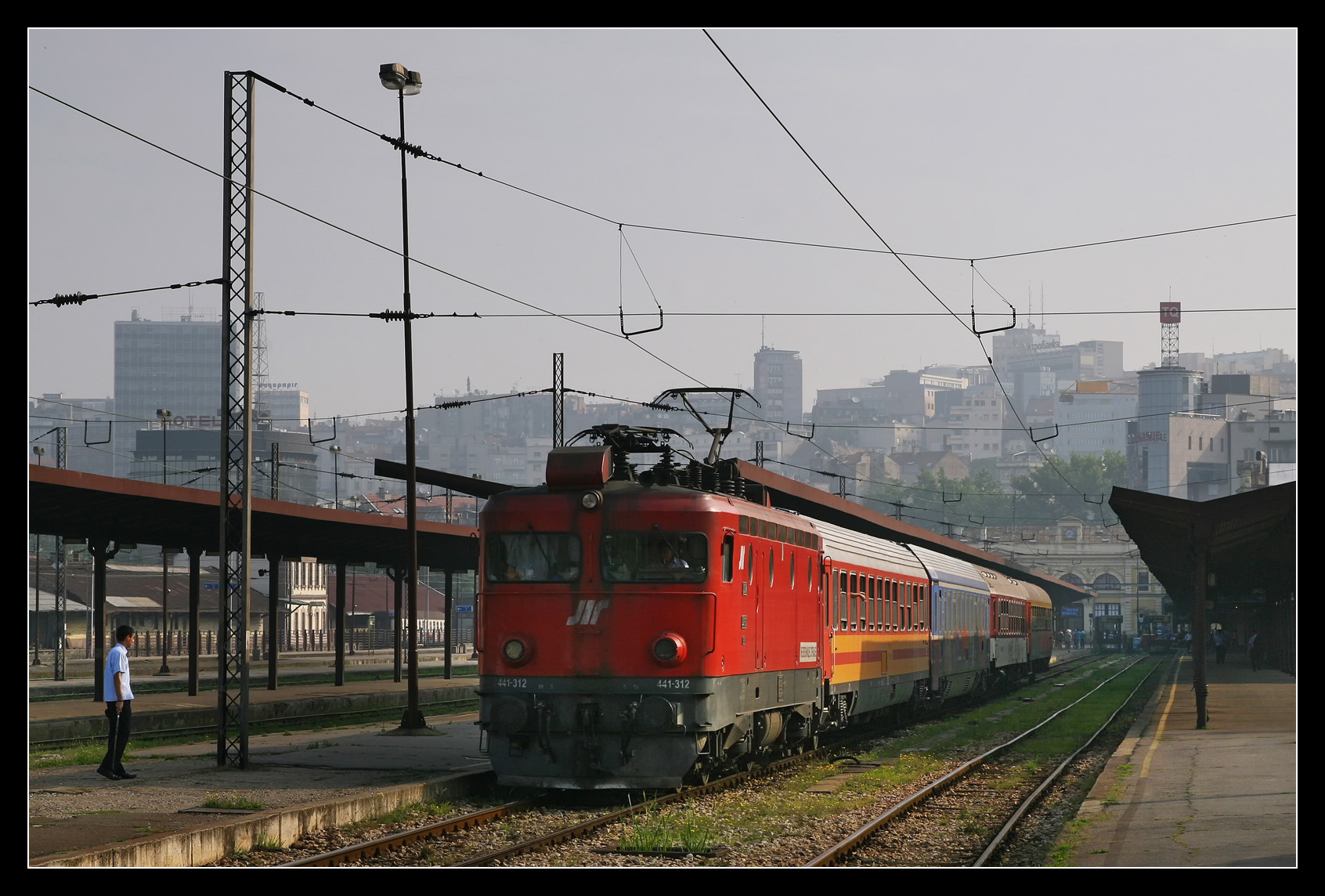 "Lovćen" switched by its own engine.
Relic from previous decades - the "Romantika" charter also had received electric traction. Delayed "Hellas Express" from Thessaloniki arrived to the left.
These through cars were supposed to be conveyed by "Avala" 1 1/2 hours earlier.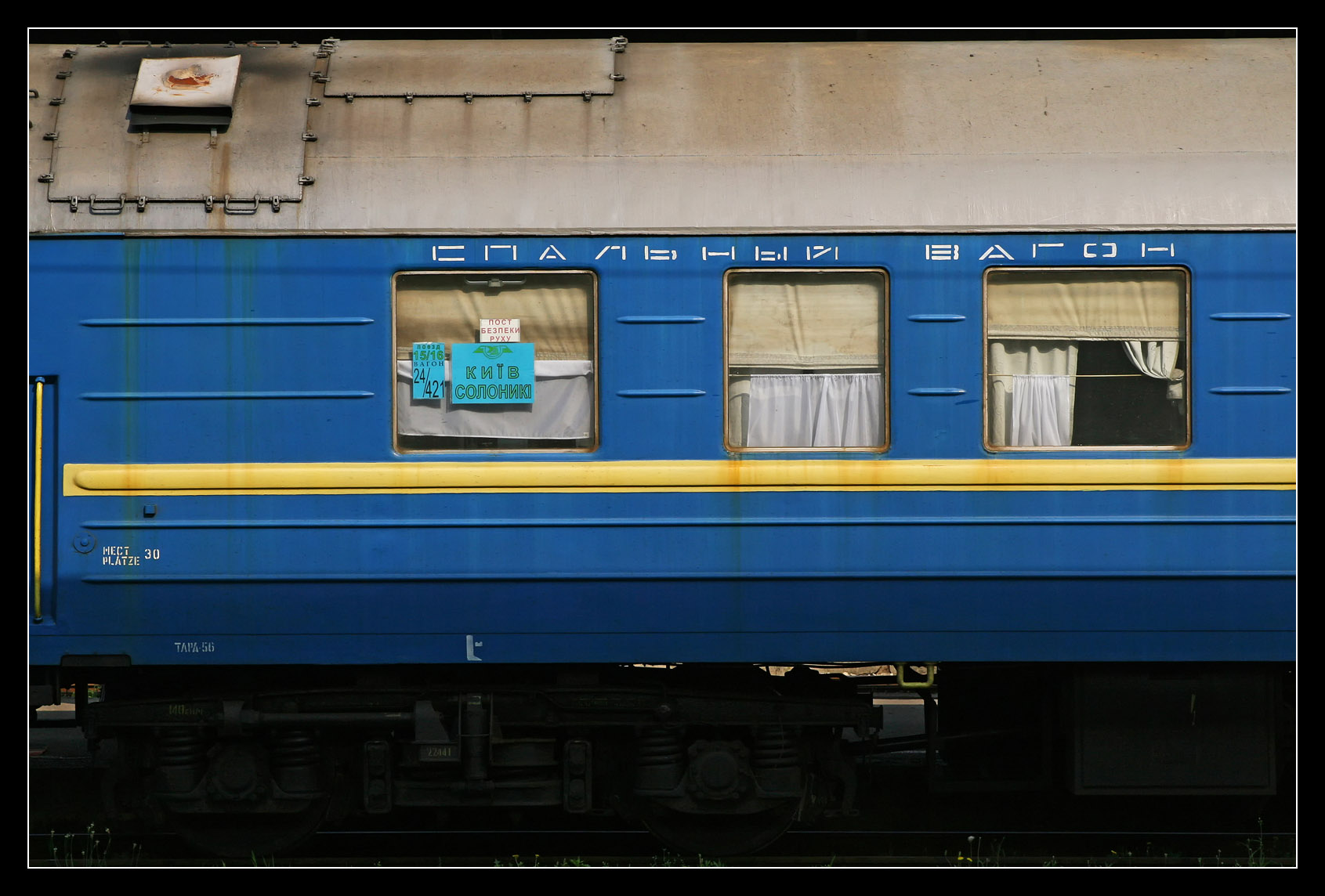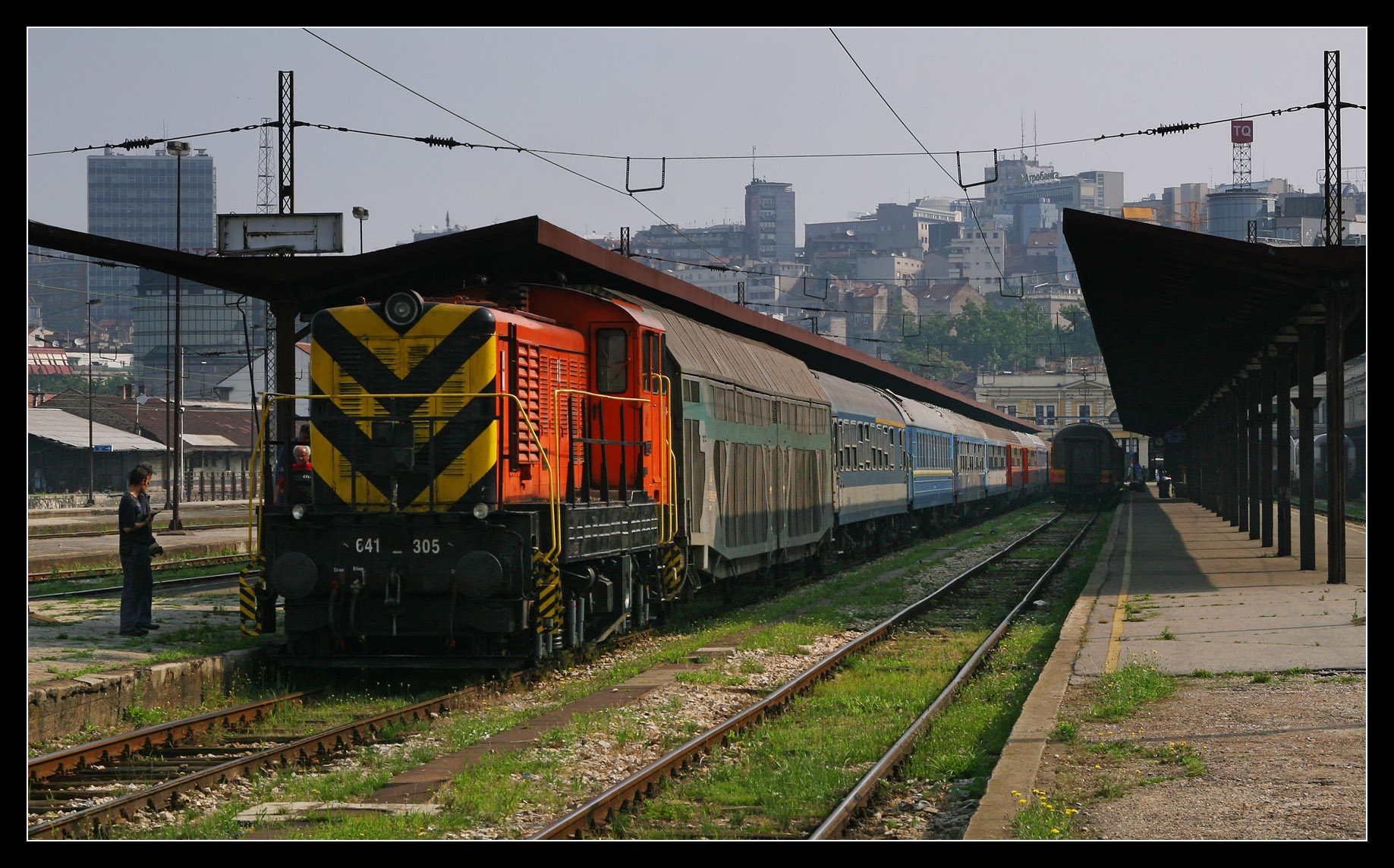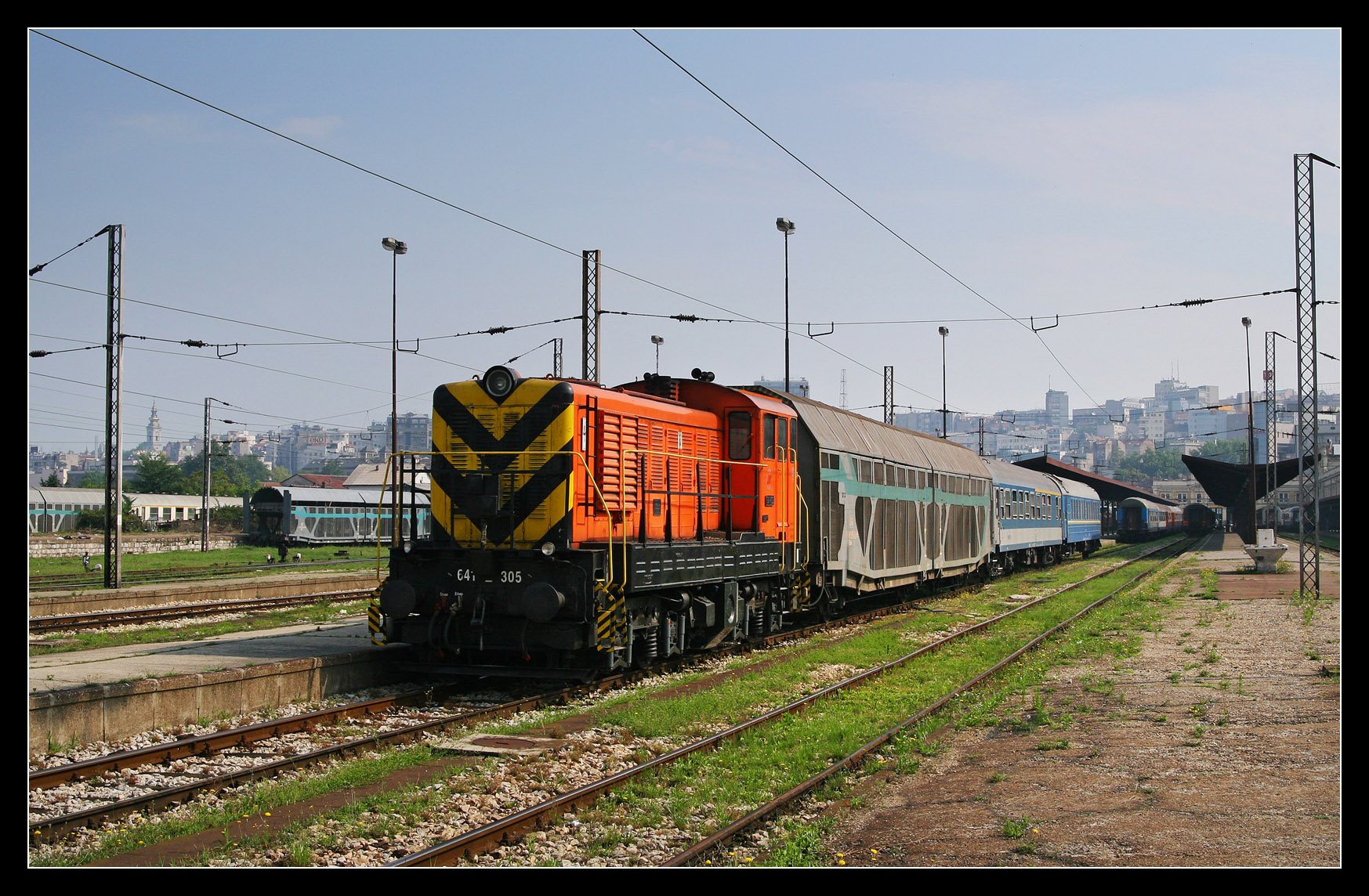 "Romantika" train departing simultaneously.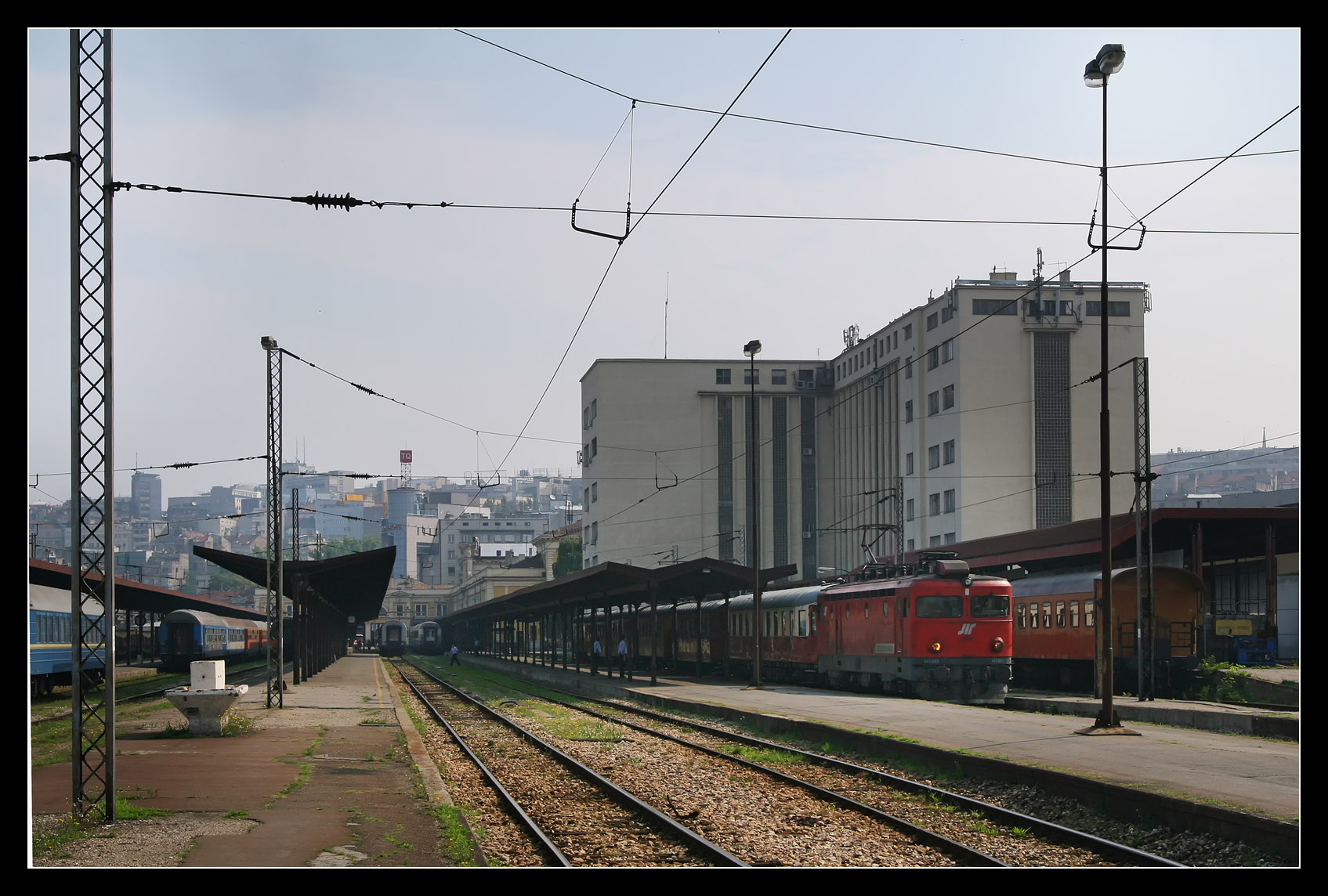 Comparison of scripts.
We strolled through the city upon arrival at Belgrade on
August 29 2005
. Afterwards - at 9:30 a.m. - 441-038 (SGP #67839 / built in 1969) in original orange livery showed up at the main station.
We changed to B 433 "Tara" Belgrade – Bar. As it still was one country Serbia & Montenegro, the express was hauled to its destination by ŽS 461-124 (Craiova/ASEA #442 / built in 1978) – such a long journey of course not without Billa bag.
On
July 4 2009
, we also left the station at 10:10 a.m. You can spot the Ukrainian through car from Thessaloniki as part of B 1120 "Ivo Andrić" in the background. It should have reached Budapest in time to make the connection to Kiev.
Something was smoking in front of the historic engine shed and an innovative hut.
33-087 (ex DRB 52 2802, Henschel #28366 / built in 1944) had been fired up, to the left classic Hungarian branch line tender loco 51-052 (Istvántelki Főműhely #43 / built in 1917).
A historic comparison: in 1984 I had seen proper steam at exactly this spot, filmed by my father:
After an hour, we passed by a mixed-gauge track to the brown coal fields Kolubara at Vreoci. Including the thermal power stations "Nikola Tesla", this region south of Obrenovac features 60 miles of industrial tracks operated by an own company.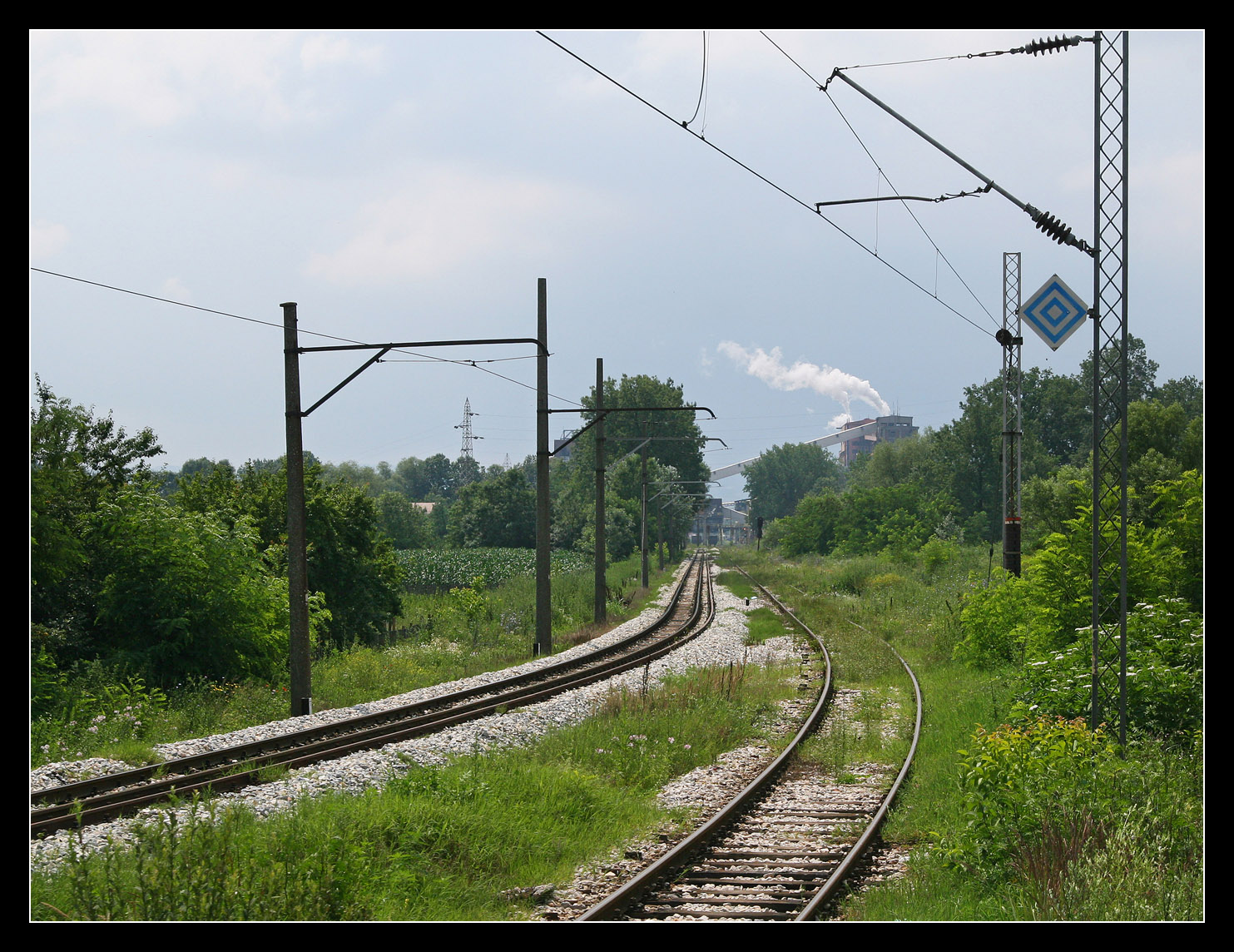 We will leave the "corn field" soon - by express "Tara" into the mountains!