Hi,
To the previous part of the series:
Mountain Express - 31: Beach Grill (50 p.)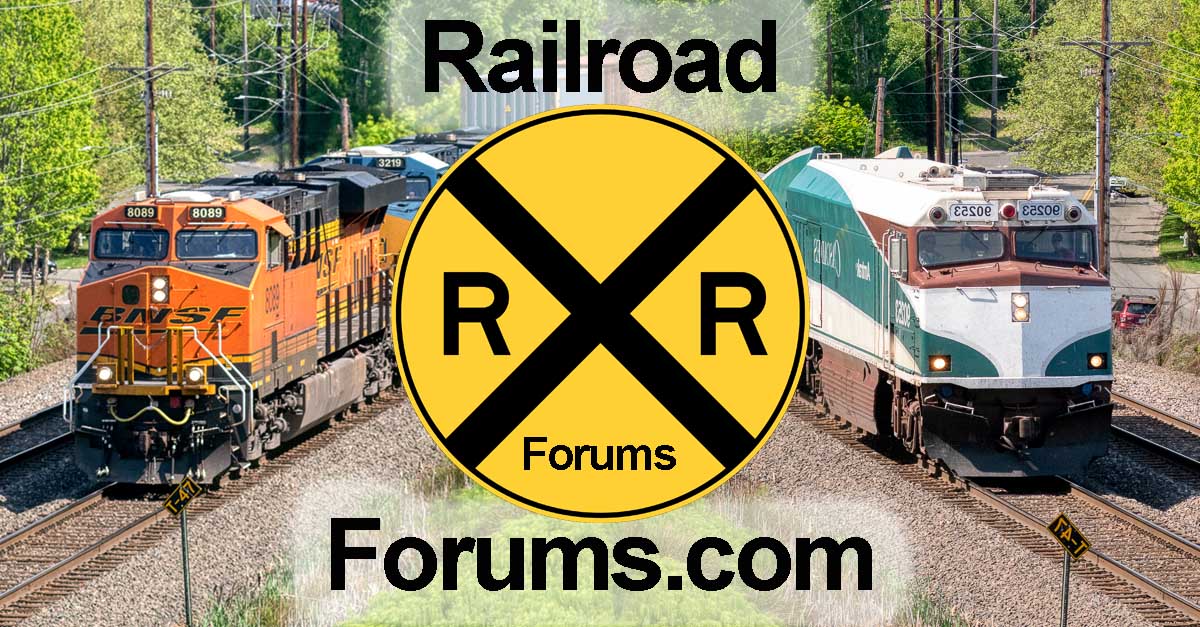 Hi, To the previous part of the series: Mountain Express - 30: Little Venice (50 p.) https://railroadforums.com/forum/index.php?threads/mountain-express-30-little-venice-50-p.15858 The video for this part: Departures/arrivals Podgorica = complete timetable Montenegro 2009 season...

railroadforums.com
The video for this part:
Šarganska Osmica aerial photo:
August 31 2005
We traveled on a sleeping car of B 812 "Lovćen" from Bar to Serbia. In the middle of the night - somewhere in the Zlatibor mountains - the train came to a halt. Cursing railroaders walked past our window. Obviously some electrical part of the engine had burnt. The headlights of a replacement loco appeared out of the darkness at 4:30 a.m. We did not mind the delay too much, as it would have been a very short night anyway. Finally, we reached Užice at 5:39 a.m., 2:45 h late. We peeked into the station master's office where all the still cursing railroaders had assembled. Afterwards, we brought our luggage to the booked hotel.
A public bus took us to Mokra Gora near the Bosnian border (Republika Srpska) already at 8:30 a.m.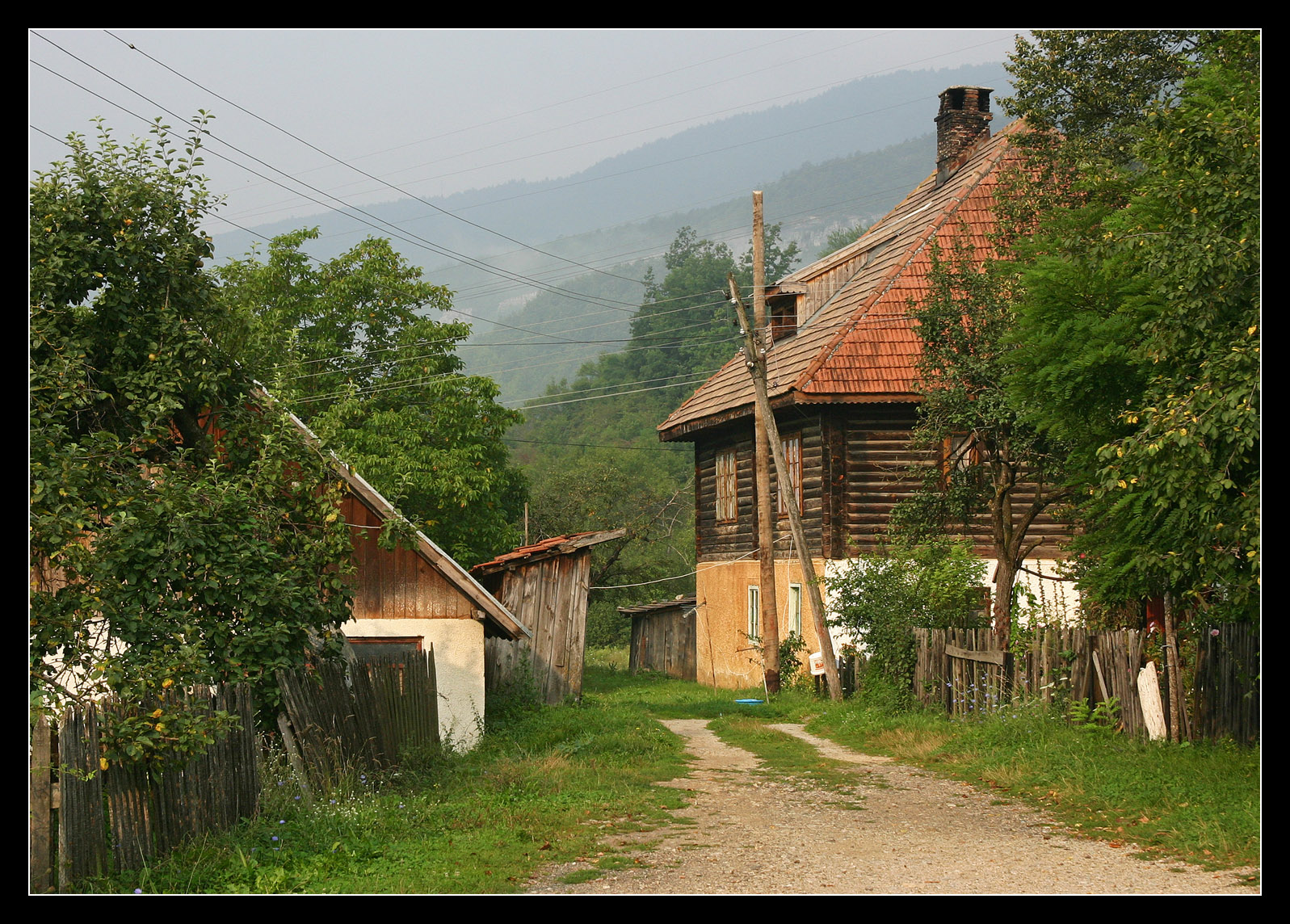 Arrived to the then terminal of the "Šarganska Osmica" ("Šargan Eight") at Mokra Gora. The buildings had already been erected here, elsewhere they were still being built. The extension of the line to Višegrad in Bosnia was completed in 2010, making it one of the very few international heritage lines:
During regular operations until 1974, this mountain line connected the East Bosnian Railway from Sarajevo with Serbia. You could travel on Bosnian 760 mm (2 ft 5 15/16 in) gauge all the way to Belgrade-Čukarica (in German):
A fantastic site with historic photos, timetables, etc.:
We approached the line of museum vehicles stabled there at the time.
An absurd rail car from the film "Life Is a Miracle" which had been shot here:
The oldest heritage locomotive of the line was under steam, 83-052 (Jung/Jungenthal #3534 / built in 1923). This had been the universal engine class on Bosnian railroads (in German):
The monstrous new station building at Mokra Gora. This term probably describes the style most accurately: "nationalist-orthodox Disneyland"...
The region is influenced by movie director Emir Kusturica who also supported the reopening of the railroad:
Let's rather take a look at classic details.
Also on site: 25-27 (ČKD #2527 / built in 1949). I encountered sister loco 25-30 in 2010 performing regular switching duties at Banovići (in German):
Steam in Bosnia 2010 - 6: Banovici I - Narrow Gauge Mainline (50 p.)
Dampf in Bosnien 2010 - 6: Banovici I - Schmalspur-Hauptstrecke (50 B.)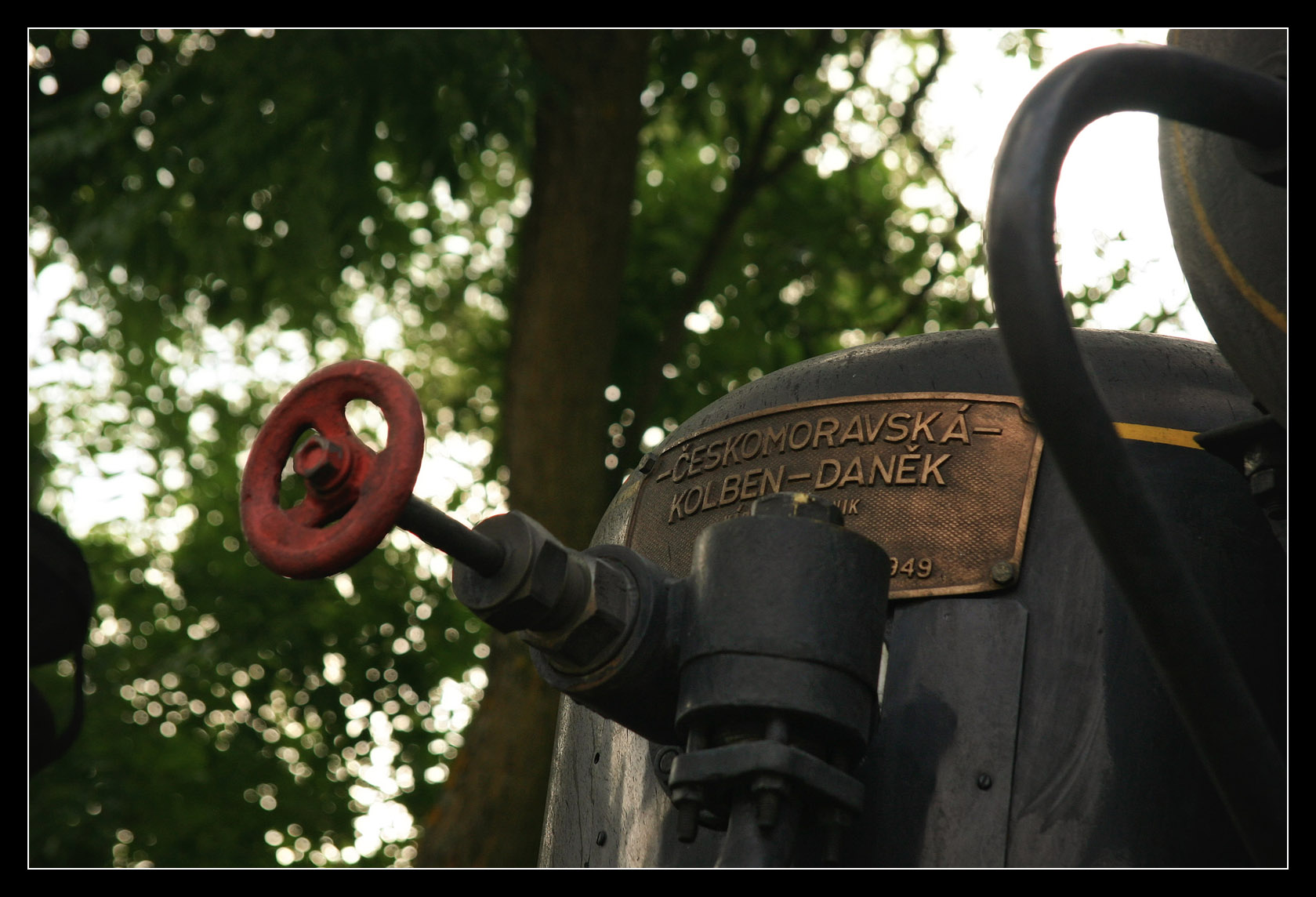 L45H-097 (Faur #25240 / built in 1987) was about to be in action later. A total of four engines of this class as we already know it from Vaser Valley had been procured from Romania as diesel backbone for the heritage line. L45H-077 (Faur #24076 / built 1980), also on location, has since been remotorized and renumbered as 740-101.
Switching started at 10 o'clock.
Then we departed - by diesel train. A special treat was about to follow...
Monument at Mokra Gora: Romanian forestry railroad engine CFF 764-427 (Reșița 1954).
Emir Kusturica's art town Drvengrad (litterally: "wooden town") above Mokra Gora: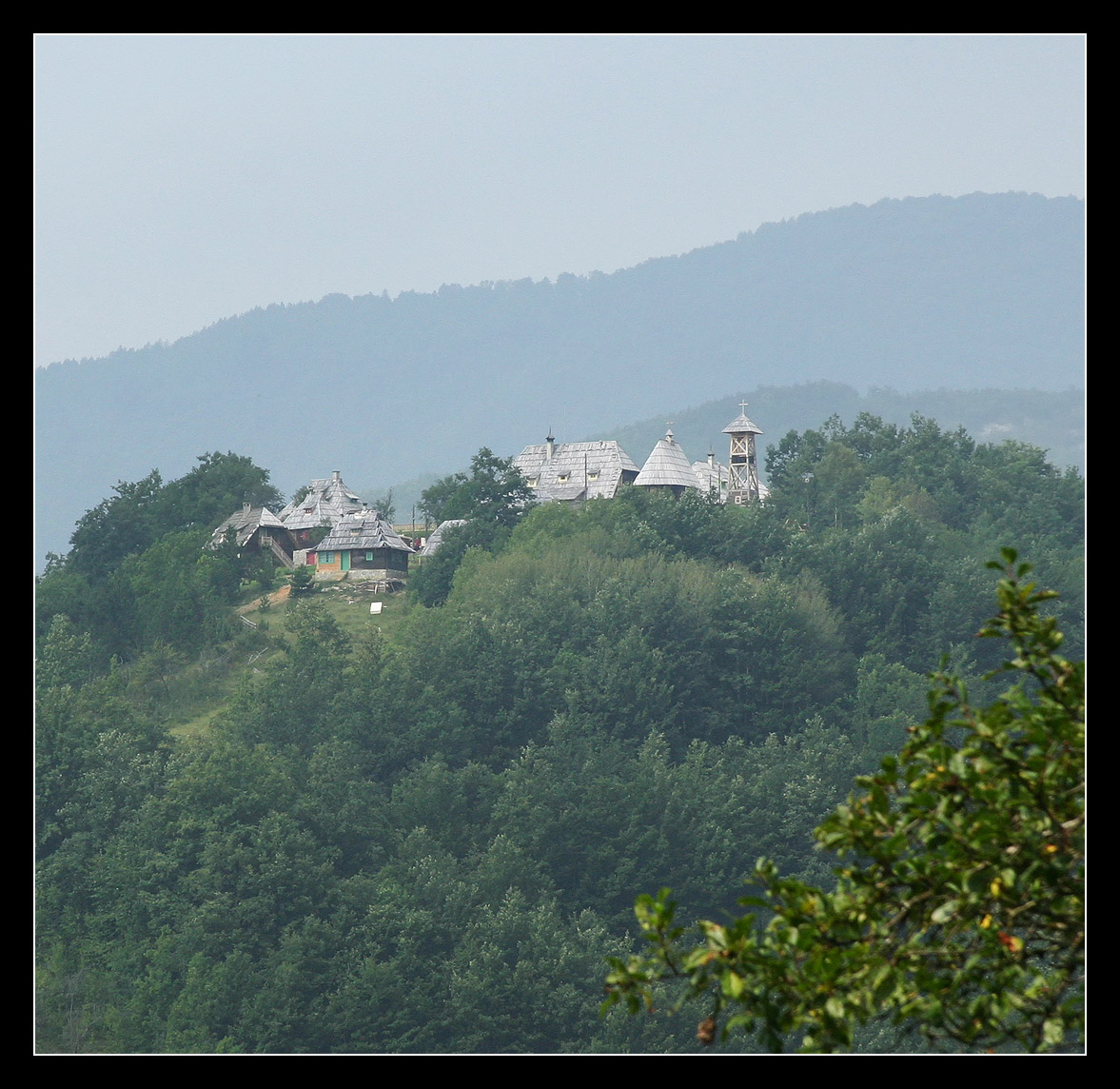 The diesel train stopped, and the steam train followed us from Mokra Gora.
Just back in the valley, now steaming out of tunnel #51.
At the start of this report part I have linked an aerial photograph. As the line is quite confusing - it is not just an "eight", up to four levels of track can be found above each other in places - this map should make it easier to follow:
A stretch along the line had been quite brutally asphalted.
Further confusion: the tracks to right below are not part of the line.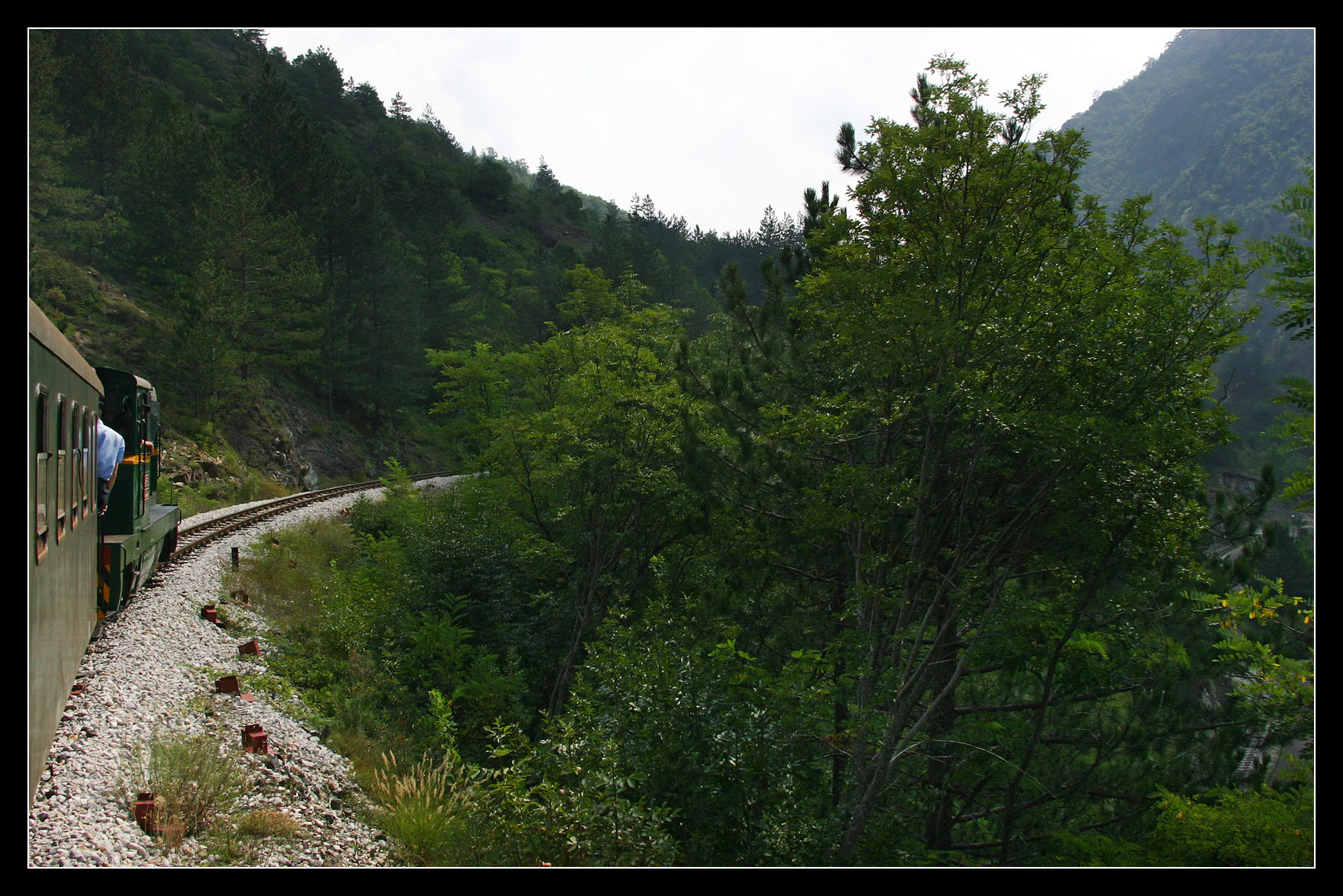 We waited for the steamer emerging from tunnel #48.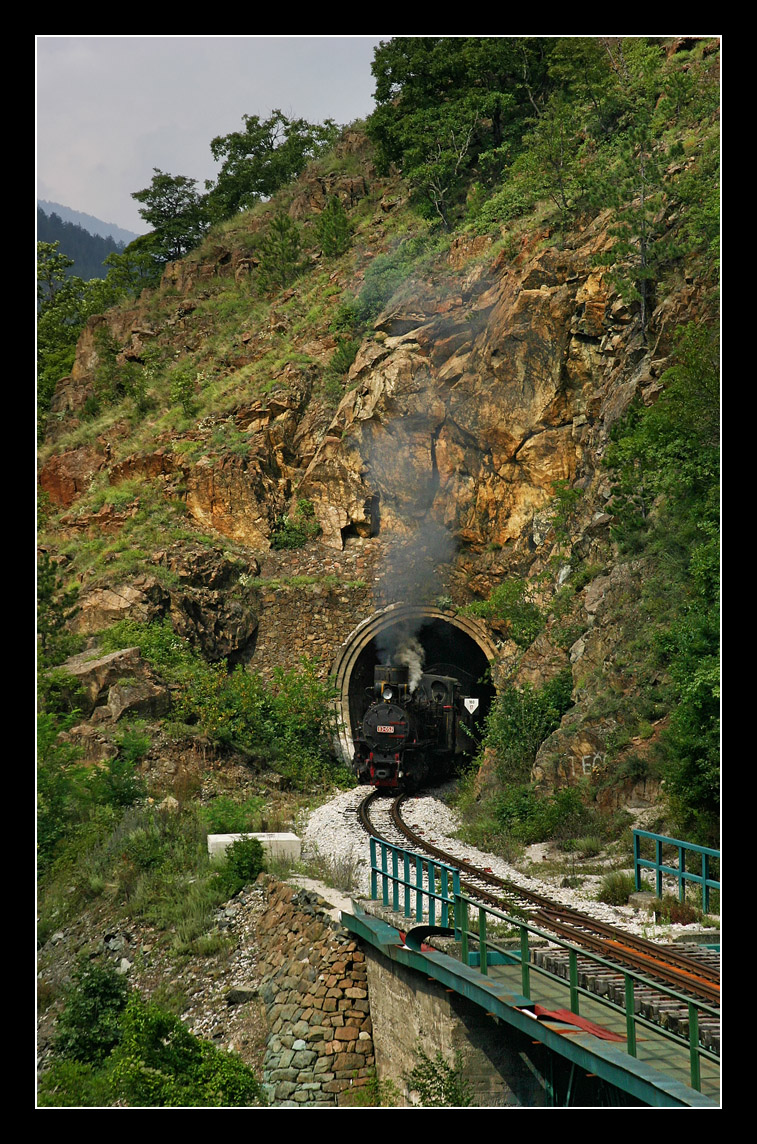 A proper "In the Balkan Gorges"-spot.
The railroad crosses Kamišna river.
We boarded the diesel train and climbed to the second track level through tunnel #47. You had to squeeze yourself between cars and abyss to get to this view. Probably one of the more dangerous stunts I have ever participated in, but what don't you do for such pictures.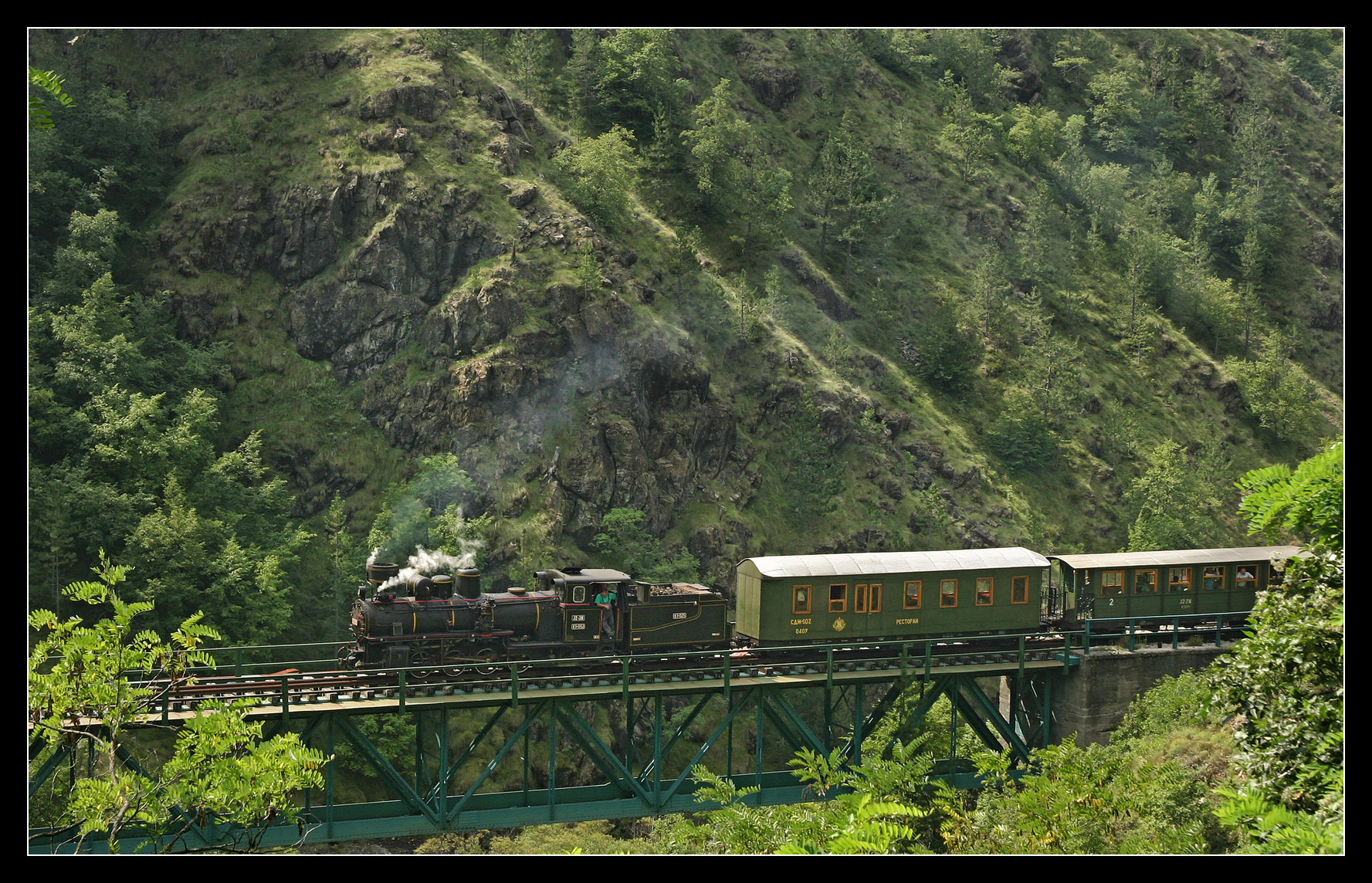 View towards Mokra Gora with new road next to the line.
To the right the confusing tracks which actually form a kind of open air museum. Next to it the healing well Bele Vode, a church of John the Baptist was just being built across the replica stone bridge over the river.
We passed Golubići "station" - actually only a film set which had been erected on a steep grade.
Entering proper station Jatare.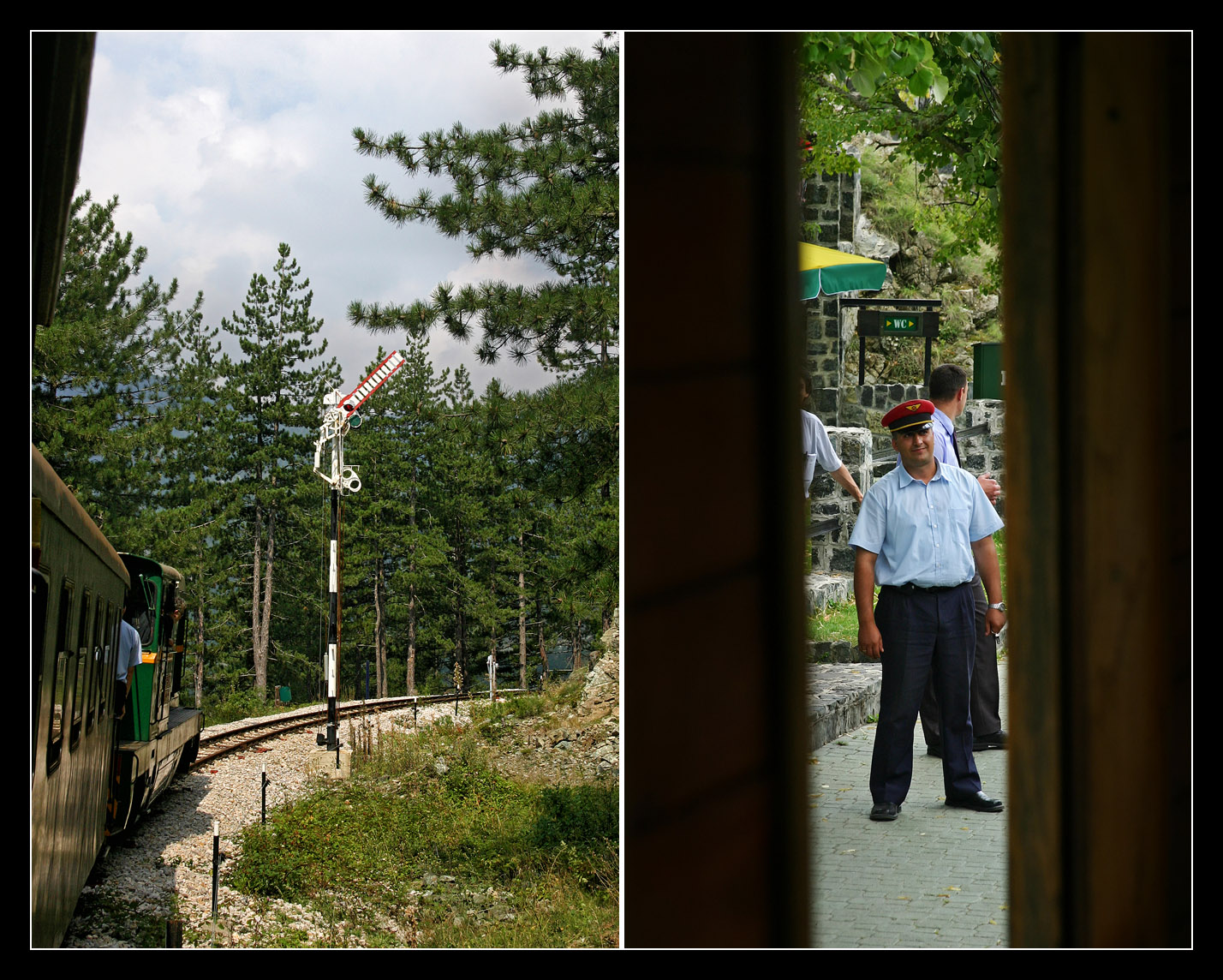 Now to the highlight: if you have an "eight" and two trains at your disposal, you can easily play with them like a model railroad. The diesel train brought us to the viewpoint between tunnels #38 and #37 above Jatare. Next, it rolled back to the third level while the steam train had waited on the second level near Golubići behind the curve all this time. Let the ballet of trains begin...
83-052 steamed out of tunnel #42 while L45H-097 approached tunnel #39...
... and arrived ten minutes later.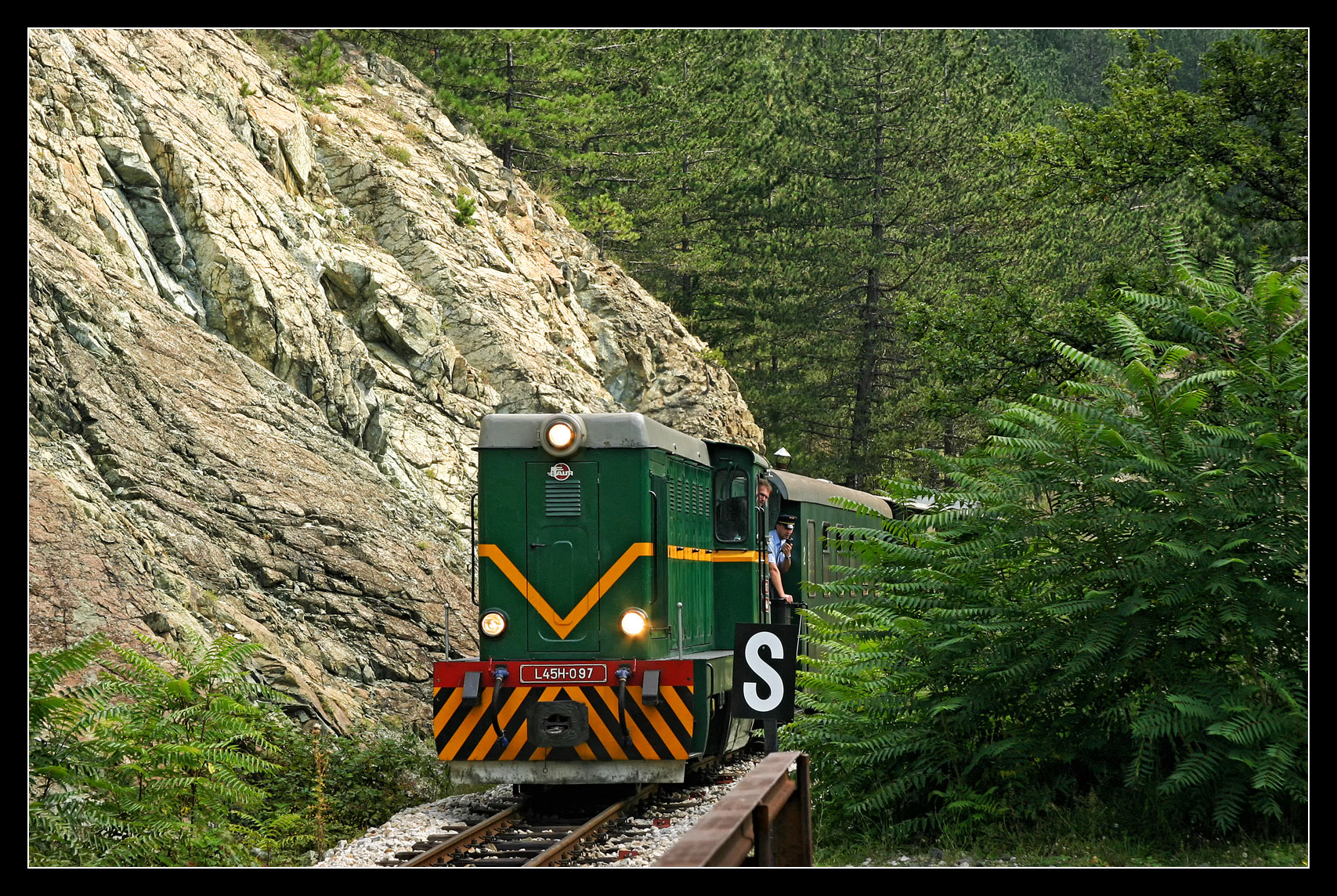 Viewpoint 1-K.
Once more just with steam.
Next, we rolled through 5465 ft long Šargan summit tunnel #32 and reached the other terminal of the museum railroad, Šargan Vitasi. It was not complete at the time.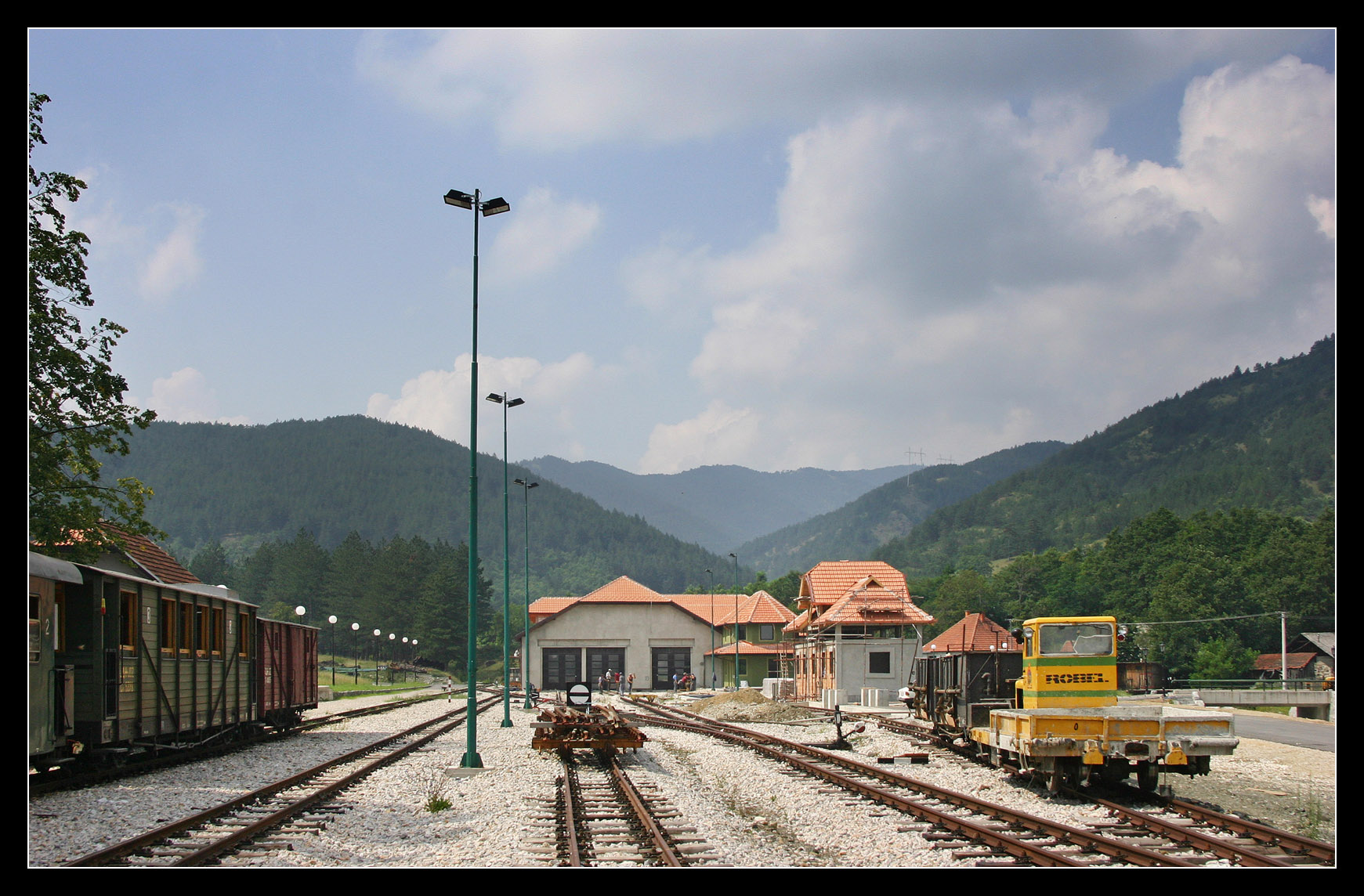 Not sure what had been planned to do with a standard gauge draisine...
The large engine shed was just being finished, more infrastructure like a coaling tower and water column followed later.
The steam train arrived before one o'clock.
We had to look how to return to Užice. The public bus was scheduled hours later. But there are other ways: we just asked a nice neighbor of these sheep, an elderly gentlemen. Against an appropriate compensation he drove us the twenty miles back to the city in an old Lada.
Next time: more nostalgic encounters on two gauges!