Hi,
To the previous trip report part:
Cuba 2003 X... Along Sierra Maestra (50 p.)
http://www.railroadforums.com/forum/showthread.php?49426-Cuba-2003-X-Along-Sierra-Maestra-(50-p-)
February 27 2003
Next morning we left our hotel in Camagüey to catch an early start. Destination that evening: Havanna.
Various types of transport in morning commuter traffic.
We drove westwards through the flat center of Cuba.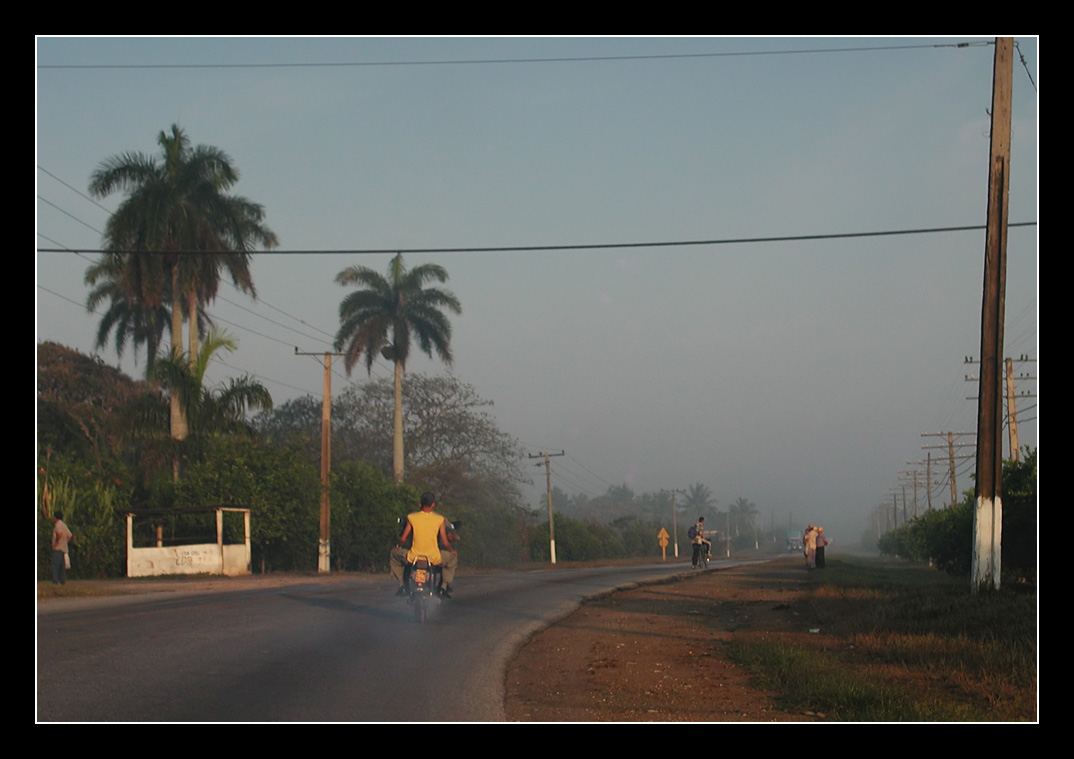 Once again someone worked using a machete on the ground... (see report from Camagüey)
The next larger settlement on our route was called Florida (yes ;-)). Interestingly a modern American-built truck crossed our path, perhaps it had been imported via Canada like some of the MLW diesel locos.
A railroad crossing in town.
We left Florida.
Morning fog crept in providing nice moods.
It proved to be complicated to locate the start of the freeway which commenced somewhere in the midst of nowhere near Santa Clara. Even locals living in surrounding villages could not describe it exactly. In the end we found it and sped away on the wide, empty freeway - but what was that?!?
The righthand westward-leading lane suddenly ended and we were just jolting along a cartway at high speed! We did not have any other choice than changing to the oncoming carriageway where tarmac was in place throughout. At the easternmost end of the freeway, shortly before it entirely had been stopped to be built, one side only had been completed in parts.
Encounters next to the freeway, already close to Jagüey Grande.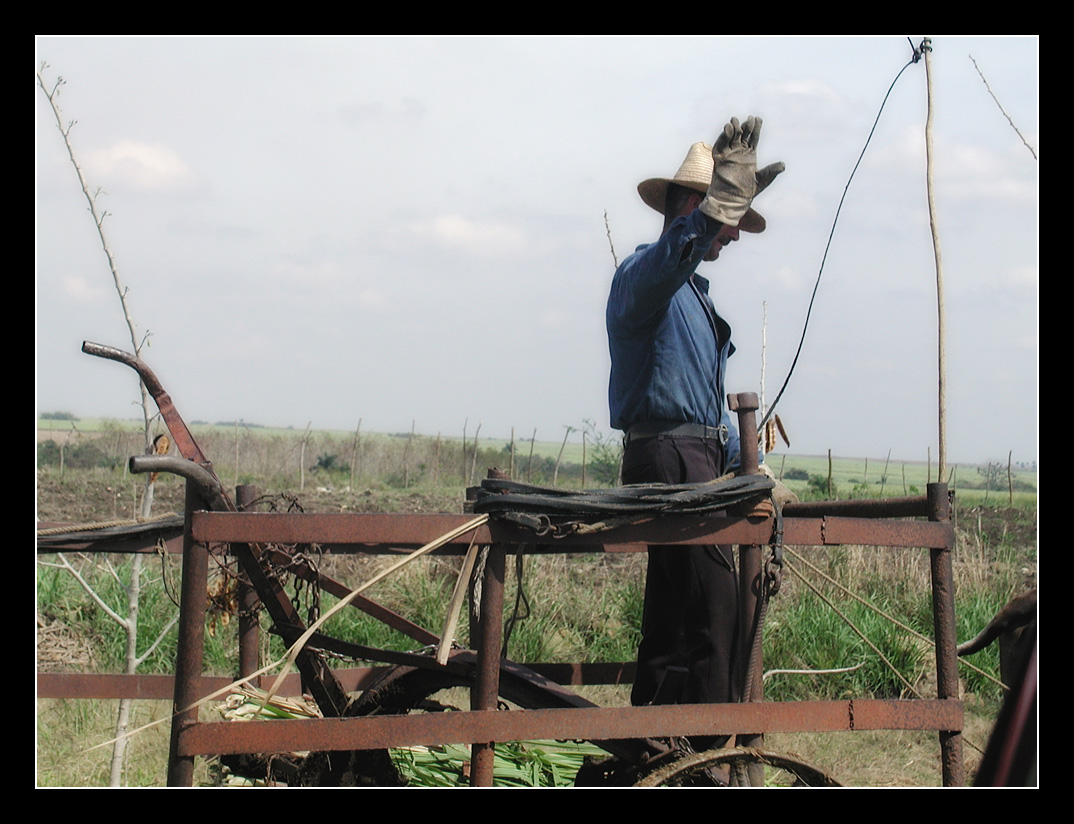 We did not want to spend the entire day on the road, the closest beach was located at the already well-known Bay of Pigs, so we turned south from the freeway at Jagüey Grande.
Driving through Central Australia I suddenly noticed... !
Following pictures were already taken on
February 20 2003
.
I looked through the barred door, but someone approached right away and granted me a tour for 1 dollar... I just had to be quick as all my travel companions waited in the cars for me.
The situation here was worse than just the end of steam operations - the local sugar mill simply had shut down.
There is nothing like Cuban ingenuity - now they simply were starting a tourist railroad. Believe it or not, this loco (#1716, Henschel & Sohn (Kassel) #12428, 1913) has been repaired to an operational state since.
See for example:
http://www.steamlocomotive.com/misc/images/showImage.php?image=cuba1716-2.jpg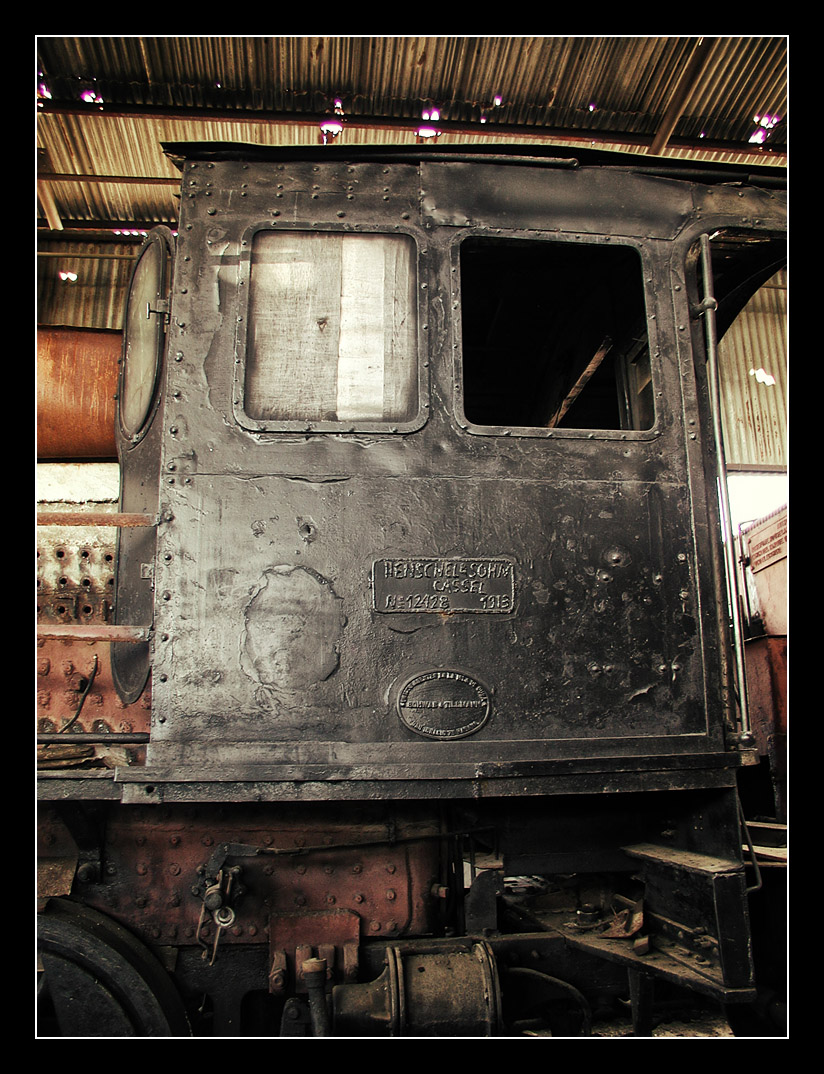 #1515 (ALCO (Schenectady) #54844, 8/1914) on the other hand has not made it to date.
View outside, a very flat landscape.
#1593 (Baldwin, 1915) had been restored nicely, today it is on display inside the steam shed.
A creative bar car had been constructed.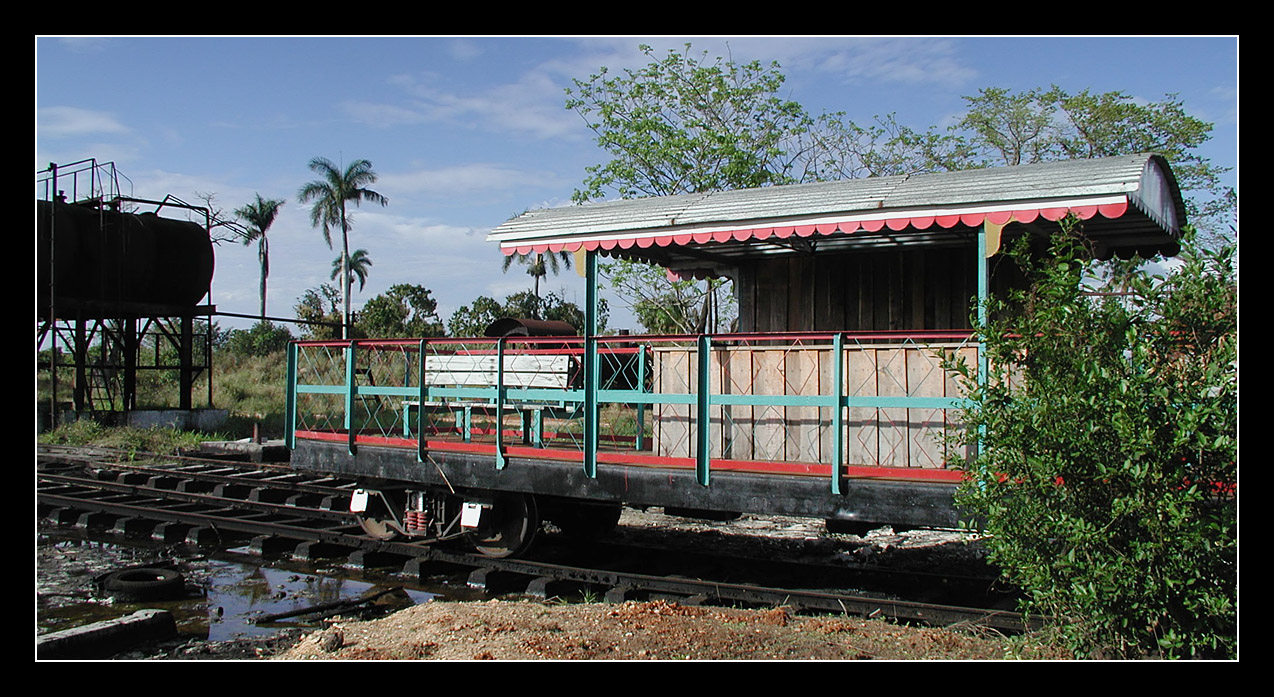 Sadly space for photography was limited.
#1620 also has been transformed to a museum object, even if it is featuring a questionable choice of livery. Here:
http://www.steamlocomotive.com/misc/images/showImage.php?image=cuba1607-1620.jpg
you can learn how the shed has changed since - a touch of color (wherever you can reach), tidy up a bit - done.
#1607 (Baldwin #52789, 1/1920) also can be discovered in the photo on display.
I climbed into a cab...
Then I had to leave, as my wallet was in the car my guide jogged after me to receive 20 pesos convertibles (about 1 buck).
Back in the afternoon of
February 20 2003
we took a break at our usual hotel at the Bay of Pigs.
We were happy...
"Animation" was provided, two disgusting German tourists arranged their "evening entertainment" at a neighboring table.
We were content with the little joys of life: usually state-owned labels did not offer much quality on Cuba, but those fruit juices - especially mango - were to die for.
Telling statue at the pool...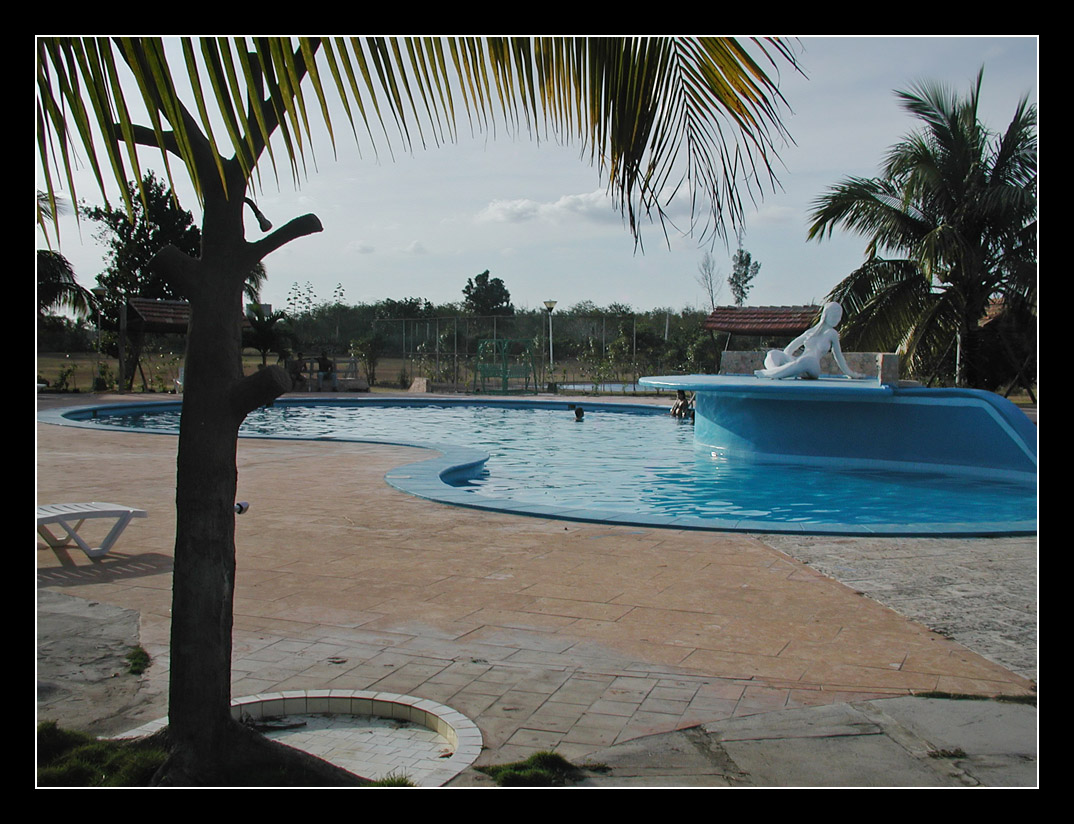 However, there still was the amazing Caribbean to be enjoyed on our last evening in Cuba.
At sunset we departed.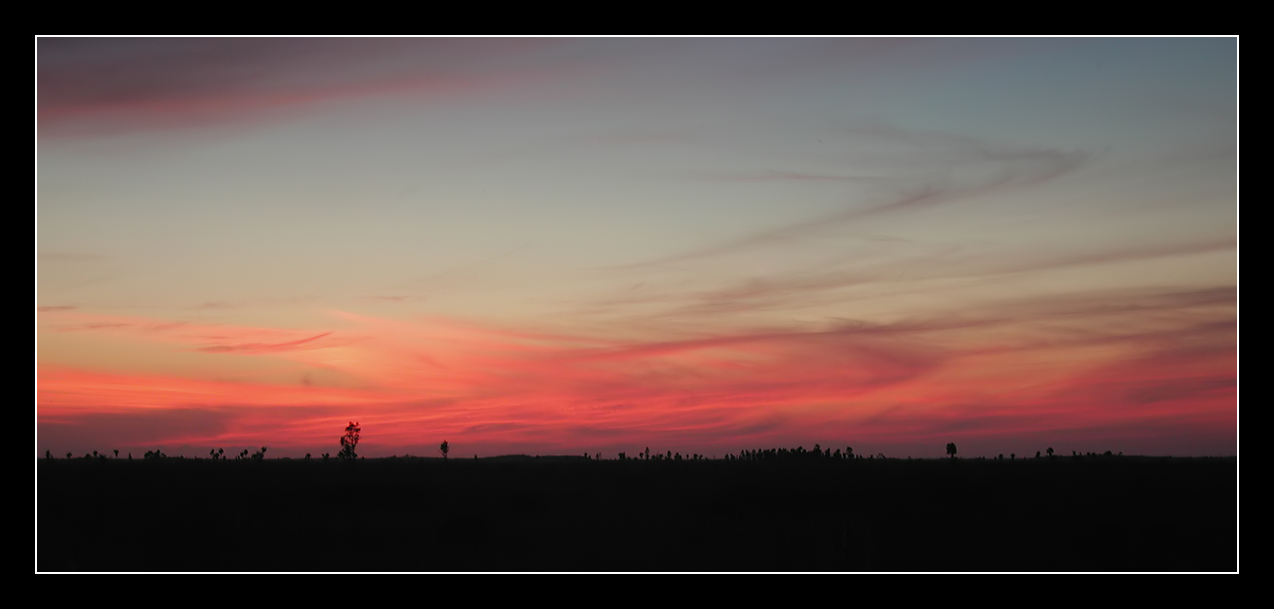 We arrived in Havanna by night. As we had to rise early next morning we simply let a Jinetero lead us to the next free private accomodation in the old city center. Usually this is not the best of ideas, but if you simply need a place to sleep it works quickly and painlessly.
Next time I will already be publishing the final part of the trip...