$600,000 project moves 4-8-4 to new location in Guelph, Ontario, park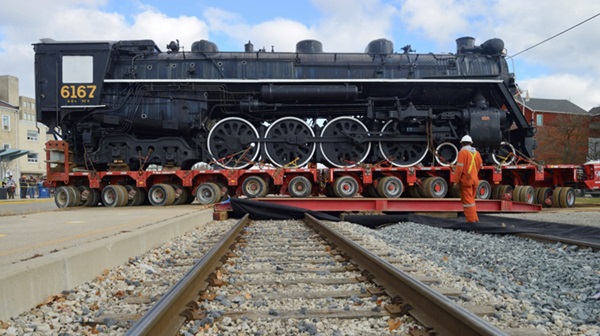 GUELPH, Ontario — Canadian National Railways 4-8-4 locomotive No. 6167 has been moved to its new display location in Guelph's John Galt Park. The Northern was donated to the city in 1967, Canada's centennial year, and sat beside the main line and bus terminal until 2010, when it was moved to the...
trn.trains.com
The move was scheduled for Nov. 14 to take advantage of an already-scheduled Metrolinx line closure for major track maintenance. The locomotive was hauled across the Guelph Subdivision tracks and the Macdonnell Street hill to the park — about a half-kilometer (three-tenths of a mile) from its prior site — where it was placed on the same rails and ties where it had sat a few days earlier.